Breaking News! China's CDC Says 3,109 Medical Personel Infected With Coronavirus Not 1,700. Death Toll in China Now 1871, Infected 73,259 Critical 11,385
A new research study published in the Chinese Journal of Epidemiology by researchers from the Chinese Center for Disease Control and Prevention (CDC) has revealed that there was 3,109 cases of medical personnel ranging from doctors and nurses and other healthcare professionals who were infected with the
coronavirus
. This study covered 72,314 suspected cases as of Feb. 11, among which 44,672 were confirmed cases of
coronavirus.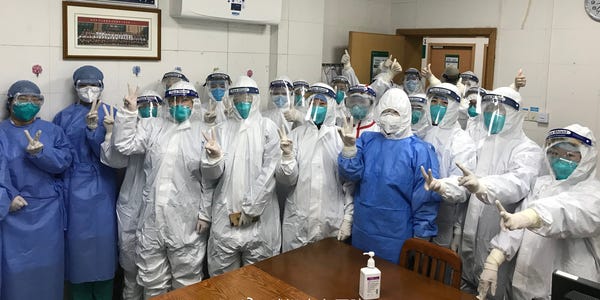 This new study which was published yesterday (Monday) indicates that of now, the number of infected medical personnel could be even much much higher than this compared to what was released by the Chinese government a few days ago indicating that only about 1,700 medical personnel was infected.
Of the 3,109 medical personnel affected, the study said that 1,688 were in severe critical condition of which 49% or about 827 of these doctors and nurses had died from the
coronavirus
.
Death Rate : 2.9% According To Chinese Researchers
The research also indicated that overall death rate among confirmed cases was 2.9%. In Hubei province, the epicenter of epidemic, the pace of fatalities was 3.4%, compared with 0.4% in the rest of the country, according to the paper.
For patients more than 80 years old, the fatality rate can be as high as 15%, the study found.
Healthcare professionals in Wuhan have faced the highest risk of infection, especially in early January, the study found. In the first 10 days of January, nearly 40% of infected medical workers progressed to severe condition before the rate declined in February. Among the 1,688 severely ill medical workers, 64% were in Wuhan and 23.3% in other areas in Hubei, according to the paper.
The study found that on the average, 49% of patients in critical condition typically died. Accordingly, patients in critical condition experience respiratory failure requiring mechanical ventilation, or shock, or other organ failures requiring intensive care.
The research study reported that an additional 13.8% of patients were in severe condition, meaning difficulty breathing, low oxygen uptake, multiple lung lesions or other clinical circumstances requiring hospitalization, according to the NHC guidelines.
Prior to Dec. 31, almost all
coronavirus
cases were in Hubei, but within just 10 days, patients were reported in 20 provinces and in the following 10 days it spread to a total of 30 provinces, the researchers said.
From the study, the
coronavirus
epidemic curve is showing signs of slowing, indicating measures such as restricting the flow of people, reducing human contact and disclosure of epidemic information at a high frequency through multiple channels may be helping to contain the outbreak, the paper said.
This study indirectly contradicts many of the state government's figures that are reported constantly but this was already expected as the Chinese government has been trying to conceal th e real magnitude of the
coronavirus
epidemic.
This morning Chinese health authorities reported that the total death from the
coronavirus
is now 1871, number of confirmed infected cases as 73,259 while those in severe critical condition as 11,385. (as far as we are concerned, this figures lack any credibility and in reality is much higher.)
References:
Chinese journal of Epidemiology - 中华流行病学杂志
dated 17th February By

Chinese Center for Disease Control and Prevention (CDC)
also:
https://www.caixinglobal.com/2020-02-18/coronavirus-among-medics-more-widespread-than-reported-research-shows-101516740.html
For latest updates about the
coronavirus
or the
Thailand Coronavirus
scenario,check out :
https://www.thailandmedical.news/articles/coronavirus