BREAKING! COVID-19 Latest: U.S. CDC Warns That Multisystem Inflammatory Syndrome Typically Found In Children Now Manifesting In Numerous Adults!
COVID-19 Latest

:
The U.S. Centers for Disease Control and Prevention (CDC) has issued an alert to all doctors and healthcare professional warning that the mysterious post-COVID syndrome typically found in children called "multisystem inflammatory syndrome" or MIS-C is now seen manifesting in adults as well.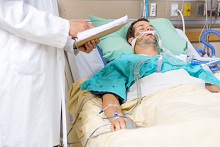 The condition in adults is now officially termed as "multisystem inflammatory syndrome in adults" or MIS-A.
The health officials warned that numerous cases adults have strangely emerged over the last few weeks with 27 cases documented cases of MIS-A in the United States and United Kingdom with many more being reported.
The report is published in the CDC journal Morbidity and Mortality Weekly.
https://www.cdc.gov/mmwr/volumes/69/wr/mm6940e1.htm?s_cid=mm6940e1_w
Doctors are being warned to look out and consider a diagnosis of MIS-A in adults with compatible signs and symptoms.
"Multisystem inflammatory syndrome" or MIS-C emerged a few months ago in children who were initially infected with COVID-19 but did not materialize any symptoms or conditions until days or weeks later. It was initially thought to be "Kawasaki Syndrome" due to certain similarities but this was later found to be a unique condition by itself.
Similar to the MIS-C syndrome in children, MIS-A is a severe illness that targets multiple organs and causes increased inflammation in the body and is different from the cytokine storms causing severity in COVID-19 patients. This is far worse.
As with both syndromes, many patients either test positive for SARS-CoV-2, the virus that causes COVID-19, or have antibodies against it, indicating a recent infection.
Although MIS-A appears rare, like its counterpart in children, both syndromes are steadily growing in number and are becoming a concern that doctors cannot explain as to why it is increasing or manifesting in the first place..
One hypothesis is that it is perhaps mutated strains with different characteristics or modes on infections are at play and another it could be due to a combination of more than one strain creating a more serious condition.There are numerous other theories being studied.
The U.S. CDC report identifies around two dozen cases of documented MIS-A.
Dr Sapna Bamrah Morris, MD from the CDC COVID-19 Response Team who was involved in te report told Thailand Medical News, "Ultimately, the recognition of MIS-A reinforces the need for prevention efforts to limit spread of SARS-CoV-2."
Initially reports of a mysterious inflammatory syndrome in children first appeared in the spring, and physicians dubbed the condition MIS-C, or "multisystem inflammatory syndrome in children."
Typically children with this rare syndrome, which affects multiple organs and often requires hospitalization, can experience fever, abdominal pain, vomiting, diarrhea, neck pain, rash, bloodshot eyes, and fatigue, according to the CDC.
The same conditions were observed in adults now with MIS-A
To date, the CDC has received reports of 935 cases of MIS-C in the United States, including 19 deaths but many new cases under investigation are still continuing to emerge with increased frequency in the last few weeks raising concerns among pediatric doctors.
Currently the official definition of MIS-C includes an age limit of 20 years old, and cases have been seen in children, teens and young adults.
It was reported that over the summer, there were reports of a similar syndrome popping up in adults. The new CDC report describes 27 cases of MIS-A from the United States and the United Kingdom. Sixteen of these cases are described in detail, nine of which were officially reported to the CDC, and seven of which were described in published case reports.
It was reported that among the 16 cases, patients ranged in age from 21 to 50 years old. Just one case was reported in the UK, with the rest reported in the US, including cases in Maine, Florida, Louisiana, Georgia, New York, Massachusetts, and Texas.
Most adult symptoms were similar to those seen in children, including fever, gastrointestinal symptoms, and rash. Some patients reported chest pain or heart palpitations, and all had elevated levels of markers of inflammation.
It was reported that all of the patients had either a positive COVID-19 test or positive antibody test. Ten patients required treatment in the intensive care unit, and two patients died, the report said.
The study findings "indicate that adult patients of all ages with current or previous SARS-CoV-2 infection can develop a hyperinflammatory syndrome resembling MIS-C," according to the research team.
In important point to note that in both children and now adults, the patients typically either have mild symptoms initially upon infection or in cases are totally asymptomatic and patients then appear to be normal under several days or weeks later when they start developing symptoms that identifies them having multisystem inflammatory syndrome.
The study team note that hospitalized patients with COVID-19 in general can experience inflammation and effects on organs beyond the lungs.
But, in most cases, those effects are accompanied by serious respiratory problems.
However, with MIS-A, patients haven't shown serious respiratory symptoms.
Of the 16 patients, half did not have any respiratory symptoms, and half had only mild ones.
Interestingly, of 22 patients in the MIS-A study with information on race/ethnicity available, all but one patient belonged to a minority group.
The study team commented, "Long-standing health and social inequities have resulted in increased risk for infection and severe outcomes from COVID-19 in communities of color."
Also interesting is the fact that a similar trend has been seen in children with MIS-C more than 70 percent of reported U.S. cases have occurred in children who are Hispanic or Black, according to the CDC.
To date, the underlying causes of MIS-C and MIS-A are not known. But 30 percent of adults in the current report and 45 percent of a sample of 440 children with MIS-C tested negative for SARS-CoV-2, but positive for antibodies against the virus, "suggesting MIS-A and MIS-C might represent postinfectious processes," the researchers said.
Detailed and extensive research is warranted to understand the exact causes of this condition and its long-term effects, the study team concluded.
For more on
COVID-19 Latest
news, research or developments, keep on logging to Thailand Medical News.