World Health Organization (WHO) Says World Not Yet In Pandemic State As Result Of Coronavirus
The WHO (World Health Organization) announced on Tuesday that the outbreak of the deadly novel
coronavirus
, 2019-nCoV which has spread from China to more than two dozen countries, does not yet constitute a "
pandemic
" just yet.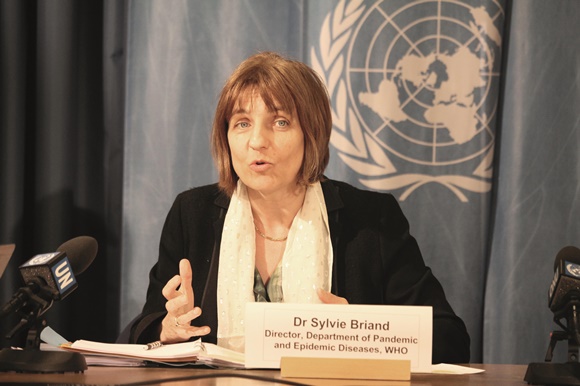 Dr Sylvie Briand, head of WHO's Global Infectious Hazard Preparedness division, told reporters in Geneva, "Currently we are not in a
pandemic
," Instead, she said, "we are at the phase where it is an epidemic with multiple foci."
The
coronavirus
disease has killed more than 452 people and infected a further 21,000 individuals all over China, nearly all of them in central Hubei province, the epicentre of the outbreak and spread to more two-dozen countries since it emerged in December. Currently there are more than 200 confirmed cases of infection outside out China in about 31 countries. There has also been 2 deaths out of China and also more than 8 countries have reported human to human transmissions.
Dr Briand said that while there is rapid spread of transmission in Hubei, the cases outside the province are mainly "spillover cases" with sporadic clusters of transmission. (
Thailand Medical
News cannot confirm if WHO officials have actually travelled to the other provinces such as Chonqing, Zhejiang, Henan, Hunan and Shanghai to witness how the situation there is unfolding or are WHO officials merely depending on reports from China.)
She also commented that at the same time, authorities in China have taken dramatic measures to halt transmission, while other affected countries have also taken steps to avoid the spread of the
coronavirus
.
She added, "We hope that based on those measures in Hubei but also in other places where we have had spill-over, we can stop transmission and get rid of this
coronavirus
."
Though WHO has repeated asked countries not to impose travel restrictions and bans or even flight stoppages and also border closures, more than 32 countries so far have ignored them and went ahead with border closures, travel bans, stopping flights etc.
WHO is emerging more as a paper tiger with many politicians and government leaders questioning the motives of the leadership, under Ethiopian national, Dr Tedros Adhanom Ghebreyesus. There has been a lot of talk about raising funds,the need for supporting poorer countries especially in Africa,etc with very little focus or concrete strategies to stop the spread of the coronavirus worldwide and also to control the disease in China.
One European politician who wished to remain anonymous, commented that as it was China that started the whole crises and did little to contain the spread of the
coronavirus
in the initial stages, it is they who should be shouldering all bills and monies including for other countries. They have had a lot of money for infrastructural investments in numerous countries in the past , now they can foot all the various health bills in various countries. The Chinese people are merely innocent victims in this crisis he added.
WHO failure to also declare a Global Health Emergency in the earlier stages of the
coronavirus
epidemic are also viewed by many as a loss of credibility for the organization.