WARNING! The Delta Variant Is Mutating Rapidly, Sri Lanka Reports 4 New Delta Variants, Japanese Study Warns About Vaccine Efficacy And ADE Issues!
The SARS-CoV-2 Delta variant is undergoing rapid mutation as it evolves to not only enhance its viral fitness and also transmissibility but it is now in a perfect environment as most countries only have about half a half or less of its population fully vaccinated, hence providing a perfect environment for it to fight the conferred immunity by the vaccines and to have vaccine resistant variants emerge.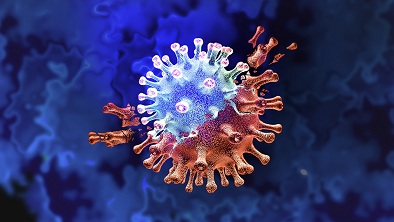 Thailand Medical News has been warning and advocating for more attention to be paid to the emerging second, third and even fourth generation variants emerging from the various VOCs not just the Delta but also the others as well and even the VOIs ie variants of interest. (There is new evidence that the Lambda variant which is vaccine proof is now evolving to become even more transmissible and will be the next dominant variant in the coming surges!)
Thailand Medical News also warns that no studies are focusing on how the variants are also evolving to withstand environmental factors such as temperature, humidity and also pH as it is believed via newer folding or conformational structural changes due to new mutations emerging, the variants are becoming even more stable outside of the hosts and is able to remain in stable yet dormant phases for a longer period of time compared to the initial wild-type Wuhan strains.
Sri Lanka in the last 48 hours has reported the discovery of 4 second and third generation
Delta variants
, each with unique mutations appearing on them.
Health authorities in Sri Lanka's reported on Monday the Delta variant of the SARS-CoV-2 coronavirus which is spreading across the country has acquired four mutations due to the high transmission rate.
Professor Dr Neelika Malavige, head of the department of immunology and molecular sciences at the Sri Jayawardenapura University told Thailand Medical News, "
We discovered the 4 new Delta variants following gene sequencings of samples taken from a number of infected patients. One of the Delta mutations (A-222V) is seen in many countries, another (A-1078S) is found in Sri Lanka and Malaysia, while the other two (A-701S and R-24C) are only found in Sri Lanka. These possess unique mutations in the Delta variant genome but do not make these viruses new variants. Some of these mutations appear concerning and we have reported the discovery to the WHO and also U.S. CDC
."
Dr Malavige added, "We had identified many other mutations in the previous Alpha variant and in our variant of the Sri Lankan lineage (responsible for the second wave), which were of no significance. Some of the Delta variant viruses seen in Sri Lanka might have certain unique concerning mutations and more detailed research is warranted."
At the moment that there is no evidence yet whether these new mutations found in the Delta variant in Sri Lanka will affected COVID-19 efficacy he added.
The South-East Asian nation is presently facing a rising wave of COVID-19 infections, suspected to be caused by the Delta variant with authorities declaring a nationwide quarantine curfew since last Friday. Hospitals are exhausted with rising admissions while oxygen dependency has also risen among the patients.
The country has recorded over 7,000 deaths and 390,000 COVID-19 infections.
/> Australia had also reported the emergence of a new Delta variant that is not only fast spreading but some researchers claim are able to cause disease severity as a certain unique ORF7a deletion found on it and is thought to promote cell fusion.
https://www.thailandmedical.news/news/breaking-australia-s-covid-19-surge-caused-by-second-generation-delta-variant-with-orf7a-deletion-malaysia-has-its-own-variants-b-1-524-au-2
Meanwhile Japanese researchers based on a new study are warning that the Delta variant is selectively evolving rapidly to evade immunity conferred by the existing COVID-19 vaccines that were based on the spike proteins of the original wild-type Wuhan lineage. Furthermore, they report that the occurrence of ADE or antibody-dependent enhancement is starting to be seen in the newer Delta variants.
The Japanese study team found that the Delta variant completely escaped from anti-N-terminal domain (NTD) neutralizing antibodies, while increasing responsiveness to anti-NTD infectivity-enhancing antibodies.
Although Pfizer-BioNTech BNT162b2-immune sera neutralized the Delta variant, when four common mutations were introduced into the receptor binding domain (RBD) of the Delta variant (Delta 4+), some BNT162b2-immune sera lost neutralizing activity and enhanced the infectivity. Unique mutations in the Delta NTD were involved in the enhanced infectivity by the BNT162b2-immune sera.
Sera of mice immunized by Delta spike, but not wild-type spike, consistently neutralized the Delta 4+ variant without enhancing infectivity.
Alarmingly considering the fact that a Delta variant with three similar RBD mutations has already emerged according to the GISAID database, it is necessary to develop vaccines that protect against such complete breakthrough variants.
The study findings were published on a preprint server and are currently being peer reviewed.
https://www.biorxiv.org/content/10.1101/2021.08.22.457114v1
This is the second study to warn about the emergence of the ADE phenomena in the Delta variant and the emerging second and third generation variants of the Delta variant.
The first study was by French researchers from Aix-Marseille Université.
https://www.thailandmedical.news/news/breaking-french-study-published-in-journal-of-infections-claims-that-ade-or-antibody-dependent-enhancement-is-occurring-in-delta-variant-infections
However many Western researchers from Britain and also the United States who are most probably being paid by the vaccine manufacturers or by the US. NIH, U.S. CDC or U.S. FDA, are downplaying the occurrence of ADE by the emerging Delta variants and also by newer variants from other lineages.
Two other studies are expected to be published within this week or fortnight ie one from Indonesia and another from Brazil, detailing the emergence of second generation Delta variants and the occurrence of ADE.
Contrary to what many ignorant Western researchers are claiming that the SARS-CoV-2 will eventually weakened and die down or simply become endemic just like common flu, we at Thailand Medical News are warning that more catastrophic surges are heading different parts of the world with more emerging potent second and third generation variants. Off course our comments could be perceived as being bias as we are basically rooting for the SARS-CoV-2 coronavirus and its variants and not the humans!
In another puzzling development, a video of the U.S. CDC Director Rochelle Walensky has emerged warning about the issue of ADE or Antibody Dependent Enhancement based on data from Israel.
https://www.thailandmedical.news/news/great-news-u-s-cdc-director-rochelle-walensky-says-those-that-got-covid-19-jabs-could-suffer-more-disease-severity-and-mortality-due-to-ade
Please help to donate to support this site and also to support all our research and community initiatives.
https://www.thailandmedical.news/p/sponsorship
Do not simply read and ignore our pleas for help/ Thank You.
For more on
emerging Delta variants and ADE
, keep on logging to Thailand Medical News.
Please share this article to as many as possible as certain American social media platforms, American search engines and also big pharma are trying to prevent the public from knowing such developments!
Read Also:
https://www.thailandmedical.news/news/good-news-delta-variant-is-further-mutating-to-give-us-delta-plus-variant-we-are-on-target-for-a-predicted-catastrophic-covid-19-surge-starting-in-la
https://www.thailandmedical.news/news/variant-warning-scientist-urged-to-pay-extra-surveillance-to-emerging-third-and-fourth-generation-variants-of-the-delta,-gamma-and-lambda-strains
https://www.thailandmedical.news/news/a-guide-to-understanding-antibodies-and-ade-antibody-dependent-enhancement