U.S. Medical News: Good News-Hospitalizations Rates In Texas Below 7,000 For First Time In Weeks, Bad News-More Expected To Die Nationwide
U.S. COVID-19 News
: The total number of Americans who have died as a result of COVID-19 has now reach 167,360 while the official numbers of Americans who had been infected with the SARS-CoV-2 coronavirus has now reached about 5.26 million.(The US CDC claims that the real figure could be ten fold!) But what is worrisome is that almost about 17,185 Americans are in critical conditions nationwide with majority in ICUs. It is expected that a majority of them will not make it through the fight against the coronavirus.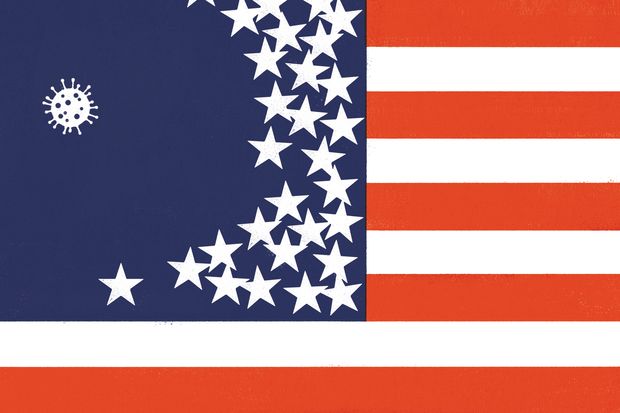 On a bright side, the state of Texas reported fewer than 7,000 hospitalized coronavirus patients for the first time in six weeks on Thursday, but that encouraging sign was clouded by questions over testing as schools reopen and college football teams push ahead with playing this fall.
Alarmingly, testing has dropped off in Texas, a trend seen across the U.S. as health experts worry that people who are not symptomatic are not bothering to seek tests because of long lines and the prospect of waiting days to get results.
COVID-19 test demand has curtailed to the point that in Austin and Dallas, health officials have expanded eligibility for testing, to include those who are asymptomatic.
However, there remain grim reminders of the toll the virus took on Texas this summer: COVID-19 deaths have risen by more than 30% in August, including 255 new reported deaths Thursday. And hospitals on the hard-hit Texas border remain busy with coronavirus patients, even as doctors statewide are handling thousands of fewer COVID-19 cases than a month ago.
Health authorities said, "We do have abundant testing capacity. However we are not having enough individuals step forward to be tested as we did before."
Confusingly, testing numbers from Texas health officials this week, however, offered a hazy picture of how much testing has fallen. On Wednesday, the seven-day infection rate average in Texas hit a record 24%, suggesting that roughly one in every four coronavirus tests in Texas was coming back positive. By Thursday that number dropped to 16%, which state health officials said was the result of clearing a backlog of cases and errors in data reported by a hospital and commercial lab.
Lara Anton, a spokeswoman for the Texas Department of State Health Services said that falling testing demand is also a factor, High infection rates threaten to prolong the shuttering of some Texas businesses, particularly bars, which have been closed since June and are likely to remain that way until the positivity rate drops below 10%, which its Governor has made a threshold.
Meanwhile the decreased testing worries health experts even as Texas sees encouraging signs. Dr Angela Clendenin, an epidemiologist at the Texas A&M School of Public Health, said she expects to see spikes as schools and universities begin reopening and cautioned that the impact won't be visible for another week or two.
Dr Clendenin said, "We would like to be cautiously optimistic," "It is always better to spike form a lower case level than where we were a few weeks ago."
Mexico Foreign Affairs Secretary Marcelo Ebrard said on Thursday that Mexico p lans to extend the closure of its shared border with the United States for another month to non-essential travel.
Although the current agreement runs through Aug. 21, Mexican authorities said it does not make sense to reopen the border at this time.
Ebrard added, "We already told the United States that we're of the idea that it's extended because of what we have along the strip on their side," referring to a surge in cases in the southwestern United States.
Initially the travel restriction at the shared land border was first announced March 18 and was for 30 days but it has has been renewed monthly. It has included the U.S.-Canada border as well.
Ebrard said, "The border could not be opened right now. It would not be logical that we change it right now, so it will be another month."
To date Mexico has reported about 500,000 confirmed COVID-19 infections and about 55,000 deaths, far lesser than America.
On another note, American officials have announced on Thursday that as part of Trumps re-elections strategies, the US will ensure that all COVID-19 vaccines will be distributed for free to all Americans.
Paul Mango, a senior health department official, told reporters that Washington has invested more than US$10 billion in six vaccine projects and signed contracts guaranteeing the delivery of hundreds of millions of doses should they be approved following clinical trials.
He said that the vaccine doses themselves will be paid for by the government.
He added, "We are on track to deliver hundreds of millions of doses by January 2021."
Director of the National Institutes of Health (NIH), Francis Collins, said he was "cautiously optimistic" that at least one of the six vaccines the US had invested in would come through by the end of the year.
Medical experts and critics of President Donald Trump have expressed worries that the administration may bypass safety precautions to announce a vaccine is available before the election on November 3.
For more on
U.S. COVID-19 News
, keep on logging to Thailand Medical News