Thailand COVID-19 News: 6 New Imported Cases Of Which 3 Are Reinfections! Opening Of Phuket To Foreigners Delayed, Phangnga Imposes Strict Measures
Thailand COVID-19 News
: 6 new COVID-19 cases were reported in Thailand today (Sunday, 6
th
September) of which three could be COVID-19 reinfections!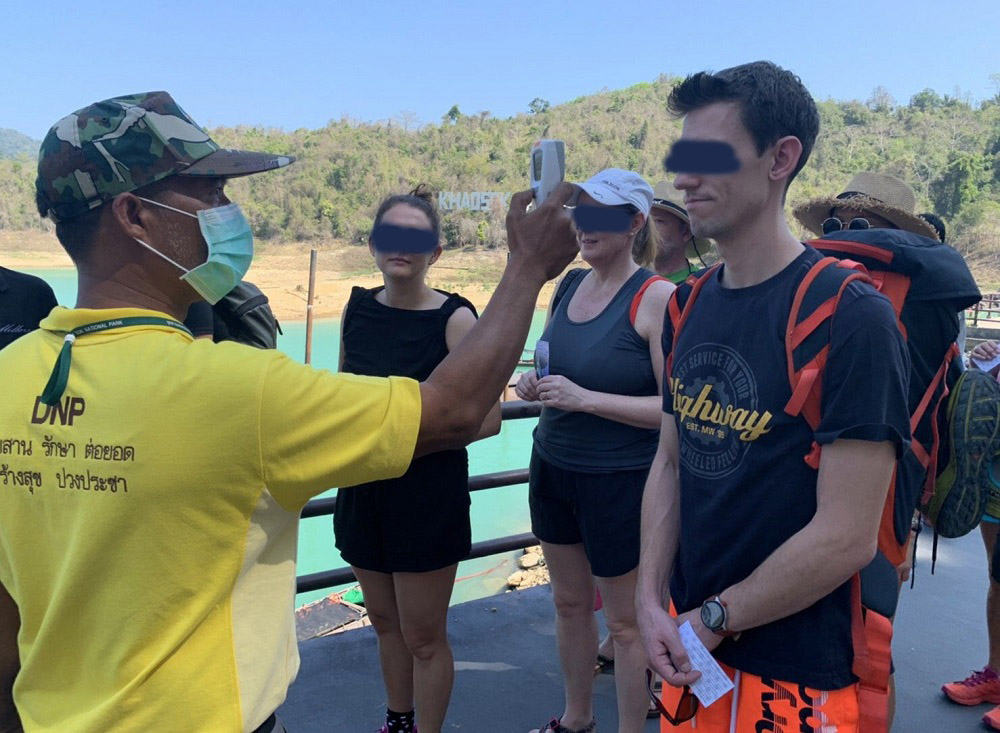 Westerners Not Wearing Mask Still A Common Sight In Thailand
The CCSA or Centre for Covid-19 Situation Administration Thailand said that of the 6 cases, 3 were Thai male nationals who had been previously infected in Singapore but had since 'recovered' and certified virus free prior to flying back to Thailand from Singapore.
The three Thai males aged 43, 53 and 56 tested positive on arrival for the SARS-CoV-2 coronavirus after landing in Thailand on Friday.
The three applied for and received certificates of good health from the Thai embassy before boarding the flight, as required for every person flying into Thailand.
These cases are raising many questions including whether the test in either Singapore or Thailand was reliable and not if it was really a case of reinfection, where they did contract the virus: in Singapore, on the plane or at Thailand Airport.
Also if it genomic sequencings can really show that it was reinfections, it would have implications in the effectiveness of vaccines which have already been questioned but are being downplayed by the pharmaceutical and biotech companies and the U.S. White House administration as trillions of dollars are at play along with suspected corruption and fraud.
The Thai CCSA said that of the three other imported cases, 2 were also Thai nationals, a 46-year-old housemaid and a woman aged 83, who were found infected during quarantine on Friday after returning from the United States on Monday.
The last case was a 46-year-old Frenchman who arrived in Thailand on Tuesday from the United Kingdom. He tested positive on Friday while in quarantine at a private facility in Bangkok. He was a language teacher at a private school in the Thailand.
Today's new COVID-19 infections, all asymptomatic, took the total tally of infections in Thailand to 3,444, while no new fatalities were reported.
On a another note, it was also announced that the Thai government's plan to reopen the resort island of Phuket as a model to welcome back foreign travellers has hit a block after the country last week saw the first case of local Covid-19 infection in more than three months.
Furthermore all neighboring countries now including Vietnam, Malaysia and Indonesia have now stopped all flights into their countries till next year including their own nationals returning back to their home countries.
Not only are these three countries stopping all arrival flights but other countries are also now stopping all travellers and returnees from high risk countries including India, Pakistan, Bangladesh, Iran, the rest of the Muslim Middle-East countries, United States and Europe, something that Thailand has still not done while putting its locals at risk.
Fortunately Yuthasak Supasorn, governor of the Tourism Authority of Thailand (TAT), said the launch of the so-called "Phuket model" scheduled for next month as part of efforts to revive the local economy, is likely to be pushed back.
TAT officials are visiting Phuket this long weekend to discuss disease control measures with business operators, adding the proposed model to bring back foreign tourists may have to be adjusted if the country faces a second wave of the Covid-19 outbreak which many are saying is likely to materialize at the end of the year.
No reason was given except due to a one local transmission that was reported 2 days ago.
On this reemergence of local Covid-19 infection, Dr Suwannachai Wattanayingcharoenchai, director of the Department of Disease Control (DDC), yesterday allayed concerns the patient could be a super-spreader.
It was said that the 37-year-old male prison inmate tested positive for Covid-19 during 14-day quarantine after being sent to jail on Aug 26 for a drug offence. He worked as a DJ at two branches of the Sam Wan Song Khuen pub, one in Bangkok and the other in Nonthaburi, and visited a venue on Khao San Road on Aug 18, before he was jailed.
The Thai health authorities said even though the patient worked in night at a few night entertainment venues he did not have direct contact with customers and that the number of people who came in to his physical contact is limited and the chance of him being a super-spreader is minimal.
It was reported that the number of people who came into contact with the inmate is now 708 and still rising as contact tracing efforts are still ongoing.
According to Dr Suwannachai, one of the high-risk contacts was classified as a patient under investigation (PUI) after developing a fever.
Also interestingly Phangnga has become Thailand's first province to re-impose strict health measures following news of Thailand's first local Covid-19 transmission case in more than three months and the outbreak in neighbouring Myanmar.
Many are suspecting that there is more to the story but as usual things are typically concealed in Thailand. It does not make sense that a local transmission in Bangkok, hundreds of miles away from Phangnga would trigger new stringent measures to be put in that province.
It was said that among the measures is a required 14-day home quarantine for those arriving in, or returning to, the southern province from areas considered Covid-19 outbreak zones, said Governor Chamroen Thipphayaphongthada.
The new stay-at-home requirement is being waived if individuals can show proof of having quarantined at a state or local quarantine facility before arriving in the province.
But surprisingly many local Thais who had gone to the province for the long weekend holidays reported that they did not experience such measures!
The Phangnga Governor said many people had taken health safety measures for granted and in doing so reduced public awareness about the still-present threat of Covid-19 infections.
Besides the home quarantine, individuals in Phangnga must wear a face mask at all times in public places, never engage in any activity that may heighten the risk of spreading the virus and strictly follow Covid-19 prevention regulations when attending mass gatherings. Severe punishments would be meted out against any individual who violates the health measures, the Governor warned.
The Thai government has told 10 provinces to seal off the border with Myanmar to prevent illegal crossings. These provinces include Chiang Rai, Chiang Mai, Mae Hong Son, Tak, Kanchanaburi, Ratchaburi, Phetchaburi, Prachuap Khiri Khan, Ranong and Chumphon.
For more developing or concealed
Thailand COVID-19 News
and stories, keep on logging to Thailand Medical News, the only reliable and credible medical and health media in Thailand.