Thailand COVID-19: Most New Cases In Thailand Involves Foreigners or Thais Returning From Muslim Countries Like Pakistan, UAE, Egypt, Kuwait Etc
Thailand COVID-19
: Thailand is reporting new COVID-19 cases from foreigners and Thais coming from Muslim countries like Pakistan, Egypt, UAE, Kuwait etc. Many local Thais are getting upset with the government for allowing flights to resume from these countries and are calling for a ban for all flights and arrivals from these countries.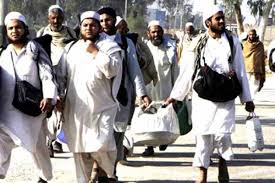 In what is now becoming a major health scare that is getting many worried, a muslim Egyptian soldier who tested positive for COVID-19 was part of a delegation that had come in through Utapao airport and stayed at a hotel in Rayong and had visited many places during his stay in Thailand including a major shopping centre, most probably contaminating many sites and spreading the disease to locals.
It is not known as to why he and his group was not quarantined and also if the Thai government's contact tracing app: 'Thai Chana' is the least reliable or it is another just another…….. The local public has a lot of questions for the Thai authorities on this particular case and to make Thailand an even bigger laughing stock, local media refused to disclose the name of the shopping centre and places he had visited because of libel laws in Thailand. This certainly defeats the whole purpose of contact tracing! For those of you who assumed that things were very well managed in Thailand, please do take note.
The Centre for Covid-19 Situation Administration spokesman, Taweesilp Visanuyothin, said on Monday officials from Bangkok will join local staff in the eastern province in checking for coronavirus contagion at all places they went to, and people who were in close contact.
The breaking health scare follows a positive result returned from the lab on Sunday after tests on a swab taken from the 43-year-old soldier. It showed he was infected with the Covid-19 virus.
The muslim soldier was one of the three new confirmed cases announced by the CCSA on Monday. The other two were Thais returning from working in Kuwait and Bahrain.
The infected soldier and 30 others, including crew of their aircraft, departed Egypt on July 6 and went to the United Arab Emirates. They went on to Pakistan the following day, Tuesday, and arrived at U-tapao airport in Rayong on Wednesday.
Most of the muslim countries like UAE, Pakistan, Bahrain, Iran, Kuwait, Qatar, Saudi Arabia, Bangladesh and Egypt are all hotspots for Covid-19 infections found in Thais returning home from overseas or foreigners coming from there.
The public information posted on the CCSA Facebook page said the group stayed at a hotel in the province but did not name the hotel.
The delegation left U-tapao for Chengdu, China, on Thursday. They returned shortly before midnight the same day, and went to stay at the same hotel.
No one knows who allowed the delegation in and whether the Thai army was again involved as the last time when at outbreak took place at a boxing stadium during the lockdown, it was found that army personnel was responsible for the mess as with most other mess in the country. In that particular incident, many locals contracted the COVID-19 disease at the boxing event organized by army personnel.
Dr Visanuyothin said health o fficials tested them on Friday, and there were unconfirmed signs that the muslim soldier might have caught the virus.
The group returned to Egypt on Saturday. The test result confirming the infection came back from the lab on Sunday. (we can safely assume that Thailand has very primitive COVID-19 testing facilities as most countries now are using diagnostics that can give results in a few hours accurately.)
For more on
Thailand Coronavirus
situation, please check out other news sites as we typically give up reporting on local news.