Strep A News: Invasive Group A Strep (iGAS) Infections Increasing Globally. 19 Pediatric Deaths In UK, 2 In US and 2 In Canada With Thousands Infected!
Strep A News
: Cases of invasive group A strep, a bacterial infection are reportedly increasing globally at a worrisome rate with countries like the United Kingdom, United States and Canada most likely to be hit badly.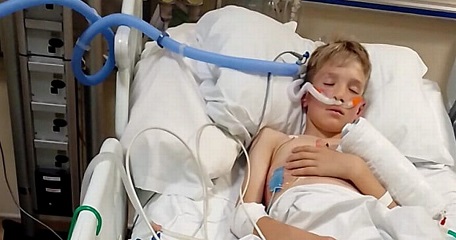 Cases were initially reported in the United Kingdom a few weeks ago but since then, 19 children have died from the infection with another 185 children aged between one to 9 years of age are in critical condition while more than 7,500 cases of strep A infections have been reported in the country.
https://www.independent.co.uk/news/health/strep-a-deaths-children-update-b2246064.html
Chief medical adviser at the UK Health Security Agency (UKHSA), Professor Susan Hopkins, told
Strep A News
outlets and reporters, "The vast majority of children affected have a mild illness and that an "open mind" is being kept as to why there is a spike in infections. The latest with scarlet fever and Strep A infections are that we've seen about just over 7,500 notifications of scarlet fever, and that's probably an underestimate. We have a lot of reports coming in in the last few days so we expect it to be even higher."
In the United States, two children have died from strep A infection in Denver and cases are now rising not only in Colorado but also in various other states.
https://www.denver7.com/news/local-news/two-denver-metro-children-die-after-contracting-invasive-group-a-strep
The U.S. CDC is also investigating the rise in strep A infections across America while has also issued a warning on its website.
https://www.cdc.gov/groupastrep/igas-infections-investigation.html
In Montreal Canada, two children have also died from strep A infections a week ago after contracting the disease in mid-November.
https://www.cbc.ca/radio/whitecoat/group-a-strep-infections-1.6687216
The WHO has also issued a warning since the 15th of December about the rise of strep A infections in other parts of Europe including countries like France, Ireland, the Netherlands and Sweden.
https://www.who.int/emergencies/disease-outbreak-news/item/2022-DON429
Group A streptococcus (GAS) are bacteria that live in the throat and the skin. There are more than a hundred different strains of GAS, which is typically harmless for most people. The infection can however get serious and it is known as invasive group A streptococcus, or iGAS. That happens when the bacteria get into parts of the body where bacteria don't normally exist, like blood, the brain and the lungs. Below are a links to know more about the disease.
While some are attrib uting the stupid concept of "Immunity Debt" as causing the rise of various opportunistic infections, in reality, previous exposure to the SARS-CoV-2 virus is to be blamed as not only does the virus damage the robust innate immunity of children, it also causes immune dysfunction and even COVID-19 induced immunodeficiency in both children and adults.
https://www.thailandmedical.news/news/covid-19-news-charlatans-promoting-immunity-debt-for-rise-in-pediatric-viral-infections!-sars-cov-2-destroying-children-s-robust-innate-system-is-the-
Furthermore, with billions around the world already exposed to the SARS-CoV-2 virus, many not even aware they had so….it is believed that the changed human immune landscape is also causing other pathogens to evolve. Hence, there are speculations that new strains of strep A bacteria that could be at play. This is currently being investigated.
Already in the case of RSV infections, it was discovered that indeed new strains of RSV were involved in the current surges.
https://www.thailandmedical.news/news/breaking-scientists-discover-new-circulating-rsv-virus-variants-that-is-causing-prolong-infection-especially-among-infants-and-young-children
In the next few weeks and months, we can expect to see increases in various other viral, bacterial and fungal infections as new strains and also a weakened human immune system are all at play. Measles is expected to the next concerning outbreak.
Update
: Local Canadian media reports that three kids have died from strep A so far!
https://www.thestar.com/news/canada/2022/12/16/two-montreal-kids-die-from-strep-a-as-infections-on-rise-among-children.html
For the latest
Strep A News
, keep on logging to Thailand Medical News.
Read Also:
https://www.thailandmedical.news/news/breaking-uk-health-authorities-issue-warnings-about-rare-invasive-strep-a-infection-outbreak-after-six-children-died-and-more-than-851-infected
https://www.cdc.gov/groupastrep/index.html
https://www.nhs.uk/conditions/strep-a/