South Korean Tourist Becomes 16th Victim After Visiting Thailand. Fake News? 56 People Die from Swine Flu In Taiwan
South Korean authorities have confirmed that a female South Korean tourist who had visited
Thailand
had contracted the
coronavirus
. She had never visited China prior to this nor was she in contact with any Chinese nationals. She becomes South Korea's 16th case of those infected with the coronavirus.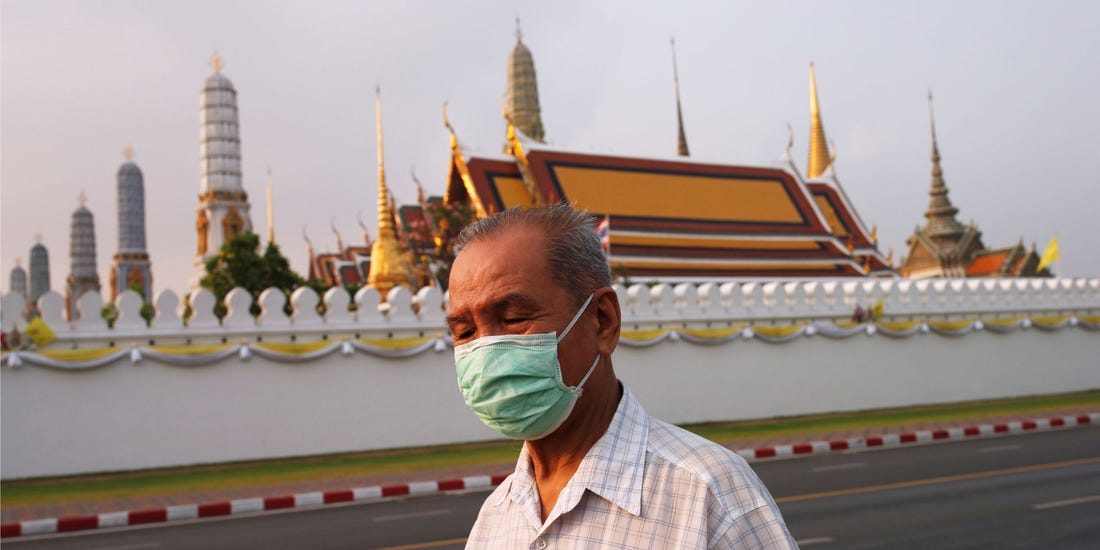 Many are however doubting the credibility of this report as
Thailand
has taken extreme measures to contain the spread of the virus and has only had 19 cases so far and almost 95 percent of those were Chinese nationals except for one Thai taxi driver who contracted it through local human to human transmission as he had been ferrying Chinese nationals in his taxi.
There has been no mention of any new cases of
coronavirus
infections in
Thailand
nor any mention of any suspected cases by authorities in
Thailand
despite having a lot of Chinese tourists even from Wuhan during the periods of December 2019 and January 2020 and also despite having no ban on Chinese travellers to date. The country has managed to effectively keep a low number of infected cases while also enforcing a stringent campaign of eradicating fake news online through criminal charges.
The Public Health Ministry did report on Tuesday morning that the number of infected people found in
Thailand
still remained at 19. Eight of them had been cured and discharged, and 11 remained at hospitals. Health officials said that the hospitalised patients were feeling much better and healthy, but officials extended their stay because the disease could remain in their bodies for a relatively long period. To prevent transmission they would not be discharged until they were proven to be free of the
coronavirus
.
To date, no countries have issued travel advisories against
Thailand
as a result of this South Korean tourists claiming to have contracted the
coronavirus
In
Thailand.
Meanwhile transparent Macao has confirmed its 10th
coronavirus
case on Tuesday, according to a government statement.
The patient is a 59-year-old male Macao resident who traveled to Guangzhou and returned to Macao on January 25. The next day, he started showing symptoms including a running nose, coughing and a fever.
He is now quarantined, and the authorities are investigating his close contacts and his medical history.
Earlier this morning, Macao released details for its 9th
coronavirus
case as well, a 29-year- old female Macao resident. She hadn't traveled outside Macao recently, but had visited the home of the 8th confirmed case on January 24.
In Taiwan where are there are now 10 confirmed cases of the
coronavirus
, a
swine flu
epidemic has broken out and 56 people have been reported dead as a result of it.
It seems that the seasonal
influenza
has posed a greater threat in Taiwan than the
coronavirus outbreak
from mainland China.
According to Taiwan's CDC officials, 56 people had died from the
H1N1 virus
, also known as
swine flu
.
As of Tuesday afternoon, the number of countries that have confirmed infected cases of the
coronavirus
stands at 31 countries, with a total of 196 infected individuals.
The breakdown of countries with
coronavirus
infected cases are : Japan(20 cases)
,

Thailand
(19 cases), Singapore(18 cases), South Korea(16 cases), Hong Kong(15 cases), Australia(12 cases), Germany(12 cases), United States(11cases), Taiwan(10 cases), Macau(10 cases), Malaysia(8 cases), Vietnam(8 cases), France(6 cases), UAE(5 cases), Canada(4 cases), India(3 cases), Italy(2 cases), Britain(2 cases), Russia(2 cases), Philippines(2 cases), Nepal(1 case), Sri Lanka(1 case), Ukraine(1 case), Finland(1 case), Sweden(1 case) Spain(1 case), Brazil(1 case) Cambodia(1 case) , Tunisia(1 case) Kenya (1 case) Botswana (1 case)
There are now more than 14,870 suspected
coronavirus
cases all over the world spanning 98 countries being investigated. The bulk being in countries like Hong Kong, Taiwan, Japan, South Korea, Singapore, Myanmar, Cambodia, Vietnam, Thailand, Malaysia and Philippines.
For trustworthy and accurate updates about the
China

coronavirus

epidemic
or the
Thailand Coronavirus
scenario, keep on checking at:
https://www.thailandmedical.news/articles/coronavirus