SHOCKING! While Healthcare Professionals Fighting COVID-19 In America Facing Mask Shortages, U.S. Embassy In Thailand Donates Thousands Of Mask To Thais!
U.S. COVID-19 News
: Thai media yesterday reported that the United States Embassy In Bangkok, Thailand had send thousands of boxes of protective mask to the province of Chiang Rai province for distribution to Thai hilltribe individuals.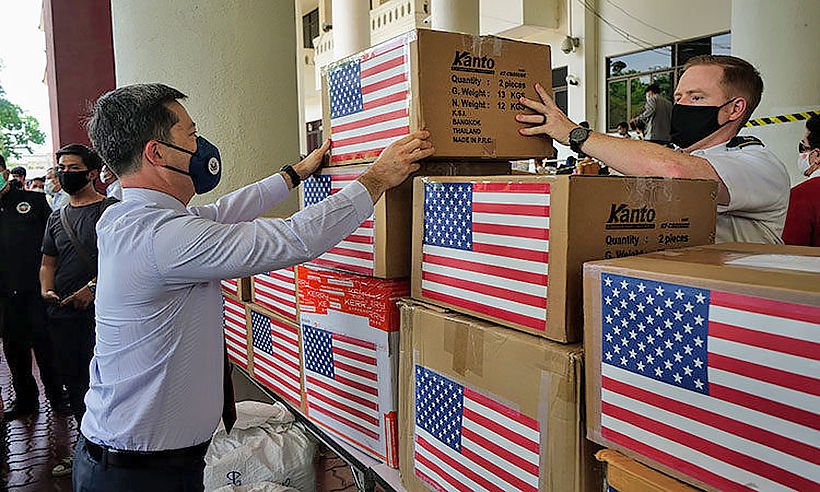 US embassy offcials in Thailadn donating protective mask to Thais.
Photo Credit: US Embassy, Bangkok
This was shocking news for the teams at Thailand Medical News. Over the last few months we had been struggling to find and send stocks of N95 respirators and other protective mask to doctors and healthcare professionals that we know in various hospital in New York, Boston, Chicago and California and while Thailand had made face mask a controlled item and hence they could not be exported out, we had to use contacts in Vietnam, Malaysia and even India to find an dispatch stocks to the US for free as goodwill to help our healthcare colleagues there.
Thailand since the beginning of the pandemic had made protective face mask a controlled item and the local authorities had controlled all local manufacturers from exporting out the masks and they even boasted that production has reached a level of millions of mask a day to meet local demand. There were also some rumored scandals involving huge stocks being sold at a profit to overseas countries by certain corrupted individuals.
At one stage, it was even reported that American expats and other foreigners in Bangkok were turned away from local shops and even local government shops selling masks when they tried to buy protective mask as it was said that priority was for the local Thais.
What is even more confusing is that as Thailand for weeks (more than 60 days) has reported no local transmissions and even claimed that they have the whole COVID-19 situation under control, why was the US Embassy in Thailand donating masks that is much sought after by healthcare professionals in the US to people who did not really need it as the country had already more than sufficient mask stocks and many huge and rich Thai corporations would easily donate it to the poor if ever there was really such a demand.
Despite the fact that we have many intellectually challenged Trump supporters and Republicans refusing to wear masks, the rest of the better educated American population and also almost all the healthcare staff are in dire need of mask and there is such an acute shortage of mask that doctors and nurses have to recycle their mask much to their detriment or risk to their own health.
In some places, the economic hardships have made many Americans not even being able to afford such protective masks despite wanting to use them.
The donation also sort of contradicts Trumps's very own policy of Americans First. Should not the embassy staff whose senior executives are appointed by the Trump administration also conform to his policies of American First ie serving the American people first.
It must also be noted that Thailand is closer to China and in fact most of its policies from business, tourism etc are all focused on the Chinese with many major infrastructural projects awarded to the Chinese entities. Their own authorities (Thai) were using derogatory terms to describe Western Caucasians in Thailand during the initial days of the COVID-19 breakout. At one stage they even discriminated against foreigners especially white causcasians in that they were not allowed to use public buses as public buses were to be allowed only for Thais.
The Northern province of Chiangrai is located nearby to the notorious Drug triangle zone and certain of the Chiangrai and hilltribe people have to a certain degree, origins from the Yunnan province in China and most are able to even speak Chinese dialects and are more culturally linked to the Chinese.
It was reported in local Thai media that a representative of the US embassy in Bangkok delivered the masks, valued at around 458,000 Thai baht, to authorities in Chiang Rai last week. The US embassy representative said that the USA wants to help provide protection to the people living in the remote mountains of Thailand (something that should be the responsibility of the Thailand government that says it has everything in control plus they are also laden with huge budgets to spend on such things.)
It should also be noted that while America has been going to hardships with the COVID-19 crisis in terms of drug shortages, medical equipment shortages, PPEs shortages etc, Thailand has never made any official gestures of helping by even the donation of medical supplies etc. (we at Thailand Medical News did whatever we could on a small basis to various entities in the US)
But when China was going to the initial stages of the COVID-19 crisis, Thailand made a lot of such gestures.It was reported on the Thailand's MFA site that on 6 February 2020, Mr. Paskorn Siriyaphan, Deputy Permanent Secretary of the Ministry of Foreign Affairs of Thailand, presented a donation of three million baht from the Royal Thai Government to the Thai Red Cross Society, which was transmitted to the Red Cross Society of China. The donation was to provide humanitarian and medical assistance to the Chinese people affected by the outbreak of the Novel Coronavirus 2019.
The Royal Thai Government had also donated essential supplies and equipment, procured by the government and donated by the private sector, to medical personnel and those affected by the outbreak of the Novel Coronavirus 2019. These supplies were delivered to the People's Republic of China on 4 February 2020 by Thai Air Asia flight FD570 on its mission to transport Thai nationals in Wuhan and neighbouring areas back to Thailand.
In addition, H.E. General Prayut Chan-o-cha, Prime Minister of the Kingdom of Thailand, sent a note to H.E. Mr. Li Keqiang, Premier of the State Council of the People's Republic of China, expressing support to the Government of the People's Republic of China in the efforts to overcome the situation as well as appreciation for taking good care of Thai nationals in Wuhan and other affected areas, while reaffirming Thailand's readiness to collaborate closely with China in dealing with the situation.
Also many of the private Thai conglomerates that are basically owned by Sino Thais made massive donations of millions of dollars in products and cash support to China.
We hope that more Americans back home will help share this article and ask your media and representatives for answers.
For more U.S. COVID-19 News, keep on logging to Thailand Medical News.