Among patients with breast cancer receiving neoadjuvant or adjuvant chemotherapy, those who underwent scalp cooling were significantly less likely to experience chemotherapy-induced hair loss than those who did not receive scalp cooling, a study published in
JAMA
has shown.
1
Although scalp cooling devices have been used to prevent alopecia caused by chemotherapy, its efficacy has not been established in a randomized clinical trial. Therefore, researchers sought to evaluate the efficacy and safety of scalp cooling compared with no treatment in women with breast
cancer undergoing chemotherapy.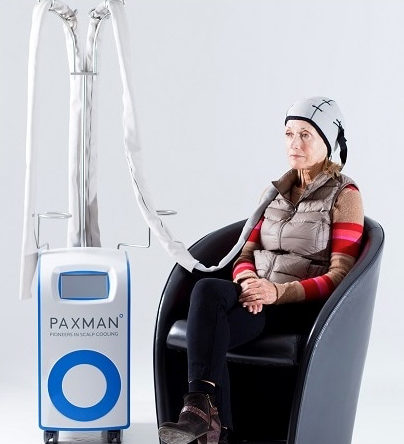 Scalp cooling technology to fight cancer causing alopecia (hair loss) approved by the FDA
For the multicenter study (ClinicalTrials.gov Identifier: NCT01986140), investigators enrolled 182 patients receiving neoadjuvant or adjuvant chemotherapy with a taxane, anthracycline, or both, at 7 sites in the United States and randomly assigned them 2:1 to undergo scalp cooling with Orbis Paxman Hair Loss Prevention System or control. Their average age was approximately 53 years and 36% and 64% received anthracycline-based and taxane-based chemotherapy, respectively.
The interim analysis showed that 50.5% (95% CI, 40.7-60.4) of the 95 evaluable women in the scalp cooling experienced successful hair preservation, defined as no hair loss or less than 50% hair loss without requiring a wig at the end of 4 cycles of chemotherapy, compared with 0% (95% CI, 0-7.6). The investigators stopped the trial early due to scalp cooling being superior to no treatment (
P
=.0061).
Notably, there were no statistically significant differences in changes in quality of life from baseline to cycle 4 of chemotherapy between the 2 groups.
Investigators observed 54 adverse events in the cooling group. All were grade 1 to 2 toxicities. There were no serious adverse device events.
The findings suggest that scalp cooling is more likely to prevent chemotherapy-induced alopecia in patients with
breast cancer
than no treatment.
In another trial, women who were treated with scalp cooling wore a cap or helmet with circulating cooling fluid for half an hour before chemotherapy, during chemotherapy administration, and for 90 minutes after the completion of chemotherapy. Patients in the control group did not wear any cap before, during or after their treatment. The interim results revealed that 48 of 95 patients in the intervention group, or 50.5 percent were able to preserve their hair, while none of the 47 patients in the control group kept their hair.
The scalp cooling system, which has not proven effective for every patient and shouldn't be used with certain
chemo drugs
, was approved by the USFDA in May of 2017. Systems are currently being rolled out to hospitals nationwide, bringing more comfort to more patients that need it most.
Reference
1. Nangia J, Wang T, Osborne C, et al. Effect of a scalp cooling device on alopecia in women undergoing chemotherapy for breast cancer.
JAMA
. 2017;317(6):596-605.