Rare SARS-CoV-2 Double Mutant Variant Found In India Along With Many Other Variants! Countries Should Ban All Arrivals From India As A Safeguard.
The Indian SARS-CoV-2 Consortium on Genomics (INSACOG), a grouping of 10 national laboratories that was established by Ministry of Health and Family Welfare, has discovered a rare
double mutant variant
of the SARS-CoV-2 virus circulating around along with a variety of new variants including some that should be deemed immediately as being variants of concern or VOC.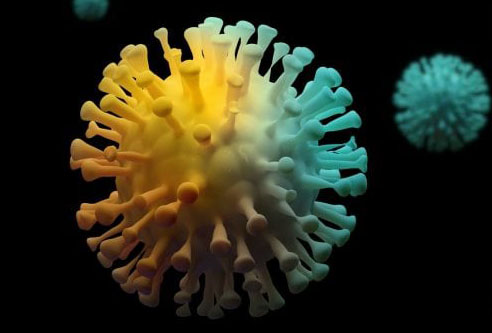 A statement issued by the Indian health officials said that the double mutant virus has been detected in 15-20 per cent samples collected from Maharashtra.
Dr Rakesh Mishra, head of the Centre for Cellular and Molecular Biology (CCMB) in Hyderabad explained to Thailand Medical News, "Each variant has a mutation pattern. Generally, we see one mutation, but this new double mutant variant is defined by two mutations that are occurring together."
Virologist Dr Shahid Jameel also conformed the same, "A double mutation is two concerning mutations coming together in the same virus. A double mutation in the key areas of the virus's spike protein may increase these risks and allow the virus to escape the immune system and make it more infectious."
The Indian health ministry statement said, "The analysis of samples from Maharashtra has revealed that compared to December 2020, there has been an increase in the fraction of samples with both the E484Q and L452R mutations."
Dr Jameel added that "there may be a separate lineage developing in India with the L452R and E484Q mutations coming together".
"Alarmingly such mutations confer immune escape and increased infectivity. These mutations have been found in about 15-20 per cent of samples and do not match any previously catalogued VOCs (variants of concern)," the ministry said.
"Although these have been categorized as VOCs, they still require the same epidemiological and public health response of increased testing, comprehensive tracking of close contacts, prompt isolation of positive cases & contacts as well as treatment as per National Treatment Protocol" by the States/UTs," it said.
Besides the double mutant variant, INSACOG has also found 770 other variants of concern, including UK, Brazilian and South African variants in India.
These include 736 samples positive for viruses of the UK (B.1.1.7) lineage. 34 samples were found positive for viruses of the South African (B.1.351) lineage. 1 sample was found positive for viruses of the Brazilian (P.1) lineage. The samples with these VOCs have been identified in 18 states of the country.
Genome sequencing and analysis have been carried out on samples from arriving international travelers, contacts of those positive for VOC and community samples from most of the states at INSACOG partner laboratories.
Also the N440K variant that is associated with immune escape has been found in 123 samples from 11 districts. This variant was earlier found in 33% of samples from Andhra Pradesh, and in 53 of 104 samples from Telangana.
The N440K va riant has also been reported from 16 other countries including UK, Denmark, Singapore, Japan and Australia. As of now these can be at best said to be variant under investigation.
"Though VOCs and a new double mutant variant have been found in India, these have not been detected in numbers sufficient to either establish or direct relationship or explain the rapid increase in cases in some states. Genomic sequencing and epidemiological studies are continuing to further analyze the situation," the ministry further said.
In the last 24 hours, India reported 47,262 new COVID-19 cases, 23,907 recoveries and 275 deaths as per data from the Union Health Ministry on Wednesday.
To date the total cases in the country has now reached 11,734,058 including 368,457 active cases. The death toll has gone up to 160,441.
However many are saying that the real figures in India could be as as high as 8 fold as there is lack of testing coupled with deliberate concealment of actual figures by both state and federal governments.
Shockingly with 231,942 active coronavirus cases, Maharashtra continues to remain the most affected state with almost 53,589 people having died in the state.
The Indian Council of Medical Research (ICMR) said that as many as 1, 025,628 samples were tested on March 23. A total of 236 million samples had been tested up to March 23.
A total of more than 50 million doses of COVID-19 vaccine doses have been administered so far.
The new double variant that bears both the E484Q and L452R mutations could spell a major disaster that is about to happen and also more concerning is that some of the new variants that were found in India contain mutations never seen before and are baffling researchers. What are the possible implications of these new mutations is not yet known.
Thailand Medical News had already months ago predicted that India will emerge as the breeding grounds for some of the worst SARS-CoV-2 variants to ever emerge due to the complacent attitude of both the medical community and also the government officials there.
As a safeguard, countries should totally ban all arrivals from India immediately and also screen all good and products arriving from India more diligently or even stop all imports from India for a while.
Countries that fail to take this safety and precautionary measure will end up paying a heavy price later.
For more on
double mutants
, keep on logging to Thailand Medical News.