Numerous Studies Are Showing That Lactoferrin Can Be Used As An Adjuvant In COVID-19 Treatment Protocols
COVID-19 Supplements
: Lactoferrin (Lf), also known as lactotransferrin (Ltf), is a multifunctional protein of the transferrin family. Lactoferrin is a globular glycoprotein with a molecular mass of about 80 kDa that is widely represented in various secretory fluids, such as milk, saliva, tears, and nasal secretions. Lactoferrin is also present in secondary granules of PMNs and is secreted by some acinar cells.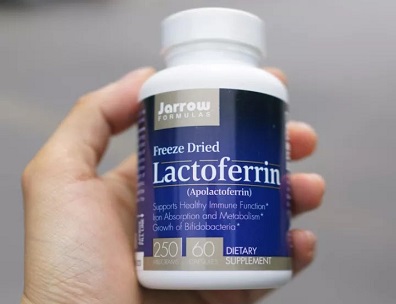 Lactoferrin can be purified from milk or produced recombinantly. Human colostrum ("first milk") has the highest concentration, followed by human milk, then cow milk (150 mg/L).
Lactoferrin is one of the components of the immune system of the body; it has antimicrobial activity (bacteriocide, fungicide and antiviral) and is part of the innate defense, mainly at mucoses.
Importantly it is believed that lactoferrin provides antimicrobial activity to human infants.
Lactoferrin interacts with DNA and RNA, polysaccharides and heparin, and shows some of its biological functions in complexes with these ligands.
Past studies have showed that Lactoferrin has antiviral properties.
https://www.thailandmedical.news/news/must-read-immune-system-natural-protein-found-in-mother-s-milk-and-colostrum-called-lactoferrin-could-help-protect-against-various-viruses
Lactoferrin supplements reduces the risk of respiratory tract infections from a recent meta-analysis of randomized controlled trials.
https://clinicalnutritionespen.com/article/S2405-4577(21)00307-7/fulltext
Chinese researchers were the first to suggest using Lactoferrin to treat COVID-19 as early as October 2020.
https://www.spandidos-publications.com/10.3892/etm.2020.9402
A group of Italian researchers in 2021 demonstrated via a clinical trial that Lactoferrin could be used as an antiviral to treat COVID-19.
The Italian study team conducted an in vivo preliminary study to investigate the antiviral effect of oral and intranasal liposomal bovine Lf (bLf) in asymptomatic and mild-to-moderate COVID-19 patients. From April 2020 to June 2020, a total of 92 mild-to-moderate (67/92) and asymptomatic (25/92) COVID-19 patients were recruited and divided into three groups. Thirty-two patients (14 hospitalized and 18 in home-based isolation) received only oral and intranasal liposomal bLf; 32 hospitalized patients were treated only with standard of care (SOC) treatment; and 28, in home-based isolation, did not take any medication. Furthermore, 32 COVID-19 negative, untreated, healthy subjects were added for ancillary analysis.
Interestingly, liposomal bLf-treated COVID-19 patients obtained an earlier and significant (p < 0.0001) SARS-CoV-2 RNA negative conversion compared to the SOC-treated and untreated COVID-19 patients (14.25 vs. 27.13 vs. 32.61 days, respectively). Liposomal bLf-treated COVID-19 patients showed fast clinical symptoms recovery compared to the SOC-treated COVID-19 patients. In bLf-treated patients, a significant decrease in serum ferriti n, IL-6, and D-dimers levels was observed. No adverse events were reported.
These findings led the
COVID-19 Supplements
study team to speculate a potential role of bLf in the management of mild-to-moderate and asymptomatic COVID-19 patients.
The study findings were published in the peer reviewed International Journal of Environmental Research And Public Health.
https://www.mdpi.com/1660-4601/18/20/10985/htm
Researchers from University of Florida Health also claimed that lactoferrin when used alongside certain antihistamines, could be used to treat COVID-19.
https://www.thailandmedical.news/news/breaking-scientists-find-that-the-otc-drug-diphenhydramine-when-paired-with-lactoferrin-could-be-a-new-therapeutic-for-covid-19
A University of Michigan study published this year showed the Lactoferrin exhibited inhibitory properties against a wide range of SARS-CoV-2 variants.
https://www.sciencedirect.com/science/article/pii/S0022030222001151
A senior researcher from the University of Huddersfield-UK also extolled the merits of using lactoferrin to treat COVID-19 late 2021.
https://www.hud.ac.uk/news/2021/october/hamid-merchant-lactoferrin-supplement-research/
An American study review showed that using 500 mg to 1,000 mg of lactoferrin daily to treat COVID-19 infections helped to eradicate symptoms and also clear the virus while the study also recommended taking 250 mg to 500 mg daily as a prophylaxis. Lactoferrin is a well-tested, safe, and natural compound with the potential to help many during the COVID-19 pandemic.
https://www.actascientific.com/ASNH/ASNH-06-0993.php
A recent American study published in July this year, showed that lactoferrin could be used in SARS-CoV-2 infections to counter the viral disruption of iron homeostasis that typically causes hyperinflammation and hyperferritinemia.
https://www.mdpi.com/2072-6643/14/15/3090/htm
There are currently a few randomized clinical trials underway in Michigan-USA, New York-USA and Texas-USA and also in the United Kingdom exploring using lactoferrin to treat COVID-19 and Thailand
Medical News
will be providing updates on the results of the trials.
For more on various
COVID-19 Supplements
, keep on logging to Thailand Medical News.
Other Lactoferrin- SARS-CoV-2 Studies
https://www.bmrat.org/index.php/BMRAT/article/view/727
https://www.tandfonline.com/doi/full/10.1080/20477724.2020.1779514