Occulus Hirsutus and AQCH: India Discreetly Developing And Testing COVID-19 Drug Based On Phytochemicals Extracted From Occulus Hirsutus Plant
Occulus Hirsutus and AQCH
: For the past 4 months India has been secretly working with teams of medical, biotech, biomolecular and pharmaceutical experts in developing an antiviral drug to treat COVID-19 using extracted phytochemicals from the Occulus Hirsutus plant.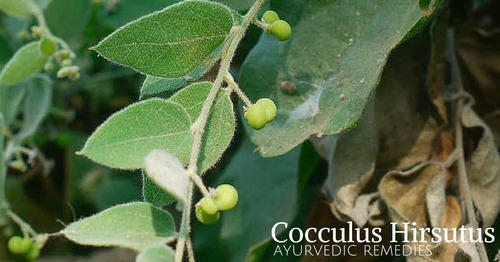 The plant Cocculus hirsutus
(Linn.) Diels (Menispermaceae), described in traditional indian medicine ayurvedic literature as patalagarudi, is a straggling shrub, widely distributed all over India, especially in dry regions. The leaves and roots of this plant are largely employed in the Indian traditional medicine for a variety of diseases including, hepatic obstruction, jaundice, bronchitis, diabetes mellitus, anorexia, gonorrhoea, and leprosy.
https://www.bdpsjournal.org/index.php/bjp/article/view/457
C. hirsutus
is well documented for its anti-inflammatory, analgesic, antidiabetic and spermatogenic activities.
https://d1wqtxts1xzle7.cloudfront.net/50468764/PHARMACOGNOSTICAL_AND_PHARMACEUTICAL_STU20161121-7106-uanrt5.pdf?1479788954=&response-content-disposition=inline%3B+filename%3DPharmacognostical_and_Pharmaceutical_Stu.pdf&Expires=1593246019&Signature=GvkK~8d~HleV1yPk~p4UoIpNxdnPzQAyGMMf~AgpAyMf1qzg6BPFPOwsXEXxlu0uL~qYZ2xmJKFy4ZK~myO~Qf6KSQAuxJ8H~Skm4QKkGPtnt6F3XCJ7Wf1UrNP5FLp6Gq97ahsX4Ysgx3yPNwUpt0CrnLfIIzlK~FVfPs9qo-v8yilxUkLTCgVn31W4fUp41DQmnQGqo12IxZGSUONaDsfDVPQ9QERs7~sL3OEMgDiXgdI8kGvroP9xazYfxB1ocoEkqJXA856X0RlG3VtkmzqNbMuPfHdGFajj0E5KYgUd-u83wxVgMRKUX7Wrh60jAIYjNmXXLuSZpVsdVn9XcQ__&Key-Pair-Id=APKAJLOHF5GGSLRBV4ZA#page=56
and
https://www.ajol.info/index.php/ajb/article/view/57403
However an API (active pharmaceutical ingredient) called AQCH which is actually a combination of extracted phytochemicals from the Occulus Hirsutus plant was already developed in a while back and studies were being done for its use as a potential drug to treat dengue as it also demonstrated a broad-spectrum antiviral efficacy.
Since 2016, Sun Pharma, one of India's largest pharmaceutical companies had been working closely with the department of biotechnology at ICGEB, (International Centre for Genetic Engineering and Biotechnology –Italy) and the Council of Scientific and Industrial Research-Indian Institute of Integrative Medicine to develop such a phytopharmaceutical drug for treating dengue.
However Sun Pharma and the Indian government got the extracted phytochemicals from the plant and also various APIs patented and started doing various studies since February this year from vitro studies using Vero E6 cells to actual animal s models. Despite the success of AQCH as an antiviral against the SARS-Cov-2 coronavirus at those stages, none of the study findings were sent to any journals for publication as it was claimed that the Indian government prohibited the release of any data publicly.
Very quietly, the Drugs Controller General of India (DCGI), in April, allowed Sun Pharma to run trials for COVID-19. AQCH is the first phytopharmaceutical approved for clinical trials by the DCGI.
The initial clinical trial phase of the drug as an antiviral proved to be successful and the DCGI approved a second phase trial for Sun Pharma. This information was for the first time leaked to the media in the first week of June 2020 and was covered by certain domestic media in India.
The phase 2 clinical trial is being conducted on 210 subjects across 12 centres in India for a duration of 10 days, the results of which are expected in late August or September. AQCH's human safety study was already completed and the drug was found to be safe at the recommended dose for a phase 2 study.
When asked as to why Sun Pharma or the Indian government never released any data on initial studies, a spokesman who wanted to remain anonymous replied, 'Most of the big medical journals are indirectly owned or controlled by Western Pharmaceutical companies and by politicians from the US and Europe and it would be their mandate to make sure that there is no other candidates that would compete with their drugs or vaccines as they all have vested money interest. At the moment they are more concerned about promoting toxic drugs that have no real efficacy and also the dream of a vaccine. We have seen how other promising drug repurposed candidates have been discreetly 'silenced'. Hence we prefer conduct our own research and trials to find a solution to the COVID-19 crisis"
For more on
Occulus Hirsutus, AQCH
and COVID-19, keep on logging to Thailand Medical News.