Effects Of African Swine Fever Crisis: Global Shortage of Heparin and Virologists Warns That A Mutation Affecting Humans Is Very Highly Possible.
Around one third of the world's pigs are expected to die from
African swine fever
as authorities grapple with a complex disease spreading rapidly in the globalization era, the World Organization for Animal Health's president, Dr. Mark Schipp commented yesterday during a press conference. From an initial expectation of 25 percent, the figure was upgraded to 33 percent or one third due to emerging statistical data.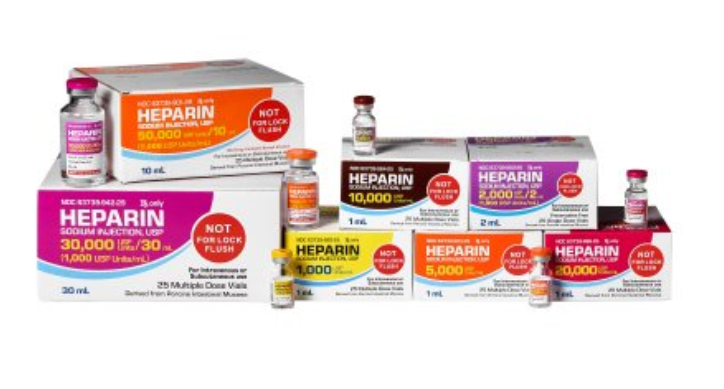 A sharp reduction in the world's pig population would lead to possible food shortages and high pork prices, and it might also cause shortfalls in the many products made from pigs.
One of the most apparent effects on the global medical industry will be an acute shortage of the blood-thinner
heparin
, which is used in humans but made from pigs.
Heparin
is mostly made in China and shipped globally but due to the current
African Swine Fever
crisis that has spread and affected numerous countries including China which has been hit very badly,
Heparin
production has been down with shortages already appearing in the global distribution chain.
The crisis is being described as the biggest threat to the commercial raising of pigs the world has ever seen and the biggest threat to any commercial livestock of our generation.
African swine fever,
fatal to hogs but not threat to humans yet, has wiped out pig herds in many Asian countries. Chinese authorities have destroyed about 2.7 million pigs in an effort to contain the disease there since August 2018. The crisis has spread from Africa to Europe and Asia and now even to South America.
Pork prices has nearly doubled from a year ago in China, which produces and consumes two-thirds of the world's pork. And China's efforts to buy pork abroad, as well as smaller outbreaks in other countries, are pushing up global prices.
Already there are shortages in some countries, and there's been some substitutions using other sources of protein, which is driving up the prices of other proteins as well including poultry, lamb and beef.
In the meanwhile, leading virologists, Dr Irina Kalnina from Latvia commented that as the containment of
African Swine Fever
has now been breached, the possibility that the virus could mutate and affect humans should no longer be ruled out.
The
infectious disease
expert spoke out strongly against the public's sometimes reckless disregard for the monitoring and quarantine measures put into place by state veterinary health authorities in the state of emergency territories declared by various governments so far.
Dr Irina commented to
Thailand Medical
News during a phone interview "ASF is not dange rous now, but it only takes a coincidental combination of conditions for it to become so, and then it's just a matter of it starting to proliferate which it is already doing so in China"
There are plenty of precedents for a virus to adapt to a new carrier, such as forms of bird flu, however Dr Kalniņa explained that the genome for the ASF virus is more stable, meaning that while mutations could be less likely to develop, they could certainly not be ruled out.
Thailand Medical
News observes that the African Swine Fever crisis started in 2014, initially in Europe and at those stages numerous world authorities had said that the crisis was under control. Come 2019, the crisis is still ongoing and has spread globally with more than 260 million pigs culled to date in the last 5 years. Many are saying that figures are being keep as secrets in countries like China where it has been rumored and even reported in media like the Guardian etc that in reality, more than 350 million pigs have been culled in China.
What is more worrying is the incidence of deaths that have occurred in China that has been associated with AFS. Though the deaths were reported as not being caused by the virus, it affected pig farmers and the cause of the deaths were never disclosed. Many are speculating that if the virus does mutate and affect human, it would most probably emerge in China.