Dishonest India? New Study Says That Actual COVID-19 Deaths In India Are More Than Tenfold Of That Reported By Indian Authorities!
India already has earned the reputation of being the land of COVID-19 scams, second to China but more despicable as often their own innocent people are the victims.
https://thethaiger.com/news/world/covid-19-sees-a-rise-in-dangerous-scams-in-india
https://www.npr.org/2021/07/09/1014512227/thousands-given-fake-vaccines-through-scam-in-india
https://www.hindustantimes.com/india-news/mahakumbh-covid-testing-scam-60-000-numbers-verified-sit-close-to-1st-arrest-101626185034191.html
https://www.mondaq.com/india/social-media/1082528/covid-scams-on-social-media
https://www.bbc.com/news/56172784
It has also earned the reputation of being the land of fake studies and medical journals.
https://www.thailandmedical.news/news/example-of-why-most-covid-19-studies-from-indian-researchers-should-not-be-trusted-they-will-do-anything-for-money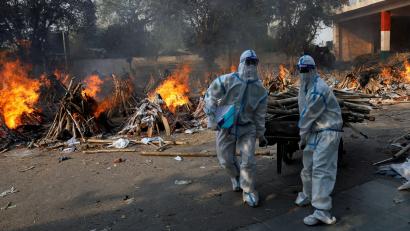 Now emerging data is showing that the country has even lied about the true number of deaths due to COVID-19 in the country.
According to a study by the Center for Global Development, India's coronavirus death toll is up to 10 times higher than the nearly 415,000 fatalities reported by authorities, likely making it the country's worst humanitarian disaster since independence.
https://www.cgdev.org/publication/three-new-estimates-indias-all-cause-excess-mortality-during-covid-19-pandemic
The study by the American-based Center for Global Development estimates that between 3 million and 4.9 million more people died than would be expected between January 2020 and June 2021.
According to the study team, "True deaths are likely to be in the several millions, not hundreds of thousands, making this arguably India's worst human tragedy since partition and independence."
The center's report was based on estimating "excess mortality", the number of extra people who died compared with pre-crisis figures.
Excess deaths are defined as the difference between recorded number of deaths and expected number of deaths in the same time period. It is a more accurate measure than confirmed
COVID-19 deaths
alone, according to the World Health Organization (WHO).
It is known that the 1947 partition which marked the independence of India and Pakistan from Britain led to the killing of 1 million people in sectarian violence between Hindus and Muslims.
The research examined three different data sources, including extrapolating death registrations from seven states, where half of India's population lives and applying international estimates of age-specific infection fatality rates to nationwide antibody tests.
The study team also used consumer surveys of 177,000 households across India that record recent deaths. Many epidemiologists have previously said the actual death toll could be several times higher than the official toll but the government has rejected this as misleading and exaggerated.
The study findings estimate is the highest yet for the carnage in the South Asian nation of 1.3 billion people, which is emerging from a devastating surge partly fuelled by the Delta variant in April and May.
Currently, India's official death toll of just over 414,000 is the world's third-highest after the United States' 609,000 fatalities and Brazil's 542,000.
Many have been casting doubt on India's toll for months, blaming the stressed health service rather than deliberate misinformation.
However several Indian states have revised their virus tolls in recent weeks, adding thousands of "backlog" deaths.
The study team which included Arvind Subramanian, a former chief government economic adviser conducted the study by analyzing death registrations in some states as well as a recurring national economic study.
The study team also included a Harvard University expert, acknowledged that estimating mortality with statistical confidence was difficult.
So far all estimates suggest that the death toll from the pandemic is likely to be an order of magnitude greater than the official count.
Dr Christophe Guilmoto, a specialist in Indian demography at France's Research Institute for Development, this month estimated that the death toll was nearer 2.2 million by late May.
The country's death rate per million was nearly half the world average and Dr Guilmoto said "such a low figure contradicts the apparent severity of a crisis that has struck most Indian families across the country".
Dr Guilmoto's team concluded that only one coronavirus death in seven was recorded.
Also a model by the US-based Institute for Health Metrics and Evaluation estimated that the COVID toll could be more than 1.25 million.
Sadly the incompetent India's health ministry last month slammed The Economist magazine for publishing a story that said excess deaths were between five and seven times higher than the official toll, calling it "speculative" and "misinformed".
Interestingly a World Health Organization report in May said up to three times more people had died around the globe during the pandemic from coronavirus or other causes than indicated by official statistics.
India is turning out to be a land of scams and dishonesty when it comes to the COVID-19 pandemic.
Even at the start of the pandemic, Indians were greedily raising the prices of the drugs and medical products that other countries needed desperately and even in some cases passing off fake drugs etc. Karma came back to them in the last surge a few months back and will come again via a coming surge that is expected to be even more catastrophic this time.
For more on the
COVID-19 crisis in India
, keep on logging to Thailand Medical News.