COVID-19 Warning: Healthcare Professionals Should Pay Attention To So Called COVID-19 "Recovered" Patients
COVID-19 Warning
: As of 1830 hours, Tuesday, (Bangkok) the total number of so called patients who have 'recovered' from COVID-19 stands at 931 838 individuals or almost a million. However the true number is probably far higher than that.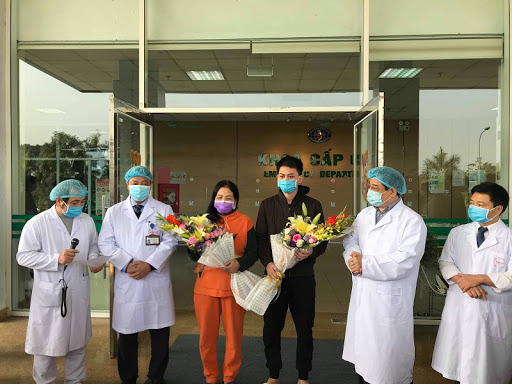 Collated data on recoveries is less precise than case counts and death tolls, and many counties, states and regions do not report how many of their residents have 'recovered'. 'Recovered' cases outside China are country-level estimates based on local media reports and may be substantially lower than the true number.
Furthermore due to limited testing availability in some countries, including the US, the most severe cases are prioritized for official diagnoses. People who have mild symptoms, or none at all, are less likely to get tested if they even seek testing in the first place. That means that many mild infections are not included in the count of total cases or recoveries.
It typically takes patients with mild symptoms anytime between 4 to 8 weeks to recover and many will still have mild cough, feel tired easily and it will take them a while before they get back to normal hopefully. Individuals who suffer moderate to very severe conditions can take months to recover from the illness.
As the SARS-CoV-1 coronavirus was first identified in December, there has not been much time to research 'recovered ' patients and publish the findings. This is a little bit of an understudied group.
According to health authorities a person who was infected with and survived a virus with no long-term health effects or disabilities has recovered. In the China's national treatment guidelines, patients can be declared recovered if their body temperature remains normal for more than three days and if they display clear improvements in respiratory symptoms, show recovery from lung infections in CT scans, and more importantly, test negative on two consecutive nucleic acid tests. However in the West, the criteria are much more lenient.
However despite initial studies showing that "recovered' patients do not shed the virus, new reports are showing that this is not the case.
https://www.thailandmedical.news/news/breaking-news-study-shows-more-than-50-percent-of-clinically-recovered-covid-19-patients-are-still-infectious-with-the-sars-cov-2-virus
Initially many medical experts said that "recovered' patients would possess the antibodies and would develop immunity and also be resistant to further infections.
Director of the National Institute of Allergy and Infectious Diseases, Dr Anthony Fauci, said in an interview on "The Daily Show" that he was "willing to bet anything that people who recover are really protected against reinfection."
However on the 17
th
Of April, the World Health Organization that there is no evidence that antibodies ensure immunity.
To make matters worse it was found that large numbers of recovered patients either had only small qu antities of eh antibodies or none at all. Furthermore it was not known if these antibodies if available in the sufficient quantities provided immunity for how long.
https://www.thailandmedical.news/news/covid-19-studies-many-recovered-patients-have-no-or-very-low-antibody-counts-risking-reinfections
To date there has been many documented cases of 'recovered' patients getting reinfected again.
https://www.thailandmedical.news/news/covid-19-pandemic-more-cases-of-virus-reactivation-being-reported-in-recovered-patients-in-south-korea
Studies in Hong Kong's Hospital Authority and also in Wuhan China reported that about 25 percent of 'recovered' patients showed decreased lung capacity in follow-up visits with doctors. These patients often gasped for air. Scans of some patients' lungs revealed signs of organ damage.
It was also observed that if a patient develops acute respiratory distress syndrome (ARDS), that can scar their lung tissue.
Studies emerges that male 'recovered' patients should be monitored for possible fertility problems as it was discovered that The SARS-CoV-2 coronavirus also attacks the ACE2 receptors in the tested and seminal ducts. And those damages could result in fertility issues.
https://www.thailandmedical.news/news/breaking-news!-latest-research-published-by-chinese-scientists-say-coronavirus-might-render-certain-male-patients-infertile
Later on it was also discovered that' recovered' and also asymptomatic COVID-19 patients could also develop neuropsychiatric issues as it was found that the SARS-CoV-2 coronavirus also attacks the nervous system.
https://www.thailandmedical.news/news/warning-researchers-say-that-a-host-of-neuropsychiatric-problems-may-emerge-in-covid-19-recovered-patients-or-in-those-that-are-asymptomatic
Then with studies showing that it could attack certain immune cells and also the blood capillaries in the human body, it becoming a worrying trend that all 'recovered' and asymptomatic patients might start developing certain chronic medical conditions.
https://www.thailandmedical.news/news/covid-19-alert-new-study-shows-sars-cov-2-coronavirus-targets-and-destroys-t-cells,-similarly-as-what-hiv-does
and
https://www.thailandmedical.news/news/must-read-covid-19-swiss-research-indicates-that-sars-cov-2-coronavirus-attacks-the-lining-of-blood-vessels-across-the-body-in-severe-covid-19-stages
There are even cases of 'recovered' patients developing various kinds of dermatological ad skin issues.
https://www.thailandmedical.news/news/warning-covid-19-clinical-care-certain-strains-of-sars-cov-2-coronavirus-also-causes-skin-eruptions-in-covid-19-patients
Already there are cases in China, Italy, Spain, UK and also the US of 'recovered' patients manifesting unexplained clinical symptoms and conditions.
Considering the nature of the SARS-CoV-2 coronavirus along with the emerging mutated strains and also considering the fact that we still do not know much about the this coronavirus that has been around for the last 4 months only, physicians and healthcare officials should pay careful attention to these 'recovered' patients and also implement routine health screening programs for them despite the healthcare system already being under stress.
For any latest
COVID-19 Warnings
, keep on logging to
Thailand Medical News
.
Urgent Plea for help. We need help to financially sustain our website and also our other research and international community projects. Please support us by making a donation via paypal. Thank You
.
https://www.thailandmedical.news/p/sponsorship