WARNING! Next COVID-19 Surges Will Be Led Not By One Or A Couple Of New Variants But By A Multitude Of Sub-Lineages With Convergent RBD Escape Mutations!
For those who are trying to figure out or are looking for what is the next SARS-CoV-2 variant that is going to lead the coming surges for late Fall and Winter of 2022, they are going to be in for a surprise.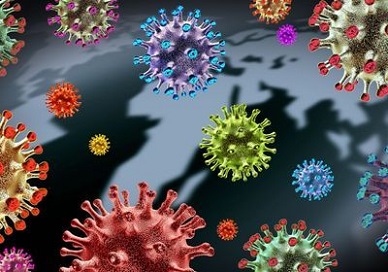 According to new emerging data, the COVID-19 pandemic shifting into a new worrisome phase that is going to make lots of things far more complicated and never anticipated.
New details are emerging that after the current surge that is being driven by the basically the BA.5 variant and some of its older sub-lineages such as BA.5.1, BA.5.2 and also some of the BA.2 older sub-lineages such as BA.2.3.20 and BA.2.75 alongside the BA.4.6 variant etc, the next surges which have already just started a couple of weeks ago in some countries and soon to be occurring in the rest of the world irrespective of the weather in the Northern hemisphere that is going into cooler winter season or in the Southern hemisphere that is having a more warmer climate, will involve a multitude of Omicron variants and sub-lineages and it is anticipated that at any time, more than 40 to 50 different sub-lineages could be playing a key role and whose positions and predominance can be easily superseded by even newer emerging variants and sub-lineages very rapidly!
The new SARS-CoV-2 Omicron variants are rapidly evolving and constantly spewing out new mutations to counter any immune obstacles in its path and never in the history of virology has such unprecedented behavior involving such rapid and varied mutation ever been witnessed.
To date, in the last 6 months, more than a few thousand new SARS-CoV-2 variants and sub-lineages have already been identified, mostly originating from the various earlier Omicron variants.
Off these, about 226 Omicron sub-lineages have been shortlisted due to the number of sequencings they are appearing in and many in that list are expected to be leading these new surges.
https://cov-spectrum.org/collections/24
Even the BQ.1.1 sub-lineage that was talked about less that a fortnight ago as being worrisome and extremely immune evasive now has a number of closer 'relatives', each with unique mutations and greater growth advantage and with even enhanced immune evasiveness such as the BQ.1.2 and BQ1.3!
https://www.thailandmedical.news/news/sars-cov-2-presents-its-fall-and-winter-2022-variant-collections-featuring-ba2-75-2,-bq-1-1,-bw-1,-xbb,-bu-1,-br-2,-bm-1-1-1,-ca-1,-bj-1-and-bn-1
https://www.thailandmedical.news/news/latest-sars-cov-2-bq-1-1-and-ba-2-3-20-variants-driving-exponential-daily-new-infections-and-hospitalizations-across-europe-with-high-incidences-of-ar
This means that as a result of a multitude of new sub-lineages driving these surges, not only are we going to see more breakthrough infections and reinfections irrespective of vaccine status as most of these newer sub-lineages are almost completely immune evasive, but we can also expect to see lot s of co-infections as well!
As in a vicious cycle, these co-infections are also likely to help spawn even more newer recombinant variants and sub-lineages!
Thailand
Medical News
warns that such a scenario will not only make things more difficult in terms of diagnostics (ie some of the current diagnostics are not able to pick up some of these newer sub-lineages) but treatment protocols as well.

Convergent RBD escape mutations driving emergence of new sub-lineages.
Refer:
https://cov-spectrum.org/collections/54
In reality, we are entering a worrisome and catastrophic phase as we literally have no therapeutic tools left to deal with these newer sub-lineages and also co-infections as even the last monoclonal drug ie Bebtelovimab is no longer effective against some of these new sub-lineages and the existing U.S. FDA approved antivirals such as Paxlovid, remdesivir and molnupiravir are completely ineffective! The new booster shots are literally already outdated and previous infections with the BA.5 variant or BA.4.6 or even the BA.2.75 variant is not going to provide any protective shield against most of these new sub-lineages.
Not forgetting that most of these new sub-lineages have also different pathogenesis and tropisms, co-infections are expected to wreak more havoc.
As many governments around the world have removed all preventive health measures and also travel restrictions, such unwise moves are also helping to contribute to the development of this catastrophic scenario.
The scientific community and governments need to urgently pool resources and start working on initiatives for the development of a combination of broad -spectrum antivirals to control these new emerging Omicron sub-lineages.
The direction that the kinetics of the pandemic is heading to will eventually lead to even more lethal strains emerging by a varied number of possible mechanisms including recombinant, reassortant or cross-back zoonotic events!
With millions of individuals already having a dysfunctional immune system due to previous SARS-CoV-2 infection or are already having COVID-19 induced immunodeficiency, reinfections and co-infections are either going to put them into a more debilitating position or a higher mortality risk.
For the latest
COVID-19 Surge Trends
, keep on logging to Thailand
Medical News
.