Remdesivir: Researchers With Vested Interest Release Final Trial Report Saying that Remdesivir Is Effective And Well-Tolerated While In Europe Regulators Are Reviewing Its Safety!
Remdesivir

:
The way things are moving in the United States clearly shows that is it now worse than a third world country and nothing American should be trusted anymore as it has completely lost every ounce of credibility. The biggest losers unfortunately are the struggling common American people who we do sympathize with.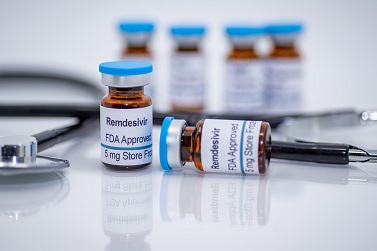 The U.S. NIH and its researchers who all have a vested interest in remdesivir along with groups of certain clandestine American businessmen have released a final report from the multinational placebo-controlled ACTT-1 trial that confirms that remdesivir is
effective and well tolerated for shortening the time to recovery from COVID-19 infection
.(note the terminology used, it does not say treat or cure)
The report is published in the New England Journal Of Medicine.
https://www.nejm.org/doi/full/10.1056/NEJMoa2007764
It should be noted that the drug is being reviewed in Europe by the EU regulators after numerous cases of acute kidney injury appeared in COVID-19 patients who were administered the drug. Certain European hospitals have already halted all usage of the drug.
https://www.thailandmedical.news/news/breaking-covid-19-drugs-remdesivir-approved-by-trumps-administration-causes-serious-kidney-problems-eu-regulators-starts-safety-review
It should also be noted that the various American health agencies and regulators like the U.S CDC, the U.S NIH and the U.S. FDA do not have credibility anymore as a result of political interference and also as a result of certain business groups indirectly having control over these entities.
In late May 2020, remdesivir received the U.S.Food and Drug Administration approval for emergency treatment of severe COVID-19 on the basis of a flimsy preliminary report on this trial. In August 2020, the FDA expanded the indication to include all hospitalized adult and pediatric patients with suspected or laboratory-confirmed COVID-19 infection irrespective of severity.
The team of investigators led by Dr John H. Beigel, MD, of the Division of Microbiology and Infectious Diseases at the National Institute of Allergy and Infectious Diseases, in the New England Journal of Medicine said, "
Our findings were consistent with the findings of the preliminary report: a 10-day course of remdesivir was superior to placebo in the treatment of hospitalized patients with COVID-19
."
However the drug's broadened indication was not based on the ACTT-1 trial, according to Dr Beigel.
He explained, "Other data have demonstrated that remdesivir shortens recovery in patients with lower acuity. In our study, evidence of pneumonia was an enrollment requirement."
The new report states that in the final ACTT-1 data, the median time to recovery was 10 days for those on active therapy versus 15 days for those randomized to placebo. With a rate ratio of 1.29 (P less than .001), this translated to a recovery that was ab out one third faster.
There was no data to show how it actually works or proof of its mechanism and neither did it decrease overall mortality rates etc. There are also no long term safety studies on the drug. (if one was to administer urine to severe COVID-19 patients in America and if it shortened their hospitalization stays, you can also get a U.S. FDA approval and charge a lot for it and it might be as toxic!)
Interestingly in this final report, remdesivir's significant advantage over placebo regarding the trial's primary endpoint was reinforced by efficacy on multiple secondary endpoints.
This so called 'benefits on multiple secondary endpoints' included a 50% greater odds ratio (OR, 1.5; 95% CI, 1.2-1.9) of significant clinical improvement by day 15 after adjustment for baseline severity, a shorter initial length of hospital stay (12 vs. 17 days) and fewer days on oxygen supplementation (13 vs. 21 days) for the subgroup of patients on oxygen at enrollment.
Though the numerically lower mortality in the remdesivir arm (6.75 vs. 11.9%) did not reach statistical significance, Dr. Beigel said, "mortality was moving in the same direction as the other key endpoints."
The researchers said that the types of rates of adverse events on remdesivir, which inhibits viral replication, "were generally similar in the remdesivir and placebo groups."
1,062 patients were randomized to remdesivir (200 mg loading dose followed by 100 mg daily for up to 9 days) or placebo in the In ACTT-1 trial. Patients were enrolled at study sites in North America, Europe, and Asia.
According to the researchers the data of ACTT-1 confirm a benefit from remdesivir in hospitalized COVID-19 patients with severe disease, but Dr Beigel said he agrees with the current FDA indication that supports treatment in any hospitalized COVID-19 patient.
Dr Beigel claims, "We saw bigger benefits in patients with more severe infections. The benefits are not as large in patients with mild disease, but I think remdesivir should be considered in any hospitalized patient."
Interestingly according to the available data, including those from ACTT-1, the benefit appears to be greatest in those with a moderate degree of illness, which is defined as "sick enough to be hospitalized and require oxygen, yet not severely sick requiring a ventilator or extracorporeal membrane oxygenation."
The trial was sponsored and primarily funded by the NIAID, National Institutes of Health (NIH), Bethesda, MD. This trial has been funded in part with federal funds from the NIAID and the National Cancer Institute, NIH, under contract HHSN261200800001E 75N910D00024, task order number 75N91019F00130/75N91020F00010, and by the Department of Defense, Defense Health Program. This trial has been supported in part by the NIAID of the NIH under award numbers UM1AI148684, UM1AI148576, UM1AI148573, UM1AI148575, UM1AI148452, UM1AI148685, UM1AI148450, and UM1AI148689.
For more on
Remdesivir,
keep on logging to Thailand Medical News.