China's Zero COVID Strategy Failing As Various Variants Now Not Only In Shanghai and Beijing But Spreading Fast In Jilin, Henan, Zhejiang, Shandong and Anhui!
China COVID-19 News
: While the Western mainstream media is talking only about the lockdowns in Shanghai and the partial lockdowns now in Beijing that are affecting almost 185 million people, latest reports have indicated that the provinces of Henan and Zhejiang are already preparing for partial lockdowns if not full lockdowns as caseloads are also increasing in these provinces. Local Chinese media have already reported people in these two provinces are now scrambling to stock up on food and essential supplies as it becomes inevitable that local authorities impose partial lockdowns in a matter of days.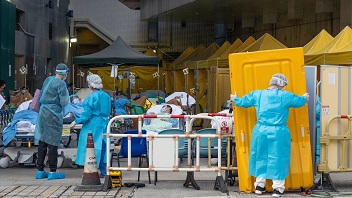 Another province, Jilin which was one of the earliest provinces with both its cities ie Changchun, an industrial hub and Jilin city itself under lockdown since March 2022, initially was supposed to see lockdowns measures ease but caseloads have started to rise again in the last few days.
Two other provinces are also reporting new COVID-19 infections but unlike the cities like Shanghai and Beijing and also the other three provinces where the BA.1, BA.2 variants are more rampant along with the newly emerging BA.2 subvariants and also recombinant BA.1 and BA.2 variants, the provinces of Shandong and Anhui were reported to see more cases of the BA.4 and BA.5 variants including BA.4 subvariants and also the BA.2.3 subvariant.
In reality, according to latest
China COVID-19 News
, out of a total of 23 provinces in China, already 16 provinces are witnessing COVID-19 infections although the caseloads in some these provinces are extremely minor.
However, the fact that the new Omicron variants and subvariants are spreading across the country and that in reality, caseloads in cities like Shanghai, Beijing and in provinces like Jilin are not decreasing as witnessed by the caseloads in hospitals and makeshift hospitals despite the concealments by the Chinese authorities of the true figures of daily infections and deaths, it's a reflection that China's Zero COVID policy is but a farce and is not working.
In fact, the kind of inhumane treatment being enforced onto its citizens like separating families, forced quarantines, sealing of premises, violent acts against its citizens and literally starving many of its citizens and depriving them of proper medical treatment is really disgusting and reflects the dictatorship governing of the country where individuals literally have no rights. (Something that the WEF poster boy, Trudeau so adores!)
It was reported that targeted lockdowns in Beijing's Chaoyang district this week barred residents in at least 46 buildings from leaving their apartments or compounds, while more than 5,300 people were placed under lockdown in Fangshan district.
The Beijing capital closed schools in many of its most populous districts on Thursday. Several major hospitals also announced they were closing, and a growing number of entertainment venues including cinemas have also been ordered to close.
Also, full or district-wide lockdowns are in effect in more than two dozen cities including Hangzhou, home to 12.2 million people; Suzhou, home to 12.7 million people; and Harbin, home to 9.5 million people. They span 14 provinces, from far-flung northeastern Heilongjiang province to southern Guangxi and the mountainous western Qinghai province.
& amp;nbsp;
Despite claiming to be easing restrictions in certain areas in Shanghai, the situation is still stark with caseloads still rising in many districts.
China's Zero COVID strategies are no match for the Omicron variants and emerging subvariants as it is already being reported that the BA.2.12.1 variant and BA.4 variant has RO numbers of 15, similar to measles that makes them highly transmissible.
https://www.thailandmedical.news/news/great-news-preliminary-data-shows-that-sars-cov-2-ba-2-12-1-and-ba-4-variants-have-ro-of-15-similar-to-measles-and-also-unique-pathogenesis
In fact findings from certain studies that are underway are indicating that these variants have also undergone conformational structural changes that makes them more resistant to environmental factors and that they even be what is termed as "Super Airborne" ie remain infectious for longer periods in the environment and travel even longer distances than initially thought by wind currents!
It will be fun to see how things develop in China in coming weeks.
For the latest
China COVID-19 News
, keep on logging to Thailand Medical News.