China's COVID-19 Expert Dr Zhang Wenhong Warns That Second Wave Will Emerge In China, If Not Already Happening
COVID-19
Updates: China leading COVID-19 expert, Dr Zhang Wenhong has publicly warned that a second wave of the COVID-19 pandemic is gradually emerging in China and warns that it could far more worse than the first. His warnings echo the calls from many other Chinese medical professionals who are claiming that despite massive cover-ups by the Chinese government, some even more sophisticated than in the early days of the outbreak such as new electronic and high technology being deployed to censor social media messages etc, the fact remains that more and more sick patients are coming to hospitals each day with newer types of clinical manifestations.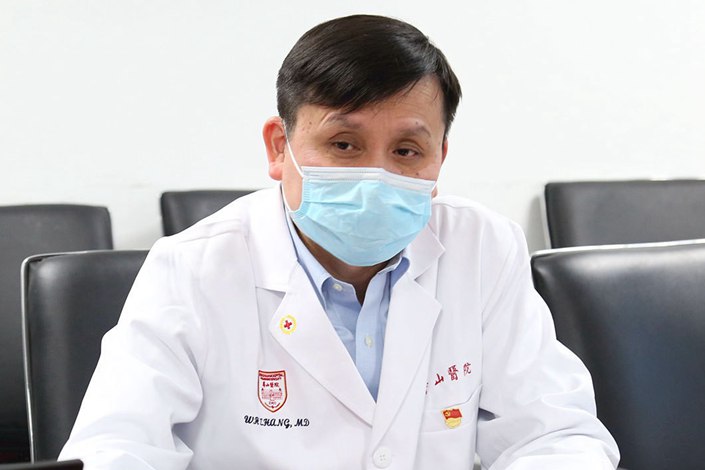 Dr Zhang Wenhong Credit: Xinhua
Despite China's government PR announcements that the COVID-19 outbreak is largely under control and economic activities have resumed, many experts are claiming that despite stringent domestic prevention remaining vigilant, more cases are emerging while the numbers of symptomatic cases are rising exponentially.
China is also using a 'strange' strategy that as long as people are asymptomatic despite testing positive, they are not considered as being confirmed COVID-19 cases. And should these people fall sick and die later, they are also not considered as being COVID-19 patients.
Hence China is once again concealing the extent of the second wave and there are no credible entities to audit or report on the matter. The World Health Organization (WHO) has emerged as the least credible entity that has always been condoning the Chinese government's cover ups. The incompetent WHO has also been responsible for not being able to prevent the spread of the COVID-19 globally and is also the main disseminator of fake news and misinformation so far. (from telling people that social distancing of between 1 to 3 metres is safe, to telling people not to wear protective mask, etc) There are already calls for the shameless head of the WHO, Ethiopian national, Tedros Adhanom Ghebreyesus to step down.
https://www.change.org/p/united-nations-call-for-the-resignation-of-tedros-adhanom-ghebreyesus-who-director-general
while they are growing calls for the media to boycott all coverages of WHO and also for their sites to be taken down.
Dr Zhang Wenhong, known for his work leading Shanghai's COVID-19 clinical expert team, commented, "Although China has made some achievements in the earlier stages, there is an urgent need to remain prudent and determined to fight the pandemic for an extended time."
Dr Zhang, who is also director of the infectious diseases department at Huashan Hospital of Fudan University in Shanghai.
He added that it's unlikely that the outbreak will end this summer, and that a second wave is already beginning to take root. While China needs to control imported cases to prevent a new round of contagion it also need to be alert about the growing number of asymptomatic patients and also those that are getting sick with new clinical manifestations.
Dr Zhan stressed that at present, the pandemic has reached a critical stage. Globally, Europe and the U.S. h ave not been effectively controlled for the time being. However, in Africa, South America and India, where the economy is less developed and medical resources are insufficient, new cases have increased exponentially, which brings great uncertainty to the global fight against the epidemic.
He said repeatedly two weeks ago that it's unlikely the pandemic will be over by the summer, that it will largely last till the next year. Recent developments have confirmed that. The number of new cases in Europe and the U.S. is expected to gradually peak and reach a turning point, but the outbreaks have just started in other places. Assuming it can be contained in three to four months, it will be at the end of summer. But after the fall, the second wave could come. There is a high probability of a second international outbreak.
Health authorities in Beijing said April 5 that the prevention and control situation is still grim and complicated, and it is likely to remain cautious for a long time. When Beijing fights a protracted war, it means that the whole country fights a protracted war. Now, at the national level, this is the consensus.
Dr Zhang added, "We have actually taken control measures on aviation, but they can't last forever. After the outbreaks in Europe and the U.S. are under initial control, it is expected that global aviation will be gradually opened up again. But the spread has already begun in India, Africa and South America, where the rise of new cases has been the fastest, posing great risks to the world."
China despite being 'well under control', needs to control the situation even further to prevent a second wave that is even more massive and disastrous.
The difficulty ahead for China is to resume the economy and to prevent a massive outbreak from rebounding at the same time.
Chinese authorities in recent days have admitted having a growing number of asymptomatic cases but are still not public revealing the true extent of that and also the new deaths that have emerged in the last 3 weeks while maintaining a stance that the overall situation is good and the country is back into business.
For more on the
COVID-19
crisis, keep on logging to
Thailand Medical News
.
KINDLY HAVE HEART AND HELP! Please help support our site and our initiatives to propel and aid research by making a donation to help sustain the site. Donations are accepted via paypal
:
https://www.thailandmedical.news/p/sponsorship