BREAKING! Macrophage Induced Protein SPP1 Identified As Driving Multiple Pathogenic Inflammatory Responses In Severe COVID-19 And Long COVID
COVID-19 Immunology
: A new study by researchers from the University of Glassgow-Scotland, the Fondazione Policlinico Universitario Agostino Gemelli IRCCS-Italy and the Università Cattolica del Sacro Cuore-Italy has identified that a macrophage induced protein called SPP1 as a mediator that is driving multiple pathogenic inflammatory responses in severe COVID-19 as well as in Long COVID.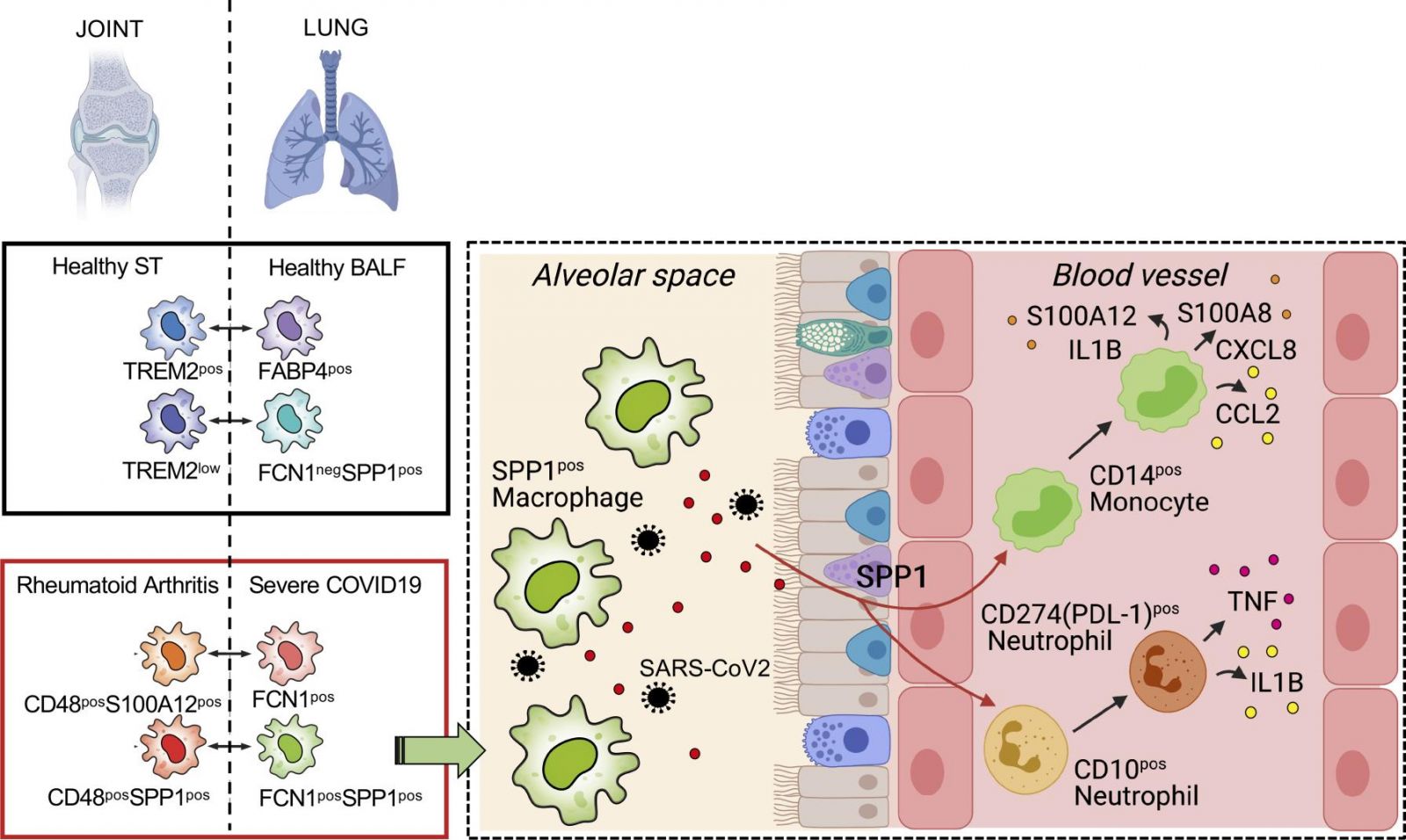 Graphical Abstract
SPP1 or secreted phosphoprotein is also known by the name osteopontin is a protein that in humans is encoded by the SPP1 gene.
SPP1
is a soluble ligand with pleomorphic immunologic activities including activation of macrophage chemotaxis, promotion of Th1 responses, and activation of B1 B cells.
The
COVID-19 Immunology
study team explored the potential link between chronic inflammatory arthritis and COVID-19 pathogenic and resolving macrophage pathways and their role in COVID-19 pathogenesis.
The study findings found that bronchoalveolar lavage fluid (BALF) macrophage clusters FCN1+ and FCN1+SPP1+ predominant in severe COVID-19 were transcriptionally related to synovial tissue macrophage (STM) clusters CD48hiS100A12+ and CD48+SPP1+ that drive rheumatoid arthritis (RA) synovitis. BALF macrophage cluster FABP4+ predominant in healthy lung was transcriptionally related to STM cluster TREM2+ that governs resolution of synovitis in RA remission.
Plasma concentrations of SPP1 and S100A12 (key products of macrophage clusters shared with active RA) were high in severe COVID-19 and predicted the need for Intensive Care Unit transfer, and they remained high in the post–COVID-19 stage.
High plasma levels of SPP1 were unique to severe COVID-19 when compared with other causes of severe pneumonia, and IHC localized SPP1+ macrophages in the alveoli of COVID-19 lung. Investigation into SPP1 mechanisms of action revealed that it drives proinflammatory activation of CD14+ monocytes and development of PD-L1+ neutrophils, both hallmarks of severe COVID-19.
The study findings showed that COVID-19 pneumonitis appears driven by similar pathogenic myeloid cell pathways as those in RA, and their mediators such as SPP1 might be an upstream activator of the aberrant innate response in severe COVID-19 and predictive of disease trajectory including post–COVID-19 pathology.
The study findings were published in the peer reviewed journal: JCI Insight.
https://insight.jci.org/articles/view/147413
Th study findings could help development of new treatment strategies for severe COVID-19 and post-COVID-19 syndrome, or Long COVID.
The study team observed that some rheumatoid arthritis patients who became infected with SARS-CoV-2 had 'flares' of joint pain and inflammation, which hinted at similarities between COVID-19 and rheumatoid arthritis.
The study team identified a specific pathogenic macrophage cluster (a group of specialized cells) within the lungs of patients with severe COVID-19 and in the joints of rheumatoid arthritis (RA) patients.
Typically, macrophages are immune-cells that are responsible for engulfing and destroying pathogens and dying cells, but when over-activated, they induce pathologies in the tissues.
Interestingly detailed molecular studies showed that these specialized cells produce a mediator called SPP1. Blood levels of this mediator are high in COVID-19 patients, and particularly high levels are predictive of patient transfer to intensive care.
Detailed investigations of the mechanisms of SPP1 by the study team revealed that this mediator drives multiple features of pathogenic inflammatory response that characterize severe COVID-19.
The research also provides some insight into the mechanisms of post-COVID-19 syndrome, or Long COVID. The study team found that some COVID-19 patients who recovered and were virus negative, but with persistent symptoms, still had abnormally high blood levels of SPP1, despite normalized levels of other pro-inflammatory mediators.
Co-author, Dr Mariola Kurowska-Stolarska, from the University of Glasgow told Thailand Medical News, "The study findings are promising, because understanding these mechanisms which drives features of COVID-19 can help open the prospect for new treatment strategies for severe COVID-19. Our study findings also suggest that SPP1 pathogenic function might contribute to long COVID-19, and if so, this identifies SPP1 as a potential therapeutic target for this increasingly common syndrome."
One of the lead authors of the study, Dr Lucy MacDonald, a RACE PhD student added, "We were curious about the most likely common link between joint inflammation and severe response to SARS-CoV-2 infection, which then became the focus of our investigation. By understanding this commonality, we have now identified SPP1 as a potential therapeutic target. Our goal now is to identify how SPP1-positive macrophages and their mediators may be involved in the long-COVID-19 symptom spectrum, for example musculoskeletal pain. Our goal is to improve the treatment for patients with COVID-19 and post-COVID-19 as well as for our RA patients."
Head of Research Delivery at Versus Arthritis, Dr Caroline Aylott, whose company funded the research added, "In both rheumatoid arthritis and COVID-19, the immune system attacks the body's own tissues, causing inflammation and damage. This research is a step forward in understanding why inflammation continues in both rheumatoid arthritis and COVID-19 and may provide a potential target for the future treatments for both conditions. Understanding our immune system is key to helping the 18 million people who experience the pain and fatigue linked to arthritis. Versus Arthritis research funding may be unlocking the prospects of future treatment not only for arthritis but also for long COVID."
The study team concluded, "In summary, this study suggests that the pathogenesis of acute severe COVID-19 pneumonitis and RA synovitis might be driven by similar pathogenic myeloid cell clusters/pathways, producing SPP1 that persists into post-COVID-19 syndrome. Further functional studies on identification of common tissue factors driving the differentiation of these pathogenetic macrophage clusters and better understanding the functional interaction between them and the lung environment could clarify mechanisms of pneumonitis and provide evidence for potential repurposing of current anti-inflammatory/antifibrotic treatments for COVID-19"
For the latest on
COVID-19 Immunology
, keep on logging to Thailand Medical News.