Baze Launches First-of-Its-Kind Personalized Vitamin Kit Based on Convenient Blood Analysis
Lifestyle Brand Introduces Innovative Customized Health Experience to Combat Nutritional Deficiencies
SAN FRANCISCO, Oct. 3, 2018 /PRNewswire/ --
Baze
, a lifestyle brand focusing on personalized health, has launched the
Baze Starter Kit
, a simple and affordable, fully-tailored experience designed to combat nutrient deficiencies. The
Baze Starter Kit
combines the convenience of a self-sampled blood test with scientific analysis, resulting in personalized daily vitamins designed to meet each individual's specific nutrient needs. With 9 out of 10 Americans being deficient in at least one essential nutrient,
Baze
offers a solution for consumers who want informed, data-driven guidance on how to improve their overall health.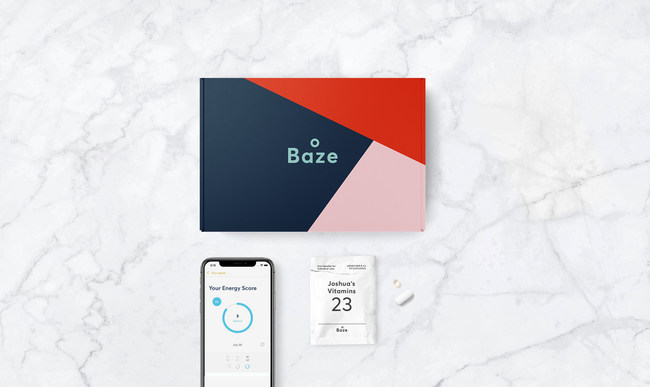 Nutritional imbalance is the leading
cause of health issues
in the United States with over 500,000 lives lost every year. Nutrients are essential for the body and mind. In most developed countries, medical research has identified that improving nutritional intake is the most crucial step to improving health. While 52% of Americans take daily vitamins regularly, recent studies have shown that vitamin intake does not have the health benefits that it promises. This is due to the fact many people do not understand the specific nutrients and dosages their bodies require and turn to the "one-size-fits-all" approach with multivitamins. However, this can be problematic as people take the wrong nutrients and dosages or they take a variety of nutrients in small amounts, thus having very little effect on their health. The solution to this is determining which vitamins the body lacks in order to prescribe the right nutrients in the appropriate dosages.
Thanks to the power of science,
Baze
offers consumers an MIT-developed, easy-to-use, self-sampled blood test that can more accurately identify lacking nutrients, taking out all the guesswork in the kind and dosage of vitamins required to achieve optimal nutrient levels. The
Baze Starter Kit
blood test kit is painless, can be self-administered, and takes just moments to perform. Once the blood sample has been collected and sent to
Baze
's certified lab, the sample is then precisely analyzed for vitamin levels of the following key nutrients: Copper, Magnesium, Omega-3, Selenium, Vitamin B-12, Vitamin D, Vitamin E, and Zinc. Within two weeks, a full report of current nutrient levels can be accessed through
Baze
's user-friendly mobile app, and users will be shipped a four-week supply of custom, high-quality daily vitamins based on their individual deficiencies. Instead of going to a specialist,
Baze
brings the specialist to people's pockets.
Baze
's vitamin test is designed to help boost weak immune systems, increase energy levels, improve joint flexibility, and decrease stress, to na me a few use cases. It is recommended that users remeasure their nutrients through the blood testing device every three months to ensure vitamin levels are well-balanced.
"True change comes from within," said
Baze
Co-Founder Markus Okumus. "With
Baze
, we wanted to create a product that empowers users to be in-tune with their health and provide them with the tools to live healthy and happy lives."
The
Baze Starter Kit
includes the blood test, personalized results, and one month of personalized daily vitamin packs. It is available for purchase for $99 on
www.baze.com
. For more information on
Baze
, please visit the company website.
About Baze
Launched in the US Market in 2018,
Baze
was founded by a team of scientists and serial entrepreneurs as a solution to address the
number one health problem
in the United States: nutritional imbalances. The first-of-its-kind
Baze Starter Kit
has revolutionized the health industry by measuring users' vitamin deficiencies through a painless, self-administered blood test which results in a customized vitamin regimen based on the individual's health needs.
Baze
measures and s
upplements the following
key nutrients that have been scientifically proven to have a deep and lasting impact on quality of life: Copper, Magnesium, Omega-3, Selenium, Vitamin B-12, Vitamin D, Vitamin E, and Zinc. For more information on
Baze
, please visit
www.baze.com
.
Media Contact:
Erika Yanez
202636@email4pr.com
213-225-4420
SOURCE Baze
Related Links
https://www.baze.com