Yet Another SARS-CoV-2 Variant Emerges, This Time In Nigeria.The South Africa 501.V2 Variant Is Turning Out To Be More Concerning Than The UK Variant
The Africa CDC has reported that another new SARS-CoV-2 variant has emerged in Nigeria and is working on defining the mutations on the genomic structure of the new variant.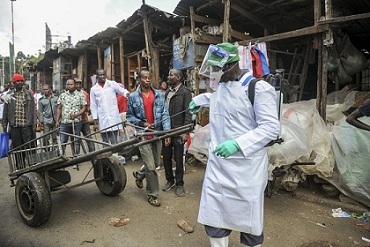 On Thursday, Africa's top public health official, the head of the Africa Centers for Disease Control and Prevention, Dr John Nkengasong told media, "It's a separate lineage from the UK and South Africa."
Dr Nkengasong said that the Nigeria CDC and the African Center of Excellence for Genomics of Infectious Diseases in Nigeria-Africa's most populous, will be analyzing more samples.
He said, "Give us some time ... It's still very early."
The sudden alert about the apparent new variant was based on two or three genetic sequences, he said, but that and South Africa's alert late last week were enough to prompt an emergency meeting of the Africa CDC this week.
The alarming news comes as infections surge again in parts of the African continent.
The new 501.V2 variant in South Africa is now the predominant one there, Dr Nkengasong said, as confirmed infections in the country approach 1 million.
Although the variant transmits quickly and viral loads are higher, it is not yet clear whether it leads to a more severe disease, he said.
However emerging studies shows that the South African variant includes two further mutations in the part of the spike protein that binds to its receptor on human cells, K417N and E484K. These could impact the binding of the virus to human cells and also its recognition by the immune system.
https://www.thailandmedical.news/news/breaking-covid-19-research-mutated-sars-cov-2-spike-protein-variants-evade-neutralizing-antibodies-warning-of-emergence-of-antibody-resistant-variants
Researchers are saying these South African mutations are more worrying than the constellation of the British variant.
South African hospitals are already struggling, and the infection rates and deaths are fast escalating.
"We've always asked, 'Why has sub-Saharan Africa escaped the pandemic to date?" Answers have focused on the relative youth of the population and the climate. "Maybe if you just increase transmission a bit, that is enough to get over these factors," a British virologist said.
Many experts now strongly believe that the current COVID-19 vaccines will not be able to offer protection to the new variants despite efforts by the manufacturers and those with vested interests to claim otherwise.
South Africa's health minister late Wednesday announced an "alarming rate of spread" in that country, with more than 14,000 new cases confirmed in the past day, including more than 400 deaths.
The country has more than 954,000 infections and COVID-19 is "unrelenting," the health minister said in a statement.
To date, the African continent now has more than 2.5 million confirmed cases, or 3.3% of global cases. Infections across the continent have ri sen 10.9% over the past four weeks, Dr Nkengasong said, including a 52% increase in Nigeria and 40% increase in South Africa.
Meanwhile in Nigeria, the country is witnessing a sudden spike in cases.
"Over recent weeks, we've had a huge increase in number of samples to (Nigeria CDC) reference lab," the CDC director-general Dr Chikwe Ihekweazu tweeted on Thursday. "This has led to an unusual delay with testing, but we're working around the clock," with many colleagues cutting short their holidays and returning to work.
Nigeria now has more than 81,000 confirmed coronavirus cases.
For more on the emerging
SARS-CoV-2 Variants
, keep on logging to Thailand Medical News.