WHO Reports Record Number Of COVID-19 Cases On Sunday And Warns Of More Of Coronavirus Deaths Starting October And November
WHO
(World Health Organization) reported 307,930 new cases worldwide on Sunday, the highest daily figure in its database since the beginning of the pandemic.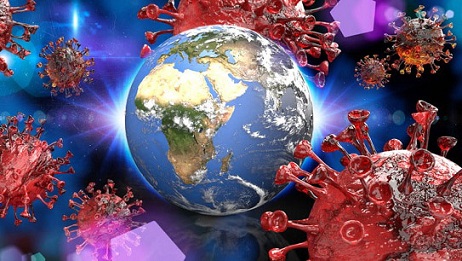 The surge has sparked concern in Europe, where Austrian Chancellor Sebastian Kurz warned that his country was facing "the beginning of the second wave".
At the same time the Czech Republic has also faced a surge, with one epidemiologist saying over the weekend that at the current rate, cases could overwhelm hospitals.
Strict new restrictions are set to come into force across England on Monday, with social gatherings limited to no more than six people.
Meanwhile other parts of the world are still battling their first coronavirus waves, including some of the most populous nations such as Indonesia, where new restrictions came into effect on Monday.
The World Health Organization expects Europe to see a rise in the daily number of COVID-19 deaths in October and November, the head of the body's European branch told media on Monday.
WHO Europe director Hans Kluge said "It is going to get tougher. In October, November, we are going to see more mortality as the continent currently experiences a surge of cases though the number of deaths has remained relatively stable.
The new resurgence is however expected to lead to an increase in daily deaths, the WHO director said.
Kluge said, "It's a moment where countries don't want to hear this bad news, and I understand,"
He told media, stressing that he wanted to send the "positive message" that the pandemic "is going to finish, at one moment or another."
While the WHO Europe's 55 member states are holding an online meeting on Monday and Tuesday to discuss their response to the new coronavirus and agree on their overall five-year strategy, Kluge, based in Copenhagen, raised a warning finger to those who believe that the development of a vaccine will bring an end to the pandemic.
Kluge stressed, "I hear the whole time that the vaccine is going to be the end of the pandemic. Of course not!"
Surprisingly as a WHO's Europe head he said, "We don't even know if the vaccine is going to help all or if it will provide temporary relief to certain segments of the population groups. We are getting some signs now that it will help for one group and not for the other." (When asked to elaborate he did not respond)
He added, "And then if we have to order different vaccines, what a logistical nightmare! The end of the pandemic is the moment that we as a community are going to learn how to live with this pandemic. And it depends on us and that's a very positive message."
COVID-19 cases in Europe are rising exponentially in recent weeks, especially in Spain and France. On Friday alone, more than 51,000 new cases were reported in the 55 countries of the WHO Europe, which is more than the highest peak in April, according to the organization.
However the number&nbsp ;of daily deaths has remained at around the same level since early June, with around 400-500 deaths per day linked to COVID-19, WHO data showed. However the number of COVID-19 patients in critical care is rising.
Medical experts are also warning that there is nothing to be happy about low death rates as more long term health complications of COVID-19 are emerging and based on studies, at least 85% if not all of 'recovered' COVID-19 patients are at risk of a variety of chronic medical conditions even if they had been asymptomatic or were just experiencing mild symptoms. What is even worrisome in some cases these individuals are not even aware that their hearts and kidneys are being 'eroded' until a fatal event happens. As a result of these new developments certain provinces and regions in Italy are now recalling or notifying all recovered COVID-19 patients to return back for detailed screenings.
Meanwhile Dr Anthony Fauci, MD, director of the American National Institute of Allergy and Infectious Diseases has told media and medical professionals in the United States to be prepared as the COVID pandemic is not going away anytime soon and that expect worsening conditions till about 2022.
Meanwhile Israel said it will reimpose a national lockdown to battle a coronavirus surge, as the number of daily infections around the world reached a record high.
The new Israel lockdown will last three weeks starting Friday, keeping people to within 500 meters (yards) of their homes. It is the first developed economy to take such drastic steps to contain a second wave of infections.
Prime Minister Benjamin Netanyahu, "I know these measures will exact a heavy price from all of us."
Indonesia's capital Jakarta under a virus lockdown while hospitals nearly full.
Jakarta Governor Anies Baswedan announced the restrictions Sunday, to last from Monday to Sept. 27, in what he described as an emergency decision to control a rapid expansion in coronavirus cases in Jakarta.
As the virus has spread significantly since June, medical facilities are filling with sick patients. Seven of 67 COVID-19 referral hospitals in Jakarta are 100% occupied, while 46 are more than 80% occupied.
Governor Baswedan said last week the hospital capacity for isolation and intensive-care rooms has exceeded the safe limit and is estimated to reach the maximum capacity on Thursday, after which Jakarta health facilities will collapse.
He added, "From the death rate, the use of isolation beds, the use of the special ICU for COVID-19 shows that the outbreak situation in Jakarta is in an emergency situation."
The countrys's virus task force said more than 55,000 of the nation's 218,000 cases of COVID-19 are in Jakarta. The city also has recorded 1,392 deaths of the nation's toll of 8,723.
In Europe, France reported more than 10,000 new coronavirus cases on Saturday, its highest daily number since wide-scale testing was launched in the country.
The new infections number rose to 10,561 new cases on Saturday, up from the previous day's 9,406 new cases on Friday, the French public health agency said.
Also over the 24-hour period, 17 people died in hospital, bringing the country's total to 30,910.
The agency said that a total of 427 new patients were admitted to intensive care over the last week 28 on Saturday, the agency said.
Prime Minister Jean Castex warned Friday there was a "clear worsening" in the country's outbreak, and that a recent increase in COVID-19 hospitalizations was particularly worrying.
India and UAE are also reporting exponential surges in new COVID-19 infections.
Its predicted that more Westerners especially from countries in Europe and America are expected to die the next few months mainly due to their stupidity of relying on their governments and health authorities and on their media and on their so called medical professionals. The West have this superior complex that they know more and they tend to reject all Eastern studies including on the usage of supplements, herbs and even certain cheap generic drugs that can be repurposed to be used as adjuvants in the treatment of the various symptom and manifestations of COVID-19 and even act as a prophylaxis in certain cases.(even despite having supporting medical and scientific studies from researchers from their own countries and published in prestigious medical journals in their own home countries! The pharma companies invest a lot in the media there and in social media platforms to reject and denounce treatmenst involving supplemenst, herbs or cheap generic drugs!)
The ignorant Westerners simply rather believe their own western media, medical sites and social media platforms and the toxic overpriced drugs promoted by their greedy pharmaceutical companies and corrupted governments and health authorities that have no efficacy.
You also have certain stupid countries like those in the Middle-East who also tend to follow the Western practices hence the high infections and death rates.