US Medical News: 43,581 New COVID-19 Cases Recorded In last 24 Hours.Total Infected 2,596,814, Total Americans Dead 128,131
US Medical News
: America recorded 43,581 new COVID-19 cases in the last 24 hours (figures for Saturday) and 511 deaths due to COVID-19. As of 3am California time, the total number of COVID-19 infections has now reached 2,596,814 of which 1,081,494 have been deemed to have recovered according to US health authorities.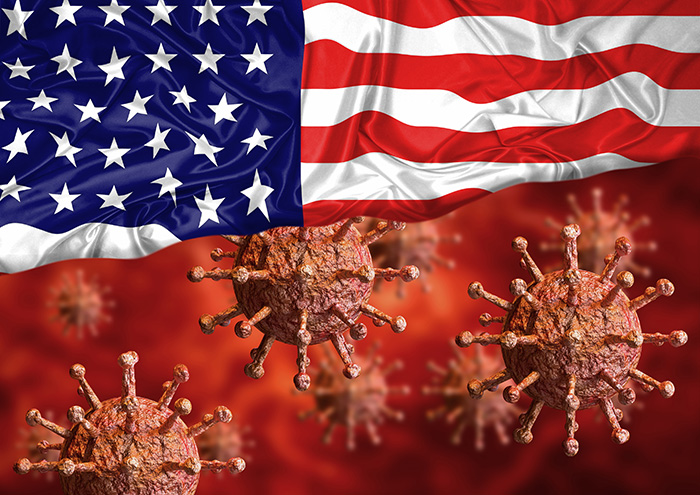 Only two US states have reported a decline in new coronavirus cases compared to last week ie Connecticut and Rhode Island.
A staggering rise was reported in 36 states.
Florida will most probably be the next epicenter according to many experts. Florida alone reported 9,585 new coronavirus cases on Saturday, a single-day record high since the start of the pandemic. The number rivals that of New York's peak in daily cases in early April.
Although Florida Governor Ron DeSantis said the state's surge in cases in the past week was the result of a "test dump," officials there and across the US has also warned of an increase in cases among younger groups.
However the daunting numbers could just be the tip of the iceberg: A new survey by the US CDC suggests the total number of coronavirus infections across the United States could actually be six to 24 times greater than reported.
Also cases spike, US travelers are "unlikely" to be allowed into the European Union as the bloc begins opening up to international travel, several EU diplomats told media.
Officials in parts of the US are now trying to reel in the spread of the coronavirus which many experts have said is spiraling out of control by making pleas to the country's young population to keep their distance, urging the use of face masks and halting their reopening plans.
The 36 states seeing a rise in cases include: Alabama, Alaska, Arizona, Arkansas, California, Colorado, Florida, Georgia, Hawaii, Idaho, Illinois, Iowa, Kansas, Kentucky, Louisiana, Maine, Michigan, Minnesota, Mississippi, Missouri, Montana, Nevada, New Mexico, North Carolina, Ohio, Oklahoma, Pennsylvania, South Carolina, Tennessee, Texas, Utah, Vermont, Washington State, West Virginia, Wisconsin and Wyoming.
Cases are trekking steady in Delaware, Indiana, Maryland, Massachusetts, Nebraska, New Hampshire New Jersey, New York, North Dakota, Oregon, South Dakota and Virginia.
Meanwhile news reports are emerging that he situation is out of control in prisons, jails and juvenile detention centers.
To make matters worse, besides a shortage of hospital beds and ICU units, there is now an acute shortage of many essential drugs ranging from sedatives necessary for ventilator use, antibiotics for secondary infections and sepsis arising in severe COVID-19 patients, a shortage of various drugs and even basic medical equipment like IV drips etc.
It is now expected that as the situation spirals out of control in the US, there might even be an election come November as the country would be in a total chaos by then.
America could perhaps gain by sending its officials to Thailand to truly learn how to control a pandemic and also how to manage the healthcare sector.
For those Americans truly interested to survive the current wave and also the coming wave, keep logging to our site as we are shortly setting up a survivor's programme including access to medical devices like oximeters and oxygen concentrators, necessary drugs that are not typically obtainable in the US even though USFDA approved, necessary supplements, TCM and other herbs and also proper and reliable certified home test kits. All for a fee of course. Our main fulfillment centers are in California, New York, Boston, Chicago, Florida, Texas and Arizona and we are working alongside private hospitals and clinics and medical universities.
For the latest
US Medical News
, keep on logging to Thailand Medical News.