The US FDA has approved supplemental new drug applications (NDAs) to expand the use of the drugs Pifeltro and Delstrigo as inclusions in the treatment of patients who are virologically suppressed on a stable ART regimen with no previous history of treatment failure. The approvals provide HIV patients with a wider option of drugs for their ART regiments.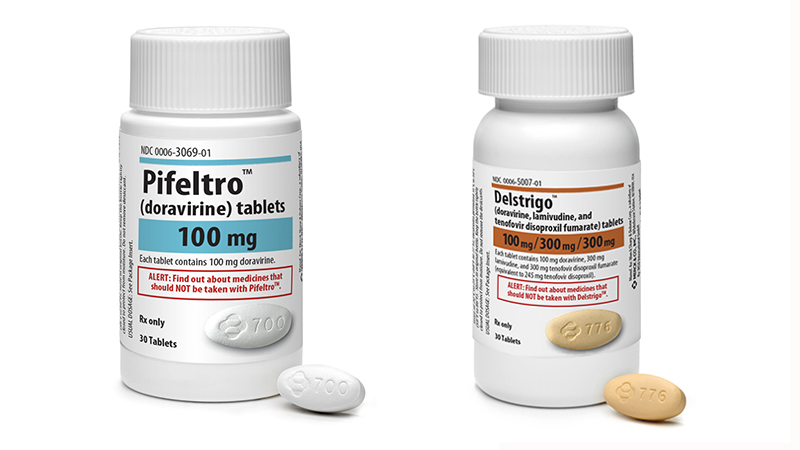 The new approval is for adults currently on stable antiretroviral therapy with an undetectable viral load (below 50 copies)
Dr Princy Kumar chief of the Division of Infectious Diseases and Tropical Medicine at MedStar Georgetown University Hospital and professor of medicine and microbiology commented in an interview with Thailadn Medial News "Thanks to developments in HIV science, more treatment options are becoming available to address the medical needs of people living with HIV.The expanded indications offer certain people with HIV-1 infection and their doctors the choice to switch their current antiretroviral therapy to Delstrigo or Pifeltro in combination with other antiretroviral agents."
Pifeltro (100 mg), a non-nucleoside reverse-transcriptase inhibitor to be used in combination with other ART medications, and Delstrigo, a once-daily, fixed-dose combination tablet of doravirine (100 mg), lamivudine (300 mg) and tenofovir disoproxil fumarate (300 mg), were approved by the US FDA for the treatment of HIV-1 infection in adults with no prior ART experience. Both drugs are produced by Merck. Following the phase 3 DRIVE-SHAFT trial, which demonstrated noninferior efficacy of switching to Delstrigo compared with continuing a baseline regimen of two nucleoside reverse-transcriptase inhibitors plus a boosted protease inhibitor, an FDA submission for the supplemental NDAs was submitted and accepted.
The approval was based on results from the Phase III DRIVE-SHIFT trial, which enrolled 670 people on stable antiretroviral therapy containing a boosted protease inhibitor, a NNRTI or the boosted integrase inhibitor elvitegravir who had full viral suppression for at least six months.
Participants in the study were randomly assigned to switch to Delstrigo immediately or after a six-month delay. The immediate group had 48 weeks of follow-up and the delayed group had 24 weeks of follow-up.
At 24 weeks, 93.8% of people in the immediate Delstrigo group had undetectable viral load, compared with 92.6% of those who stayed on their current regimen. Among those who took Delstrigo for the full 48 weeks, 90.8% maintained viral suppression. Rates of virologic treatment failure were low (below 2%) in both groups, and no one who took Delstrigo developed drug resistance.
Treatment with Delstrigo was safe and well tolerated, and just 1.5% of people stopping the medication because of side effects. Blood lipid levels were more favorable among those taking Delstrigo. LDL cholesterol and triglyceride levels decreased when people switched, while remaining stable among those who stayed on their existing regimen.
The TDF and lamivudine in Delstrigo are also active against hepatitis B virus (HBV), and stopping them may lead to worsening hepatitis.
People with HIV
and HBV coinfection should be closely monitored when they discontinue Delstrigo. Delstrigo contains the older TDF version of tenofovir; people at risk for kidney or bone problem s may instead use Pifeltro with Descovy, which contains the safer updated tenofovir alafenamide (TAF).
Dr George Hanna, vice president and therapeutic area head of infectious diseases, at Merck Research Laboratories further commented "The approvals provide doravirine treatment options for people living with HIV-1 who are virally suppressed, reflecting Merck's continued commitment to research and development of
HIV treatments
. We are thankful to the researchers and
HIV community
for their collaboration that made this possible."
Delstrigo and Pifeltro, however, bested the other regimens with regard to study participants' LDL cholesterol and non-HDL cholesterol. Compared with those who received Atripla, those taking Delstrigo also had lower rates of adverse neuropsychiatric health events, including dizziness, sleep problems and an altered ability to think clearly and concentrate.
Dr Antonio Urbina, an HIV specialist at Mount Sinai Hospital in New York City commented, " I consider doravirine (Pifeltro) to be the best in the NNRTI class. Its higher genetic barrier and lack of central nervous system side effects make it a viable treatment option for persons living with HIV," says Delstrigo's arrival, he says, marks the first time the U.S. treatment guidelines "include a regimen that includes generic antivirals, a possible tipping point in the landscape for use of generic antiretrovirals in the future."
For HIV patients in Thailand, note that both Delstrigo and Pifeltro are available in India at extremely cheap rates but before attempting to procur supplies from there, consult your local Thai doctor and also make sure that you purchase from reliable sources.