US COVID-19 News: 63,282 New COVID-19 Cases In Last 24 Hours And 1,061 Americans Dead, United States Crosses 4 Million Infected Milestone
US COVID-19 News:
As Of 2.30am (California, Thursday 23
rd
July), the number of newly infected COVID-19 cases over the last 24 hours(for the 22
nd
of July) is now 63,782 with numbers still expected to rise due to delays of reporting by certain counties and states. This brings the total number infected in the United States to 4,001,315 ( we do not base our figures on John Hopkins Dashboard or the US CDC, which are both inaccurate rather we have been compiling data from the start of the epidemic with the aid of other medical institutions in the US and also agencies)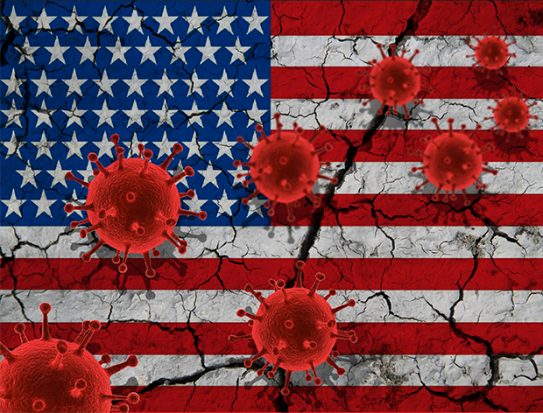 Of these a total of about 1,943,812 have been deemed as recovered by health authorities.)
A total of 50,735, 218 COVID-19 test has been conducted so far (We do not have the exact number of people tested as in some cases a single person hospitalized could have been tested 3 to even 4 times.)
Please note that America's population is about 331,119,593
1,061 deaths due to COVID-19 was reported the last 24 hours bringing the total number of Americans who have died due to COVID-19 so far to 144,035
What is more worrisome is that there are more than 21,480 patients who are critically ill and are in ICUs across the country due to COVID-19.
America, after experiencing some improvement, has for several weeks seen its number of cases rise, particularly in the south and west of the country.
With almost 420,000 confirmed cases, California became the US state with the most coronavirus infections, overtaking New York.
The western state, however, has more than twice the population of New York.
Almost 8,000 people have died in California since the start of the pandemic, including 115 on Tuesday.
Florida is the next state with the most infections and it is expected to supersede both California and New York in a matter of weeks.
The US CDC has mentioned many times that the numbers infected could be as high as 10 times the official infected numbers.
Newer emerging data is showing some worrying trends. Roughly 5.8 percent of so called recovered patients worldwide are likely to die within 3 months after recovering due to kidney, heart or lung complications or issues.
It is currently estimated that 28 percent of recovered and asymptomatic patients are likely to manifest neurological symptoms.
Even more worrisome, it is estimated that up to 41 percent of recovered and asymptomatic patients are expected to experience myalgic encephalomyelitis (ME) or chronic fatigue syndrome.
It is now estimated that about 17 percent of males who have recovered or are asymptomatic are likely to experience fertility issues.
It is now expected that by the time the second wave hits the U.S. sometime in November, the projections of the infected and death figures from then on are going to be catastrophic.
The only way that American can save themselves is by being proactive and start taking precautions such as wearing a mask, frequent hand-washing, practice social distancing and those in vulnerable categories to simply self-is olate. All are also encouraged to start on prophylactic programs that can prevent themselves from progressing to the moderate or severe conditions and for those who have already recovered or are asymptomatic to take actions to prevent long term health complications. Many of these information will soon be available on the Thailand Medical News website.
For more
US COVID-19 News
, keep on logging to Thailand Medical News.