More Great News! Even Those That Initially Had Mild COVID-19 Symptoms Can Develop Kidney Disease As Part Of Many Manifestations Of Long COVID!
Long-COVID-Kidney Disease
: While many morons out there are assuming that COVID-19 is nothing as serious as the common flu and that it only affects the old or obese or those with existing comorbidities, its going to be fun in coming months and years as we see more people who had once been infected with the SARS-CoV-2 coronavirus start developing not just the mild manifestations of Long COVID such as fatigue, different forms of body pain, mental and neurological issues but also more chronic and deadly diseases including heart issues, liver issues, kidney disease and a variety of cancers to just name a few.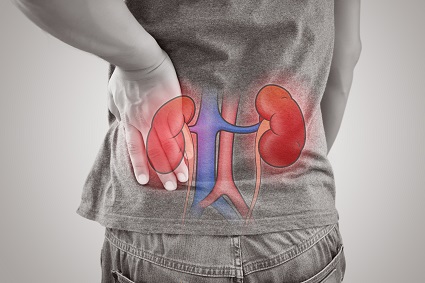 We really have to salute those individuals responsible for developing a superb bioweapon that kills the old and sickly fast while killing the rest of the healthy slowly to avoid mass panic and general public awareness considering that they know the masses are simply stupid and information can be easily withheld from them. This new eugenics based T4 program (Aktion T4) hopefully will eradicate the world of morons and lower human life forms that are simply competing with others for air, land space and other natural resources over the next few years. (Note do not assume that most morons are uneducated, on the contrary one thing that the COVID-19 pandemic has revealed is that more than 70 percent of morons and lower life forms are actually STEM graduates including some doctors who think that they are so smart!)
Researchers from VA St. Louis Health Care System, Missouri-USA have found that a percentage of those that have 'recovered' from COVID-19 including those that only had mild symptoms during the infection phase with the SARS-CoV-2 coronavirus, will eventually go on to develop kidney disease. The study team also warns that public healthcare systems in various countries need to prepare now for the long-term consequences of COVID-19.
The study team built a cohort of 1,726,683 US Veterans identified from March 01, 2020 to March 15, 2021 including 89,216 30-day COVID-19 survivors and 1,637,467 non-infected controls.
The team examined risks of AKI, eGFR decline, ESKD, and major adverse kidney events (MAKE) defined as eGFR decline ≥50%, ESKD, or all-cause mortality using inverse probability weighted survival regressions, adjusting for predefined demographic and health characteristics, and algorithmically selected high-dimensional covariates including diagnoses, medications, and laboratory tests. Linear mixed models characterized intra-individual eGFR trajectory.
The
Long COVID-Kidney Disease
study findings showed that
beyond the acute illness, 30-day survivors of COVID-19 exhibited a higher risk of AKI (aHR=1.94 (95%CI: 1.86,2.04)), eGFR decline ≥30% (1.25 (1.14,1.37)), eGFR decline ≥40% (1.44 (1.37,1.51)), eGFR decline ≥50% (1.62 (1.51,1.74)), ESKD (2.96 (2.49-3.51)), and MAKE (1.66 (1.58,1.74)). There was a graded increase in risks of post-acute kidney outcomes according to the severity of the acute infection (whether patients were non-hospitalized, hospitalized, or admitted to intensive care). Compared to non-infected controls, 30-day COVID-19 survivors exhibited excess eGFR decline of -3.26 (-3.58, -2.94), -5.20 (-6.24, -4.16), and -7.69 (-8.27, -7.12) mL/min/1.73m2/year in non-hospit alized, hospitalized, and those admitted to intensive care during the acute phase of COVID-19 infection.
The study findings concluded that
COVID-19 survivors exhibited increased risk of kidney outcomes in the post-acute phase of the disease. They stressed that Post-acute COVID-19 care should involve attention to kidney disease.
The study findings were published in the peer reviewed
Journal of the American Society of Nephrology.
https://jasn.asnjournals.org/content/early/2021/08/25/ASN.2021060734
The study team
found that in the post-acute phase of the disease, people with COVID-19 are at increased risk of acute kidney injury, chronic kidney disease, and end-stage kidney disease.
The study team reported that this increased risk is evident even in individuals whose disease was mild and did not necessitate hospitalization during the acute phase of the infection ie those patients represent the majority of people with COVID-19.
The team also found that the risk was greater in people who needed to be hospitalized and greatest in those who needed intensive care during the acute phase of the disease.
The study findings estimate that around 13.44 per 1,000 people with COVID-19 go on to develop some form of kidney injury or disease. Given that nearly 45 million individuals have been infected with COVID-19 in the United States, the team estimates that more than half a million people will have some form of kidney disease as a result of long-COVID. This will add to the already substantial burden of kidney disease in the U.S.
Worldwide, with more than 237 million people already infected with the novel coronavirus, (Both WHO and US CDC say that the actual figures could be five to eight fold!) the number of individuals going to be developing kidney disease is astronomical! It is going to be a great time for medical equipment manufacturers, pharma giants, private healthcare or hospital groups and undertakers!(PS: We are starting a new startup soon ie Cremation Express- a portable coin operated incinerator that can be installed anywhere including in condo lobbies etc!..our miserly readers who are only interested to make monies from investments but never donate to our website or initiatives are welcome to contact us for investment opportunities and high returns plus they can to use the service complimentary for themselves and their loved ones!)
The study findings also showed remarkable loss of estimated glomerular filtration rate (eGFR) among people who survive the acute phase of COVID-19.
Interestingly among those who were not hospitalized for COVID-19 during the acute phase of the disease, they exhibited eGFR loss attributable to COVID-19 at an annualized rate of -3.26 ml/min/1.73 m2 ie the equivalent of aging an extra 3 years!
However, among those who were hospitalized, the eGFR loss attributable to COVID-19 was more than 7.69 ml/min/1.73 m2 or the equivalent of aging more than 7 additional years!
Although the study team admits that they do not fully understand why the SARS-CoV-2 coronavirus which is actually a respiratory virus, induces broad extrapulmonary organ dysfunction including acute and chronic kidney damage and loss of kidney function, the broader implications of the evidence are clear: COVID-19 will substantially contribute to a rise in the incidence of acute kidney injury and chronic kidney disease.
The team warns that healthcare providers, health systems, and governments must be aware of this reality, and must develop strategies for early identification and treatment of these patients.
The key overarching goal would be to reduce the risk of progression to more severe forms of kidney disease and to mitigate the cardiometabolic consequences and early death that generally characterize advanced chronic kidney disease.
Importantly the cost of developing early detection and prevention strategies will certainly help contain much larger downstream costs in terms of loss of life and cost of caring for end stage kidney disease.
PASC or Post-acute Sequelae of COVID-19 which is commonly referred to simply as Long-COVID is a multifaceted disease.
To date, it is now abundantly clear that some clinical manifestations of long-COVID, such as fatigue, may resolve with time in some people; but it is also abundantly clear that long-COVID results in chronic conditions such as chronic kidney disease (and other non-communicable disease such as heart failure, liver disease, neurodegenerative diseases and new onset diabetes).
Sadly, these are manageable but not curable diseases that will affect people for a lifetime and will also help contribute to increased risk of mortality. All these conditions are associated with greater need for utilization of healthcare resources, decreased quality of life, increased risk of death, and reduced life expectancy.
Importantly the added burden of kidney disease and other non-communicable diseases will have far-reaching implications, not only on health outcomes and life expectancy, but also more broadly on social, economic, and political issues.
The coming months and years will indeed be fun times as we will definitely see more long terms health conditions arising from SARS-CoV-2 infections.
For more on
Long-COVID-Kidney Disease
, keep on logging to Thailand Medical News.