U.S. Medical News: California COVID-19 Crisis Out Of Control, Now Ambulances Deciding Who Lives And Dies! More Than 47 Million Americans Already Infected
U.S. Medical News
: It was reported that ambulances in Los Angeles and elsewhere in California are now stopping to transport some patients due to strain on hospitals as result of an exponential surge in COVID-19 cases.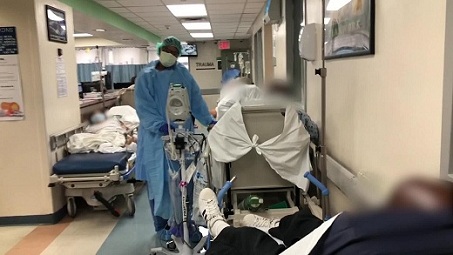 In Los Angeles, ambulance workers have been told to stop transporting some patients with extremely low survival chances to hospital, and to limit oxygen use, as record COVID cases overwhelm medical resources.
The state of California has emerged as the latest epicenter of the US coronavirus pandemic, with nearly 4,200 deaths in the last two weeks alone, and hospitals bracing for another surge expected from the holiday period.
It was reported that in Los Angeles, where packed hospitals have been turning away ambulances, medics were Monday instructed not to transport adult cardiac arrest patients if they cannot be resuscitated in the field.
Sadly, the county's Emergency Medical Services (EMS) agency also issued a directive for ambulance crews to save oxygen supplies by only administering to patients with severely low levels.
Dr Marianne Gausche-Hill, local LA EMS agency head told Thailand Medical News that medics were "not abandoning resuscitation" in the field, but that transporting patients with "very poor outcomes" who cannot be resuscitated could "impact our hospitals."
The state of California was initially praised for its handling of the pandemic in March, but is now reeling. In the past seven days it has recorded more than twice as many cases as any other state, placing a huge strain on resources.
Los Angeles County director of health services Christina Ghaly said, "Many hospitals have reached a point of crisis, and are having to make very tough decisions about patient care."
It was also reported that firefighters trained as paramedics have been temporarily called up to assist hospital staff, while army engineers were drafted in to bolster straining oxygen delivery systems at six hospitals.
Los Angeles County public health director Barbara Ferrer said,"We're likely to experience the worst conditions in January that we've faced in the entire pandemic and that's hard to imagine."
She said that positive COVID cases in the nation's most populous county had doubled in just over a month to 800,000, with more than one-in-five who get tested currently positive.
She added while referring to the data, "The steepness of this line is frightening, and its implications for our healthcare system, our health care workers, and all the people we care about."
Although vaccinations have begun for emergency healthcare workers and the most vulnerable in California, Governor Gavin Newsom said Monday the process had "gone too slowly."
Less than one-third of 1.3 million delivered vaccines have been administered so far.
Also surprisingly, may Californian healthcare workers are hesitant about taking the vaccines that were made by the Trump administration under record time speeds and tha t also lack of transparency and inadequate data results.
New Study Shows That More Than 47 million Americans Already Infected With Coronavirus Since November 15
th
2020.
47 million Americans already infected With SARS-CoV-2 Coronavirus Since Nov. 15!
A new study claims that since November 15th of last year, roughly 47 million Americans or about 14.5% of the U.S. population had already been infected with the new coronavirus.
Shockingly, that's much higher than the close to 11 million known U.S. cases of infection that were recorded by that date, the researchers said, because reported cases "do not represent the full SARS-CoV-2 disease burden."
According to the study team led by Dr Frederick Angulo, "Case reports are dependent on patients seeking health care," among other factors, and at least 40% of all infections are thought to be asymptomatic."
Dr Angulo works in medical development and scientific/clinical affairs at Pfizer Vaccines, which has an approved COVID-19 vaccine already in distribution in the United States.
Some say or believe that everyone who becomes infected with the new coronavirus will develop some form of immunity. And if enough of the population (about 70%) were to gain immunity either through infection or vaccination so-called "herd immunity" would set in, thwarting the virus' ability to spread further.
However the numbers for November 15th, 2020 show that herd immunity is still far away, the research team said.
The study team reported January 5
th
in JAMA Network Open Journal, "Findings of this study suggest that although more than 14% of the U.S. population was infected with SARS-CoV-2 by mid-November, a substantial gap remains before herd immunity can be reached."
These new November 15
th
COVID-19 figures were based on a total U.S. count of recorded cases on that date of 10,846,373.
COVID-19 Infection rates have exploded across the United States since then, and according to a tally kept daily by John Hopkins, more than 20.8 million verified cases have been recorded as of Tuesday.
Even then, Americans remain far away from herd immunity, one expert said, so the rollout of a nationwide vaccination campaign remains imperative.
Dr Amesh Adalja, an infectious disease expert and senior scholar at the Johns Hopkins Center for Health Security, in Baltimore commented, "While it has always been the case that a major underestimate of the true disease burden with COVID-19 has been present, most parts of the country have not reached herd immunity."
Dr Adalja said, "This underscores the need for vaccination uptake to be optimal to put this pandemic behind us."
Dr Angulo's group analyzed data from four "seroprevalence" (blood test) surveys conducted by the U.S. Centers for Disease Control and Prevention in April, May, June, July and August. These surveys were conducted in 10 states (California, Connecticut, Florida, Louisiana, Minnesota, Missouri, New York, Pennsylvania, Utah and Washington). A fifth CDC survey was conducted in 47 states nationwide.
Importantly all of that data helped the researchers estimate the level of "under-reporting" of coronavirus infections the gap between the number of people recorded as having COVID-19 and the larger "true" number of cases, reported and unreported.
Dr Angulo's team used those calculations to come up with an estimated number of 46,910,006 cases of SARS-CoV-2 infection having occurred among Americans by November 15th, 2020.
The study team stressed that the COVID-19 pandemic is not a static phenomenon, so these calculations "will change over time as the proportion of persons with infection tested, diagnosed and reported changes." Their calculations may, in fact, be "conservative."
The current introduction of an immunization campaign could change the numbers greatly, as well, so additional surveys are needed "to monitor the pandemic, including after the development of safe and efficacious vaccines," Dr Angulo and colleagues concluded.
Meanwhile there are surfacing allegations that the Trump administration has been trying to find ways to conceal actual COVID-19 figures and investigations are underway.
For more on
U.S. Medical News
, keep on logging to Thailand Medical News.