EDITORIAL

The Thailand Medical Industry has great potential to help uplift the local economy over the next few years if more attention and also collaboration is under taken by the various government agencies in a more concerted effort.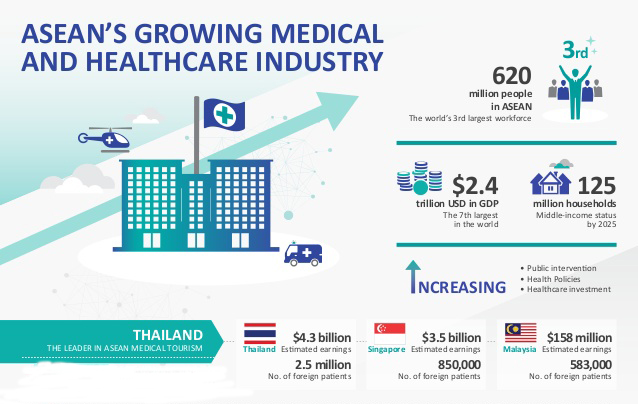 Thailand has to date more than 1,840 hospitals in the country with more than 37 percent of these being private hospitals, of which 70 percent of these are JCI accredited, making Thailand the only country in the Asia region which the most amount of JCI accredited hospitals. Not only does it reflect the degree of International standards of medical service that Thailand can offer but also its capacity compared to any other country in the world. To add to this, Thailand is the only country in the world where some of the private hospitals are literally better than five star hotel in terms of service and amenities but again at truly affordable prices. There is no such comparable hospitals to date anywhere else in the world. Thailand also has more than 21,830 private clinics all over the country.
Coupled with more than 29,850 licensed doctors of which more than 72 percent have completed post graduate specializations in the US, UK and Australia, Thailand Doctors are unmatched in terms of specializations and offering medical service. The Thailand Medical industry also have a great nurses and nursing aides workforce that is unparalleled with service and care as it has always been part of Thailand's tradition of hospitality.
Studies has shown that Thailand is the cheapest country in the world for medical procedures and medications at the moment, even surpassing India.
All these coupled with an already great hospitality and tourism industry makes Thailand an excellent choice as a medical tourism destination. Already ranked as one of the top medical tourism destinations in the world, more can be done to promote this industry, with the support of the various government agencies, private sector and also the media industry.
An average leisure traveler to Thailand spend only about an average of Bt 7,200 per day whereas a medical tourists spends anything between B36,000 to a few million baht per day! Simply doing the right maths, anyone can see the potential the Thailand Medical Industry can contribute to the GDP.
There is potential to exploit the medical Industry by promoting not only aesthetics and dental procedures which are currently the key drivers among medical tourists at the moment but also other medical procedures. Wellness, Stem Cells, Anti-aging and Regenerative medicine is an interesting area that is still yet not fully exploited. Thailand can be promoted as an Asia Centre for Cancer, Cardiovascular Diseases and also Diabetes considering these are high prevailing diseases in the region. Fertilization and Gynaecology clinics and procedures is another great market especially targeting the China market where the two child policy is now being promoted. Other areas including STDs, HIV and also Liver Diseases etc are extremely lucrative areas to focus
Elderly care and geriatrics is also an interesting sector to develop and promote along with retirement villages .
Thailand can also become a genomic and gene testing and precision medicine therapy for the region if more investment is poured into this area by both the government and also private sector.
Thailand Medical Industry can also be boosted by having more research centres and also promoting these centres in the region. The government can add incentives for various international pharma giants to invest in these research centers and also increase collaborations between medical, pharma and biotech learning institutions and universities in the region. Such research centres can actually draw in billion of dollars in investments and can become a whole industry by itself. The medical, biotech and pharma research industry globally is worth more than US$ 3 trillion combined!
Another area to further develop in Thailand Medical Industry is the Continuing Medical Education areas. Not only doctors from Thailand but doctors from countries like Vietnam, Cambodia, Myanmar, Laos, Indonesia, Philippines and even China are extremely interested in such programmes and it could also become another sub-industry by itself. In the US, the Continuing Medical Education market is worth approximately US$ 128 billion! Coupled with the existing hospitality industry with great hotels and meeting venues, this industry can cultivated with the support of international institutions, local universities and also hospital groups and government support.
The medical events sector is also a good MICE earner but unfortunately is not being promoted enough as a result Thailand is losing out to more expensive destinations like Singapore and Australia when in reality it can become the leading destination for such events considering the excellent infrastructure it as and also the affordability compared to countries like Singapore.
The medical devices, equiptment and drug manufacturing sectors including generic drugs can be big money earners and should be encouraged and cultivated.
The medical startup arena is also an untouched area and again with the right players being in place together with media platforms like ours, Thailand Medical News, (
https://www.thailandmedical.news
) a lot of interesting targets can be achieved.
So some may ask what is holding Thailand back? For one is the lack of collaboration and one of the factors for this is that Thai Government Leaders and officials have too much ego and also the prevalence of nepotism and cronyism, hence they seldom want to work with other agencies, private sectors or even the media. The same goes for Private Hospitals Groups and also Government Hospitals. Some of these hospital directors and owners have so much ego and attitude problem plus ignorance in other areas such as medical marketing and often refuse to reach out or even consider collaborations with other entities unless again if nepotism or cronyism is involved.
What is truly lacking in Thailand is Marketing Specialists who have medical backgrounds for strategic developments. We at Thailand Medical News, which is a new initiative to help showcase the various sectors of Thailand's Medical Industry and despite having such enthusiastic medical marketing specialists in our teams ,has had no response from government agencies and also private hospital groups when we tried reaching out to them, but whereas countries like Vietnam, have reached out to us for support through their government channels and we have also been having great collaborations with the private medical industry there. We have only just started developing
www.vietnammedical.news
portal and given time, it may outperform our initial Thailand site.
It is time that these key players in Thailand Medical industry wake up and put aside their ego, arrogance and ignorance and start learning to collaborate and work together including with medical platforms like ours, before they miss a great opportunity and let Vietnam overcome Thailand in a couple of years. Complacency is a bad attitude.