Study Finds That Many Hospitalized But Non-Intubated COVID-19 Patients Tend To Manifest Dysphagia Or Swallowing Difficulties
COVID-19-Dysphagia
: Researchers from University of Foggia-Italy have found that many hospitalized COVID-19 patients who are non-intubated tend to manifest Dysphagia or swallowing difficulties.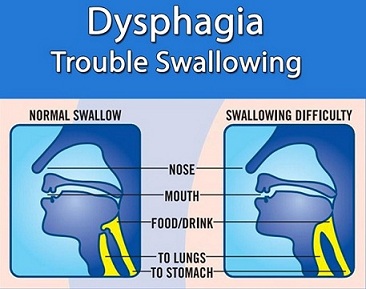 The study findings were published in the peer reviewed journal: European Archives of Oto-Rhino-Laryngology
https://link.springer.com/article/10.1007/s00405-021-07062-3
Dysphagia is condition in which there is difficulty in the passage of solids or liquids from the mouth to the stomach, a lack of pharyngeal sensation or various other inadequacies of the swallowing mechanism. Dysphagia is distinguished from other symptoms including odynophagia, which is defined as painful swallowing, and globus, which is the sensation of a lump in the throat. A person can have dysphagia without odynophagia (dysfunction without pain), odynophagia without dysphagia (pain without dysfunction) or both together.
Individuals affected by COVID-19 are assumed to be at high risk of developing swallowing disorders.
However, to date, data on the characteristics and incidence of dysphagia associated with COVID-19 are lacking, especially in non-intubated patients.
The study team decided to investigate the onset of swallowing disorders in patients with laboratory-confirmed COVID-19 infection who have not been treated with invasive ventilation, in order to evaluate how the virus affected swallowing function regardless of orotracheal intubation.
The study team evaluated 41 patients admitted to the COVID department of their university hospital when they had already passed the acute phase of the disease and were therefore asymptomatic but still positive for SARS-CoV-2 RNA by RT-PCR.
The study team examined patients' clinical history and performed the Volume-Viscosity Swallow Test (VVST). Each patient also answered the Swallowing Disturbance Questionnaire (SDQ). After 6 months, the team performed a follow-up in patients with swallowing disorders.
The study finding showed that eight of 41 patients (20%) presented with dysphagia symptoms during hospitalization and 2 of them (25%) still presented a SDQ high score and swallowing disorders with liquid consistency after 6 months.
The study findings concluded that non-intubated patients can experience various grades of swallowing impairment that probably directly related to pulmonary respiratory function alterations and viral direct neuronal lesive activity. Although these symptoms show natural tendency to spontaneous resolution, their impact on a general physical impaired situation should not be underestimated, since it can adversely affect patients' recovery from COVID-19 worsening health outcomes.
The study team further added, "Aging is frequently associated with dysphagia, in relation to prolonged oral transit time (OTT) and post-swallow aspiration, probably due to age-related sarcopenia of the swallowing muscles. Interestingly, in our study patients with swallowing disorders were younger, therefore we believe that age effects in influencing the aforementioned disorders are quite limited in our study population, suggesting that COVID-19 could be considered the main cause.&rdq uo;
Numerous other studies on Long-COVID also are showing signs that certain recovered COVID-19 patients also continue to exhibit
COVID-19-Dysphagia
weeks and in some cases months after being deemed as 'recovered'.
Thailand Medical News has also previously covered case reports in which a COVID-19 patients exhibited the neurological conditions called miller-fisher-syndrome-and-polyneuritis-craniali. Both these conditions are also known to result in dysphagia.
https://www.thailandmedical.news/news/breaking-neuro-covid-researchers-warn-of-new-neurological-conditions-manifesting-in-covid-19-patients-miller-fisher-syndrome-and-polyneuritis-craniali
For more on
COVID-19 And Dysphagia
, keep on logging to Thailand Medical News.