SOUTH KOREA CORONAVIRUS CRISIS: 142 Confirmed New Infections In Last 8 Hours. Infected 346, Dead 2, Suspected Cases 47,710
South Korea coronavirus
crisis continues to escalate with 142 news cases since the last few hours. The current nationwide toll is 346 but this is expected to rise very sharply in the next few hours as thousands of suspected cases are manifesting symptoms and are undergoing testing.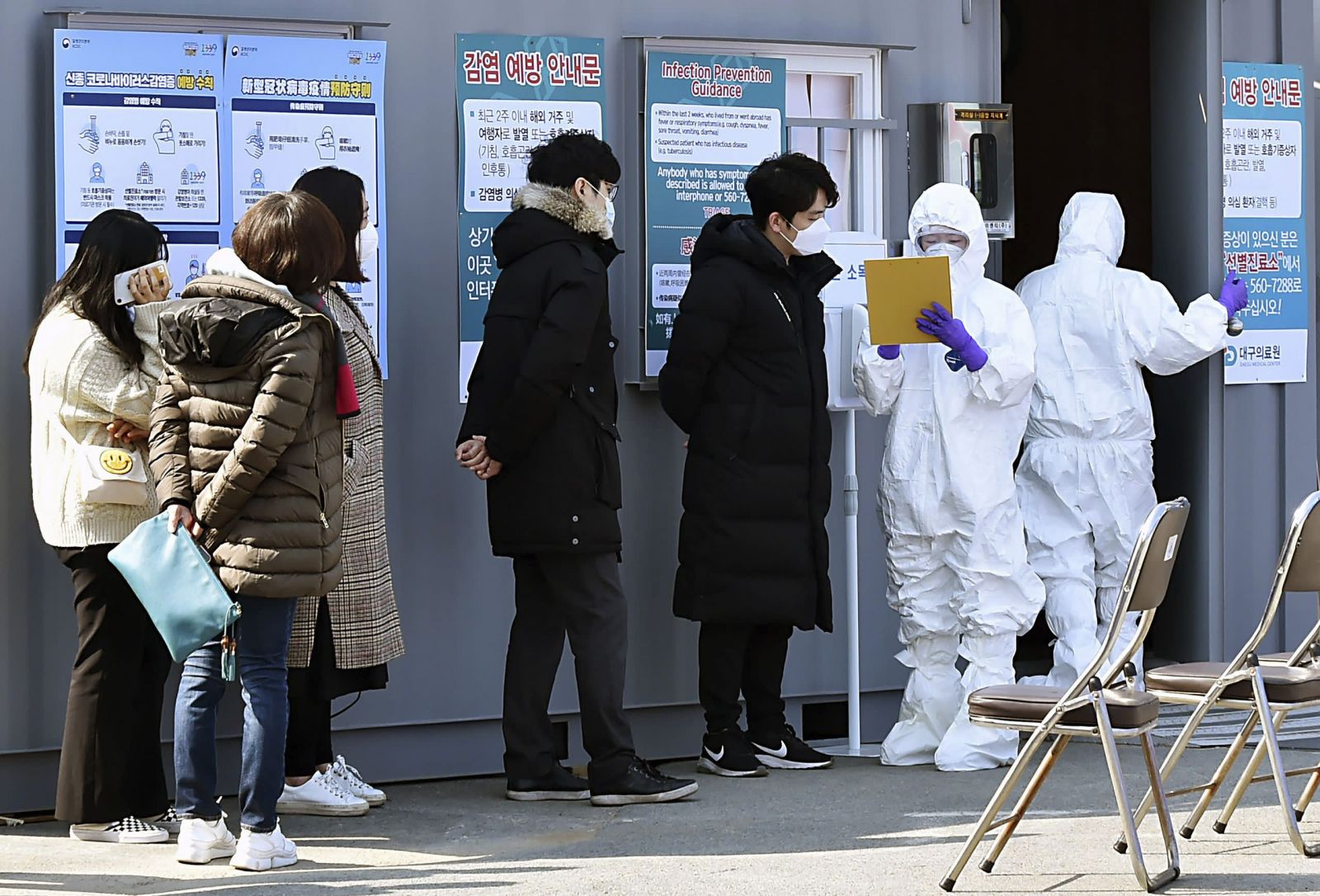 So far two deaths have been recorded resulting from the
coronavirus
.
Of the 142 new cases, 92 are related to Daenam Hospital in Cheongdo, where
South Korea
's first fatality occurred, the Korea Centers for Disease Control and Prevention (KCDC) said in a statement.
A 63-year-old man, who died of pneumonia at the hospital on Wednesday, posthumously tested positive for the
coronavirus
.
On Friday, another patient at Daenam Hospital died from COVID-19, the second death from the
coronavirus
here.
South Korean Prime Minister Chung Sye-kyun has already declared the
coronavirus
crisis as a health emergency with schools, factories and companies ordered shut till further notice while the government finds ways to contain the spread of the
coronavirus
. However,
South Korea
has only put its health alert at orange and not at the highest alert of red, making a lot of medical experts to criticize the government.
Epidemiology experts warn that the figure could jump further in south-eastern city Daegu, the epicentre of local transmissions originating from the Shincheonji Church of Jesus, as more than 564 church members, out of 4,400 surveyed are showing symptoms such as fever.
Both Daegu province and nearby Cheongdo have been designated as "special care zones" after a sudden spike in
coronavirus
cases there.
Daegu Mayor Kwon Young-jin has urged the city's 2.5 million residents to refrain from going out and stop attending gatherings and religious activities.
The mayor also raised concern that the city's hospitals may hit their maximum capacity soon. Some patients have already been moved to normal wards, according to local reports.
The mayor added, "We will consult with the health authorities regarding national measures such as the use of military hospitals and designation of hospitals specializing in infectious diseases."
South Korea

's
capital city Seoul, meanwhile, has banned rallies in three popular public spaces and closed down local branches of the Shincheonji church and 3,000 social welfare facilities. Tapgol Park, where the elderly like to gather, has been closed.
In an indication that the
ot;font-size:14px">coronavirus
may have broadly spread nationwide, other provinces, including Jeju, Chungcheong and North Jeolla, reported cases. Gyeonggi Province also reported more new cases the last few hours.
Infections of the
coronavirus
were reported for the first time in Busan,
South Korea
's second-largest city with a population of 3.4 million. The city had been regarded as relatively free of the
coronavirus
outbreak since the country reported the first case of COVID-19 on Jan. 20.
The number of suspected cases is based on the rough estimated exposure of total confirned cases for instance a single worker working in a factor of 3,000 workersc could result in massive numbers of suspected cases as not only the workers but their families and neighbours could have been exposed. These are merely estimates that help in tracking down the spread. Individuals should not become paranoid or panicky by such figures until real verfied data of confirmed cases is released based on testing results)
For more on
S

outh Korea Coronavirus
crisis, keep reading at the
Coronavirus
microsite of
Thailand Medical News
.