Russia Announces Ban Of All Chinese Citizens And Travellers Originating From China Amidst Worsening Conditions in China
Authorities in Russia announced on Tuesday said it would ban all Chinese citizens from entering its territory with effective from February 20, in a drastic measure against the spread of the new
coronavirus
.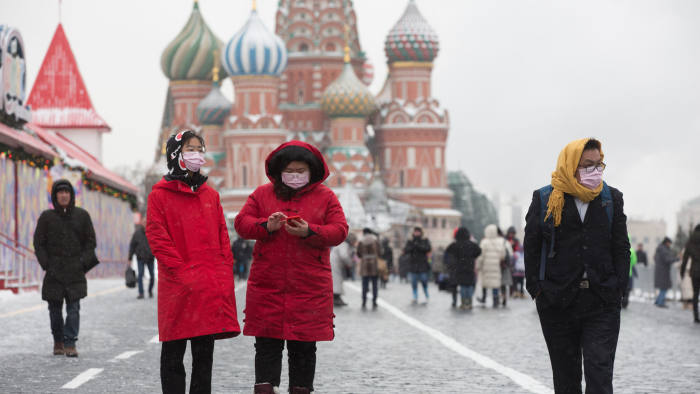 Deputy Prime Minister in charge of health, Tatiana Golikova told media, "The entry of all Chinese citizens via Russia's state frontiers will be suspended from February 20 for work travel, private travel, study and tourism."
The Russian minister said that the decision was taken because of intel that Russia has that indicates "the worsening of the
coronavirus
epidemic in
China
and the fact that Chinese nationals are continuing to arrive on Russian territory."
A significant number of Chinese nationals visit Russia as tourists or live there for work or study and many transit through Russian airports en route to the West.
Russia has taken drastic measures to stop the spread of the SARS-CoV2 outbreak which has claimed nearly 1,900 lives in
China
and around the world. It has already closed its 4,250-km (2,650-mile) border with
China
.
There are no more
coronavirus
cases in Russia after two women, who returned from
China
recently, were released from hospital after recovering from the infection.
Numerous other countries are also imposing travel bans or travel restrictions to and from
China
and while some are merely imposing health screenings for all arrivals from china and in some cases compulsory quarantine.
Worldwide, the number of infected
coronavirus
cases outside
China
is almost reaching 1,000 cases spanning 28 countries with Singapore and Japan leading with the most number of infected cases.
Many epidemiologist are speculating that the a major global pandemic might shortly emerge as there are lots of undetected individuals silently spreading the new
coronavirus
among the various populations and considering that the incubation period of the disease can be long.
For more updates on the
China Coronavirus
epidemic, check out :
https://www.thailandmedical.news/articles/coronavirus