Physicians In India Reporting Rise In COVID-19 Hospitalizations Needing Supplemental Oxygen Despite Official Figures Claiming That Infections Are Down!
India COVID-19 News
: According to official figures released by the Indian government, India only saw about 11,539 new COVID-19 infections in the last 24 hours and only 43 COVID-19 deaths, a further fall form the previous day figures but physicians in cities like Mumbai, Delhi and Bengaluru are insisting that the actual daily figures are much higher and that in many private hospitals, hospital beds and also ICU wards are almost filled up due to new COVID-19 cases exhibiting disease severity.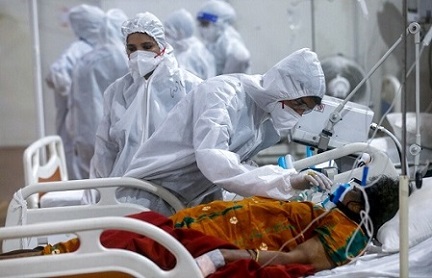 But was is worrying many doctors is that not only is disease severity becoming more apparent in most cases but many are needing supplemental oxygen and also ventilators.
Physicians in Mumbai reported that they are witnessing more COVID-19 patients displaying lower respiratory tract infections and many with hypoxia (ie low blood oxygen levels).
Typically, many of these COVID-19 patient displaying sore throat, runny nose, irritation and swelling of the throat will start having their conditions deteriorating by the sixth or seventh day with most developing breathing issues and also hypoxia by then.
Some researchers are speculating that the newer SARS-CoV-2 BA.5 subvariants such as the BA.5.1 BA.5.2 and another new BA.5 subvariant spotting various spike mutations on the 444 regions along with newer BA.2.75 subvariants carrying newer spike and nucleocapsid mutations are behind the rise in disease severity and hospitalizations. Another SARS-CoV-2 variant, the BA.2.38 variant was also seen rising in Mumbai and Delhi.
Many who progressed into disease severity also displayed fevers, persistent coughing and breathing difficulties.
According to
India COVID-19 News
outlets, it was also reported that the private hospitals in the cities of Mumbai, Delhi and Bengaluru are witnessing more deaths in the last 8 days mostly in COVID-19 patients displaying disease severity and deaths typically representing organ failure especially of the heart, kidneys and lungs.
Despite this, Indian state and federal authorities have been reporting very low COVID-19 death rates in the last 8 days and does not correlate with what is occurring in the private hospitals.
Indian health authorities are preparing for a surge new of COVID-19 infections this coming week after a few festive holidays in the last few days but the testing levels for COVID-19 has dramatically decreased in the country in the last few weeks.
Both physicians and researchers are warning that the lack of testing is only going to aggravate the COVID-19 situation as no one will have a true perspective of the degree of infection in various states and communities.
On the genomic surveillance aspects of the SARS-CoV-2 virus and emerging variants, India is currently doing a very good job as hospitals currently ensure that samples involving disease severity are regularly sent for genomic sequencing and to date, just for August 2022 alone, more than 292,000 samples have been sent for sequencing with more than 75 percent already sequenced and data uploaded on various public sharing platforms.
In terms of the daily COVID-19 infections and COVID-19 deaths, local physicians are saying the actual figures could be as high as six-fold of what is being repor ted officially!
For the latest
India COVID-19 News
, keep on logging to Thailand Medical News.