No Respite From China Coronavirus Epidemic, Death Toll Now 360, Infected 16,480, Critical 2,041, More Cities In China Turning Into Epicenters
UDATE: At 9.00 am Beijing Time, China Health Authrorities revised the figues from those released an hour earlier. The death toll is 362, Infected are 17,250 and Critcal 2,128)
Despite assurances by the Chinese Government and WHO that they have things under control, there seems to be no respite from the deadly
coronavirus
that is on a "rampage' in China. Current death tolls are now 360 and the numbers of confirmed infected are 16,480 (according to Chinese Health Officials, but these are not reliable data as most of these figures only represent figures from Hubei) while about 2,041 patients are in a critical condition ie in ICU conditions and exhibiting ARDS (Acute Respiratory Disease Syndrome) symptoms, sepsis, organ failure etc.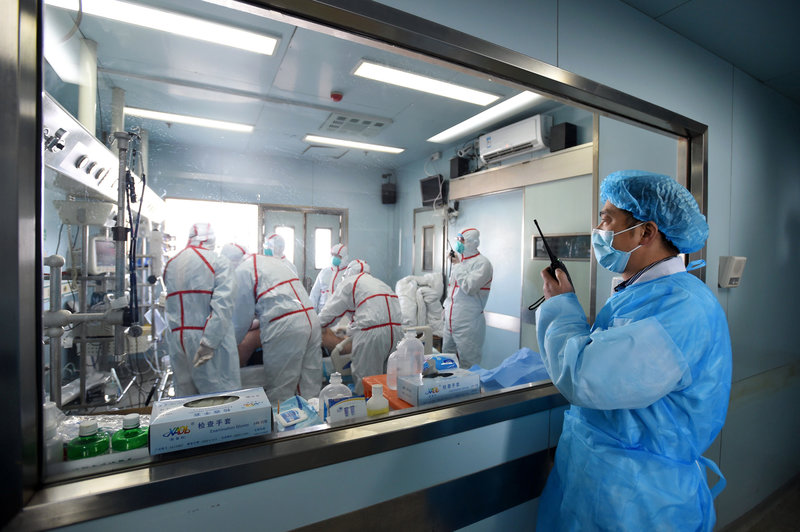 Its estimated that almost half a million people in China are now exhibiting symptoms from the
coronavirus
all over China hospitals but have yet to have any diagnostic tests yet to confirm this due to the scarcity of test kits and also as it helps the government officials to keep public figures that needs to be reported to international agencies low.
Provinces like Chonqing, Henan, Hunan, Zhejiang, Shanghai and Guizhou are now starting to resemble Hubei with many cities in these provinces now sprouting out as newer epicenters of the
coronavirus
disease.
Already another city in Hubei itself, Huangguang is now the second epicenter and is soon to surpass Wuhan in terms of numbers infected and also deaths.
Despite media coverage about the first thousand bed hospital bed being completed in Wuhan in only a few days, there is lack of necessary medical equipment to properly have it functioning as a real hospital. China is facing a massive shortage of medical supplies of every possible kind as it never was prepared to see such massive numbers of sick people in any one time. All over China, hospitals and clinics are overflowing with desperate people seeking treatment and many are being turned away if they are not in a severe condition. This will also help to spread the coronavirus as those infected without having the test done or having the right treatment as soon as possible, will become spreaders of the disease.
The whole medical system in China has failed its people and it is only a matter of a few more weeks before the magnitude is seen despite constant downplays of the situation by the Chinese officials.
The Chinese government has already appealed to the European Union for help with regards to medical supplies and equipment.
Many other provinces in the country will resume work today and millions are expected to travel back to the cities. It is is expected to be another major disaster waiting to happen as the spread of the
coronavirus
disease could be accelerated during the next few weeks.
China is also starting to face another emerging disease ie the
H5N1
Avian Flu or Bird Flu as it is commonly called that has erupted in Hunan province that is just next to Hubei . The status of that new disease has been silenced by Chinese health officials yesterday after Hong Kong media outlets broke the story.
For more updates about the
China

coronavirus

epidemic
or the
Thailand Coronavirus
scenario, keep on checking at:
https://www.thailandmedical.news/articles/coronavirus