More Coronavirus Cases In Thailand, Total Now 32. Meanwhile Mask Issues Becoming A 'Circus'
The Thailand Public Health Ministry surprisingly reported seven new cases of the
coronavirus
on Saturday, (perhaps to deflect other media stories) that included three Thais and four Chinese.
With the new cases, Thailand's total for the number of
coronavirus
infected cases in the country as claimed by the Ministry Of Public Health would only be only 32, a figure that raises many people's eyebrows considering the fact that more than a total of 800,000 Chinese visited the country for the months of December 2019 and January 2020, with an estimate that 20 percent or more was from Wuhan. Also there are more Chinese staying in
Thailand
at the moment and many more are still coming in each day, as
Thailand
has not ban travellers from China due to its desperation for the Chinese tourists dollar as its domestic economy is in a mess. Furthermore with the strong baht, the air pollution and a worst water shortage or drought the country is facing, it seems to be in such a desperate position. The seven new cases are all in hospital.
Dr Suwannachai Wattanayingcharoenchai, director-general of the Disease Control Department said that one of the cases was part of the group of 138 evacuated from China's
coronavirus
epicentre of Wuhan on Tuesday. Two Thais had exposure to tourists. Among the four Chinese, three are members of the families of previously reported cases, while the other is a tourist from a Hubei province in China.
So far of all 32
coronavirus
cases in
Thailand
, 23 are Chinese while nine are Thais. Twenty-two other patients remain in hospital.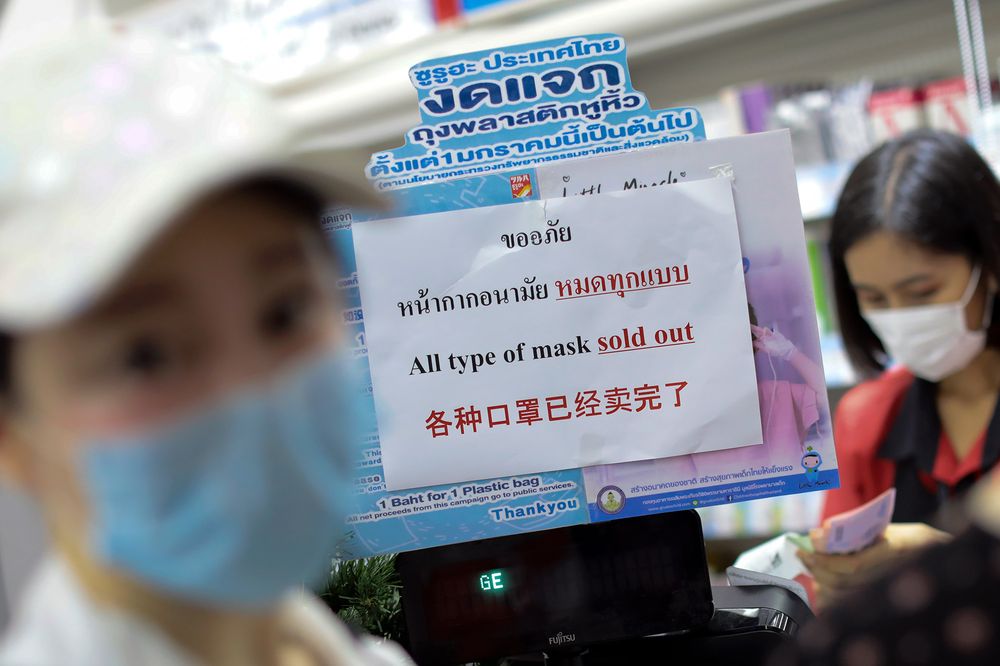 Meanwhile the issue of surgical mask shortage in
Thailand
has sort of become a local "circus" for the media. Initially about a week ago, a minister from the government had put on one of the usual PR exercises telling media and the public that
Thailand
had more than sufficient stockpiles and that local production and imports were more than sufficient. Within the same week many citizens and foreigners took online to complain that there were no retailers of pharmacies selling masks as all were sold out due to the Chinese buying them in bulk and sending them back to China.
While the Singapore government was making sure that every household In Singapore was given free masks, the Thai government started to make arrangements to sell mask at various outlets. The GPO under the Ministry of Health was selling mask at Bt 1 per piece while those by the Ministry of Commerce priced Bt 2.5 per piece and all were only available for sale to Thai citizens at blue flag shop outlets. Both mask were identical but some were saying that the Bt 1 mask could have been old expired stocked of which the claim was refuted by the Ministry Of Public Health officials.
To make matters worse, pictures appeared online in which the government had enlisted free labour by getting soldiers to pack the mask and most were doing so barehanded and with any protective facial protective gear. The blunder was rectified a day later with the soldiers made to wear gloves and also wear mask while repacking the mask for sale. No one knows if the contaminated stocks were recalled and destroyed or merely sold to unsuspecting individuals!
To compound to the mess, The Minister for Public Health was caught on camera during a PR exercise when he was giving out a few mask at Siam Square barehanded but was rejected by a few white Caucasian westerner tourists who were intimated and annoyed by the Minister accompanied by police and immigration officers in uniform. The Minister lashed out in front of camera and cursed all white westerners in a derogatory term in Thai saying that all white westerners not wearing mask should be kicked out of the country!
Meanwhile it is reported that many white Caucasian retired expats in Thailand are currently in a fear and a paranoid state as they are unable to procur mask for protection against the
coronavirus
and are afraid that they might be deported out of the country as a result of the deputy prime minister cum health minister stating in public that all western foreigners who do not wear masks should be expelled from the country.
For more updates about the
coronavirus
epidemic
or the
Thailand Coronavirus
scenario, keep on checking at:
https://www.thailandmedical.news/articles/coronavirus