More Cases Of Coronavirus Infections On Both Cruise Ships In Japan and Hong Kong While A Third Cruise Ship In International Waters
The Diamond Princess cruise ship that is anchored at Yokohama, near Tokyo, with 1,046 crew and 2,667 passengers onboard including 428 Americans have reported that another ten more passengers on board have been tested positive for the
coronavirus
bringing the total to now 20.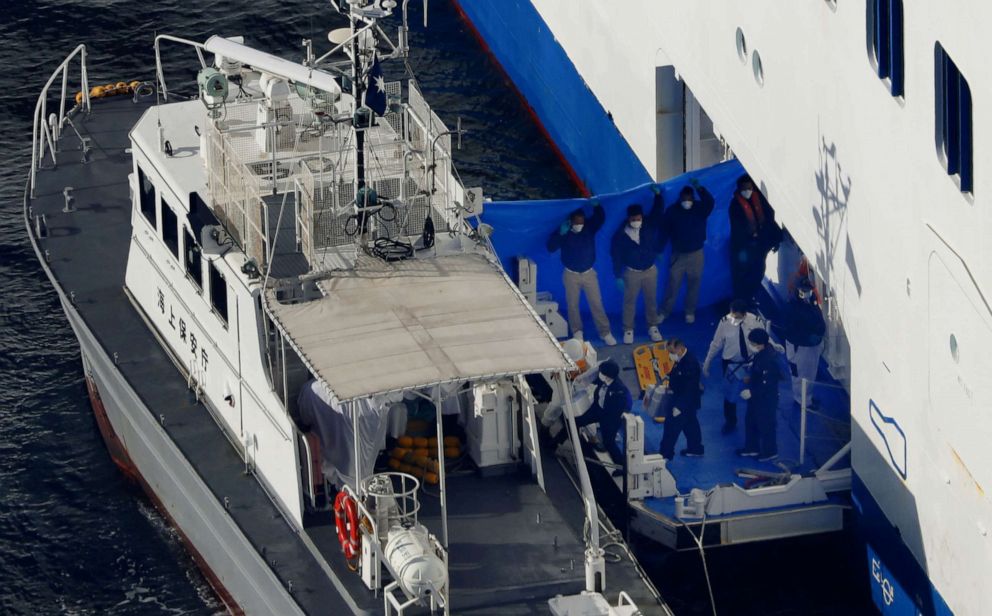 There are another 39 passengers that have started displaying symptoms and are awaiting test results. Japan health minister Katsunobu Kato said that of the 3,700 passengers onboard, 273 people have been tested so far , while others are still awaiting to be tested.
Apparently the initial cause of the infection had been a male Chinese passenger who had already disembarked last month in Hong Kong and was later confirmed to have been infected with the
coronavirus
.
All passengers who tested positive for the
coronavirus
have been sent to hospitals in Japan while the rest of the passengers will be quarantined for 14 days.
Japan is already having a stress from spiraling number of individuals being infected with the
coronavirus
.
As of this morning, it has a total of 25 cases of individuals infected with the
coronavirus
in the country excluding the cruise ship infections.
There have been several incidences of apparent person-to-person transmission in Japan, including a tour guide and bus driver who contracted the
coronavirus
after coming into contact with visitors from Wuhan. Neither of them had visited China in the last few months.
Meanwhile, the second ship, the World Dream, is docked at Hong Kong's Kai Tak Cruise Terminal with more than 3,600 passengers and crew members on board, the Hong Kong city's Department of Health said.
So far three crew members have tested positive for the
coronavirus
while another 32 despite having symptoms were tested negative. More than 80 passengers onboard are not well and are pending test results. The ship is also carrying passengers from various nationalities besides Chinese, including South Koreans, Malaysians, Singaporean, Japanese, Americans, British and Australians.
A third cruise ship carrying 1,800 passengers is still in International waters near the Philippines with crew staff reporting that they have 5 suspected coronavirus cases onboard. A Filipino port official said that they had brief contact with the ship yesterday afternoon but after that there was no further contact. There is still no news as to where the ship is headed to or planning to dock or whether the report is true.
Several cruise companies worldwide have vowed to enact extra measures to protect their customers from infection, with several barring passengers who have been to mainland China in the past 14 days.
However a majority have cancelled cruises considering the
coronavirus&l t;/span>
outbreak will once the situation is back to normal.
For more updates about the
China

coronavirus

epidemic
or the
Thailand Coronavirus
scenario, keep on checking at:
https://www.thailandmedical.news/articles/coronavirus