LATEST NEWS ON CORONAVIRUS RESEARCH: US and China Both Exploring Antibody Rich Plasma Therapy To Fight The Coronavirus
The
latest coronavirus research
for a treatment protocol was conducted by state owned company, China National Biotec Group who recently experimented using blood plasma donated from recovered patients to treat critically sick patients. The donated plasma contained valuable proteins that could help fight off the
coronavirus
. Plasma infusions are just one of many treatment options experts now are considering to treat COVID-19 disease caused by the new coronavirus SARS-CoV-2.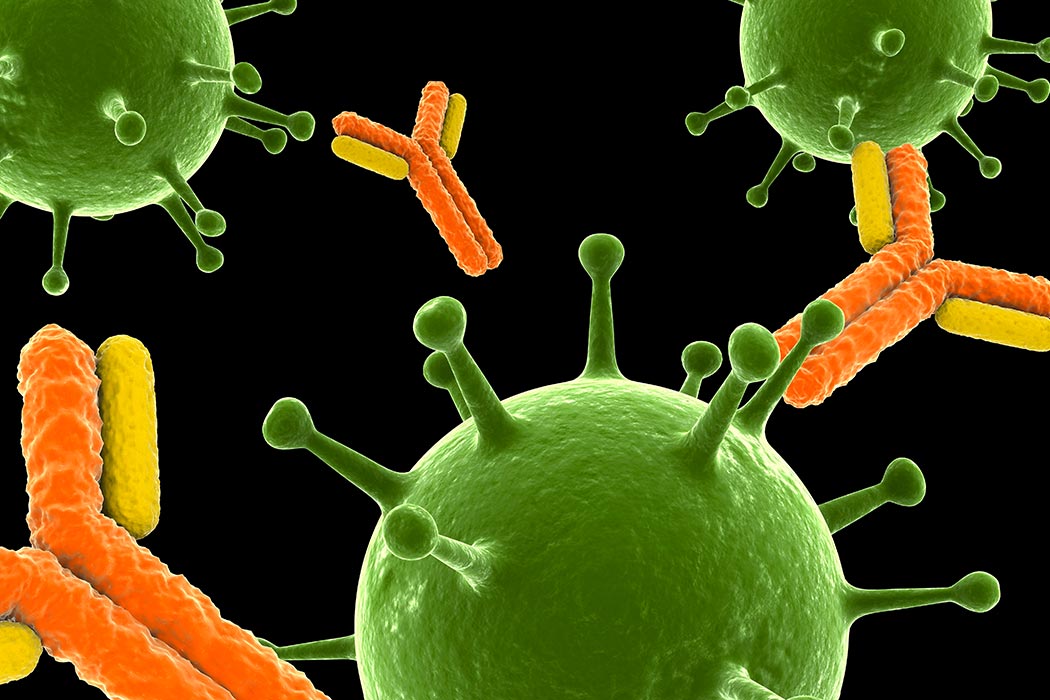 In a trial involving ten
coronavirus
infected patients in critical condition, it was found that the protocol reduced inflammation with 10 to 24 hours.
Antibodies are proteins that the immune system creates to remove viruses and other foreign objects from the body. Vaccines work by stimulating the body's own immune system to produce antibodies against an invading virus. This immunity remains, should the virus attack again in the future. Vaccines provide protection for years, but they also take a long time to develop.
The medical researchers are investigating whether an infusion of antibodies alone can be used as a short-lived but immediately available treatment to protect doctors and hospital workers, as well as family members of
coronavirus
patients who need it right away.
However, it takes time for the body to ramp up its production of antibodies to a completely fight new invader. If that same virus or bacteria tries to invade again in the future, the body will remember and quickly produce an army of antibodies.
Individuals who have recently recovered from COVID-19 still have antibodies to the
coronavirus
circulating in their blood. Injecting those antibodies into sick patients could theoretically help patients better fight the infection.
Dr Benjamin Cowling, a professor of epidemiology at the University of Hong Kong, told
Thailand Medical News
, "Basically, this treatment will transfer the immunity of a recovered patient to a sick patient, an approach that has been used previously in flu pandemics."
Dr Carol Shoshkes Reiss, a Professor of Biology and neural science at New York University who was not a part of the research added, "I am glad to learn that under compassionate circumstances plasma from survivors is being tested. However, they will need to control for possible effects of the treatment."
However not everyone is convinced the rush to use blood plasma in patients makes sense. Dr. Eric Cioe-Peña, the director of global health at Northwell Health in New York who was not involved with the study said, "I think these theoretical treatments are good ideas, but nothing about this new
coronavirus
or these infections makes me want to skip the normal process we use to make sure that a treatment is safe and effective before subjecting people to it. I think we should allow the scientific process to continue and attempt to study these proposed treatments before enacting them, especially in a virus that has such a low mortality."
American Pentagon's DARPA Project has been researching antibod ies and stockpiling such therapeutics.
Biotech giant, AbCellera, headquartered in Vancouver, British Columbia is using a slightly different method to harvest antibodies.
Blood sample are typically taken to AbCellera's laboratory and placed in a microfluidic chip the size of a credit card that is able to isolate millions of white blood cells and put each one into a tiny chamber. The device will record images of each cell every hour, searching for the antibodies each one produces to fight the
coronavirus
.
AbCellera's CEO, Carl Hansen told
Thailand Medical News
, "We can check every single cell within hours that it comes out of the patient. Now with a single patient sample we can generate 400 antibodies in a single day of screening."
The American Pentagon's Defense Advanced Research Projects Agency, or Darpa, launched its Pandemic Prevention Platform program two years ago with the goal of isolating and reproducing antibodies to deadly new viruses within 60 days. It enlisted researchers at Duke and Vanderbilt medical schools, as well as AbCellera and pharmaceutical giant AstraZeneca.
In detailed preparation for an viral outbreaks like the
coronavirus
now gripping China, scientists with the program made test runs using viruses responsible for severe acute respiratory syndrome (SARS) and Middle East respiratory syndrome (MERS). Both are members of the
coronavirus
family and closely related to SARS-CoV-2.
Upon isolating these antibodies, the researchers then capture their genetic code, using it as a blueprint to mass produce them. Their goal is to create an antibody treatment that can be injected directly into a patient, giving them an instant boost against the invading
coronavirus
.
Dr Amy Jenkins, program manager at Darpa's biological technologies office, which is supporting AbCellera's work with a four-year, US$35 million grant told
Thailand Medical News
, "We are going to take the patient's blood, identify the antibodies, and do it very rapidly. Once we have the antibodies isolated, then we can give them back to people who are not yet sick. It's similar to a vaccine and will prevent infection. The difference is that vaccines will last a long time. Our approach is immediate immunity and doesn't last as long."
Dr Jenkins warns that the antibody countermeasure would last several months rather than the several years that vaccines are effective. That said, the researchers still need to test the safety and efficacy of this antibody protein in animal and human clinical trials. (in China however, this is not the case as the Chinese government is imposing what is known as "wartime measures" where even experimental drug studies can be conducted bypassing all standard regulatory ethics!)
Developing a treatment using antibodies isn't simple. Firstly, only one of the 15 US patients struck by Covid-19 has so far agreed to donate blood. (China has thousands of infected patients, but US researchers haven't been able to get their blood for research here.) That means that AbCellera is on the waiting list to get a few drops of that valuable sample, along with several other companies and academic institutions that are partnering with Darpa and the CDC to develop treatments.
Dr Ester Falconer, AbCellera's head of research and development said "We have mobilized our team and are getting in place as soon as it arrives. We are raring to go.
On January 31
st
, a team of Chinese scientists announced that they had found an antibody which binds to the surface of the
coronavirus
and appears to neutralize it. Their research paper, which appeared as a preprint on the site BioXArchiv,(refer to URL below) hasn't been peer reviewed by other scientists. And it is not clear how effective the antibody would be once it is mass produced and then tested in animals or humans.
Even if antibody treatments work, there's also the question of who would get them first, whether its first-line responders in specific hospitals where Covid-19 patients are being treated, or perhaps people at home with family members who test positive. (The antibody supply will likely be distributed by federal public health officials.)
One major problem is a bottleneck for scaling up antibody mass production. Medical experts say it's unlikely that biotech makers can make enough to protect everyone who needs them.
Dr James Lawler, an emerging disease specialist at the University of Nebraska Medical Center who is not involved in the Darpa program commented, "The constraint is production capacity. We are getting pretty good at finding appropriate antibody preparations. But the problem we still have is: How do we produce those rapidly enough to have an impact in a global epidemic?"
Statistically, to protect the doctors, nurses, and health care workers at the more than 5,500 hospitals and medical centers in the US would take more than 1 million doses of treatment, according to Dr Lawler.
He added, "Scaling to a million doses of antibody product is a heavy lift to do in a few months. We don't have scaling capacity for therapeutics or prophylaxis in that time frame. In two years, we could get to that point."
Even with these obstacles, medical researchers involved in the Darpa program say they are ready to fire up sophisticated tools for cellular screening and imaging that have been boosted in recent years by advances in machine learning and pattern recognition.
Biotech giant, AbCellera's machine is trained to look through millions of images to find the perfect one of an antibody binding to the surface of the
coronavirus
.
Meanwhile at Vanderbilt University's School of Medicine, Dr Robert Carnahan is also waiting for the blood from that first US patient sample to run through Vanderbilt's own antibody screening technology. Dr Carnahan and his colleagues at the Vanderbilt Vaccine Center used their method last year to find new antibodies against the Zika virus. Their initial test resulted in 800 antibodies that were narrowed down to 20 for animal testing, and finally one that stopped the virus from spreading. That entire process only took 78 days, Carnahan said.
Dr Carnahan said. "We need the most potent antibodies. That requires a lot of work. Most of the work in our lab during the Zika trial was to take a small subset into these more detailed studies. In the midst of a pandemic, you don't have that luxury."
Meanwhile as of yesterday, Doctors in Shanghai also using infusions of blood plasma from people who have recovered from the
coronavirus
to treat those still battling the infection, reported some encouraging preliminary results, said Dr Lu Hongzhou, professor and co-director of the Shanghai Public Health Clinical Centre.
Dr Hongzhou said that the hospital had set up a special clinic to administer plasma therapy and was selecting patients who were willing to donate.
He added, "We are positive that this method can be very effective in our patients."
Mike Ryan, the head of WHO's health emergencies programme, told a media briefing late yesterday that using convalescent plasma was a "very valid" approach to test, but that it has to be carefully timed to maximise the boost to a patient's immunity.
He added, "You are essentially giving the new victim's immune system a boost of antibodies to hopefully get them through the very difficult phas,." He cautioned however, that the method is not always successful.
Many other virology experts and immunologists are however skeptical considering the fact that details about the
coronavirus
itself have yet to have been studied in detail before embarking on such an approach. Just like certain antivirals used in China in the beginning, despite initial positiveness, resistance developed and the usage of these antivirals actually aggravated the patients conditions subsequently leading to faster deaths.
Reference of study: https://www.biorxiv.org/content/10.1101/2020.01.28.923011v1.full
For more about the
Latest Coronavirus Research
, check out :
https://www.thailandmedical.news/articles/coronavirus