ITALY CORONAVIRUS OUTBREAK: Another Death And Almost All Of Northern Italy Now Exposed. Infected 162, Dead 3, Critical 26
Italy
's
coronavirus
outbreak is fast expanding to cover almost all the Northern administrative regions of the country while health authorities reported a third death.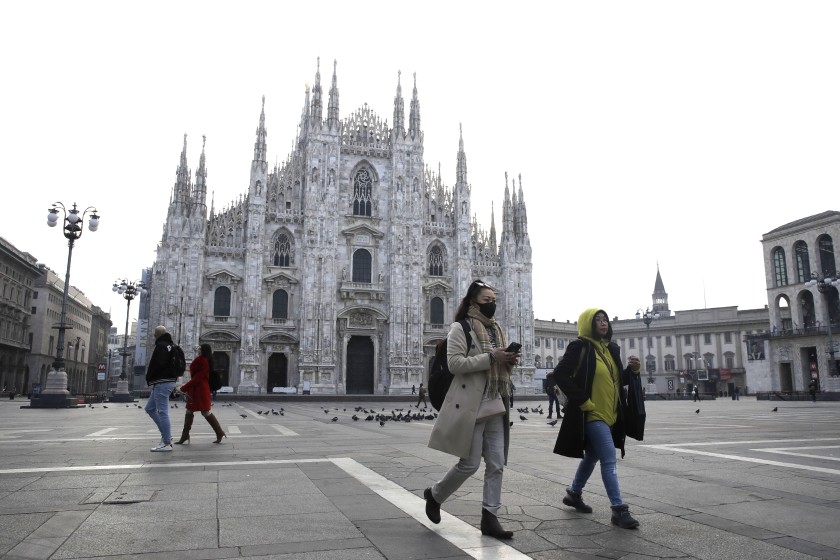 The third death was reported in Lombardy, the most hard hit region and has also spread to the capital of Milan.
Lombardy regional councilor, Giulio Gallera told media that the victim was an elderly woman from the province of Cremona, in the Lombardy region.
The female patient was described as an elderly citizen was also was suffering from cancer according to Gallera.
The total number of deaths in
Italy
(
Monday, 24th February, 5am Bangkok time
) is 3, with the total number of confirmed
coronavirus
infections being 162. Of these, 26 are reported to be in severe critical conditions.
As of now, the coronavirus outbreak in Italy has spread to the Northern administrative regions of Lombardy, Venetto, Piedmont, Friuli-Venezia-Giulia, Trentino-South Tyrol, Emilia Romagna and Liguria
.
There are also reported cases in the regions of Puglia, Lazio and Tuscany, bringing a total of 10 regions out of
Italy
's 20 administrative regions that is exposed to the
coronavirus
.
There are now approximately more than eleven thousand
coronavirus
suspected cases that are being investigated by health authorities in Italy, with some already tested and awaiting test results.
Most provinces and cities in the affected regions have been ordered shut. The typical scenarios of overflowing hospitals, empty supermarkets and empty roads, all hallmarks of
coronavirus
infested cities are also being manifested all over
Italy
.
All major events have been cancelled in Italy with the exception of the ongoing Milan Fashion Week that has seen a sharp drop of visitors, buyers and also participants. One couture fashion line, Giorgio Armani featured their latest collections via remote screens so as to not allow its models to interact with visitors.
Meanwhile French Health Minister Olivier Veran is talking the initiative to call for an urgent EU meeting to discuss the situation. He would talk with his European counterparts soon to discuss how to best cope with a possible epidemic risk in Europe as Italy battles with an explosion of
coronavirus
cases.
He told a media conference, "Tonight there is no epidemic in France. But there is a problematic situation at the door, in Italy, that we are watching with great attention. The situation tonight is very 'evolutive' at the international level. I spoke with my Italian and German counterparts, and we have agreed to have a discussion between several European health ministers, probably next week, to assess how we can together face the
coronavirus
epidemic risk."
For more updates on the
Italy Coronavirus
ou tbreak, keep checking at :
https://www.thailandmedical.news/articles/coronavirus