India Lying About Actual Extent Of COVID-19 Infections. Study Shows That Cases In India Are Nearly 95 Times Greater Than Reported!
India COVID-19
: Researchers from Duke University-North Carolina and the University of Chicago and the Center for Monitoring Indian Economy-Mumbai in a new study found that COVID-19 cases in the southern state of Karnataka, India, are nearly 95 times greater than reported.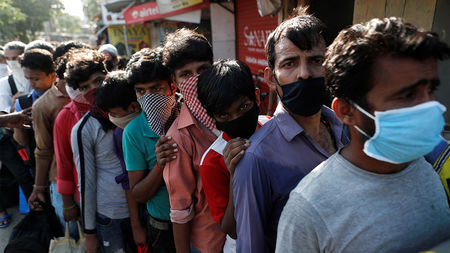 The study findings along with many other previous studies involving seroprevalence indicate the rate of
COVID-19 infections in India
is far more higher than being reported. Even many local doctors and hospitals who are witnessing daily high death rates are confused as the daily reported figures are making no sense to actual number of deaths that they are witnessing.
It is reported that many state politicians are also trying to keep local figures suppressed or concealed as part of the federal government's agenda.
The study findings were published in the peer reviewed journal: JAMA (Journal of the American Medical Association)
https://jamanetwork.com/journals/jama/fullarticle/2776292
The research was led by Professor Dr Anup Malani from the University of Chicago's Law School and Pritzker School of Medicine, and Professor Manoj Mohanan from Duke University.
The study findings found that 44.1 percent of the population in rural areas and 53.8 percent in urban areas in the southern state of Karnataka tested positive for antibodies to COVID-19 by the end of August 2020.
The study findings are based on data collected from a representative sample of households in 20 districts in the state, suggest that Karnataka alone had approximately 31.5 million cases of COVID-19 by then, relative to 8 million reported nationally in India until now.
The study funded by ACT Grants in India and supported by IDFC Institute, collected data on antibodies for recent and past COVID-19 infection using a test that targets the RBD spike protein and better identifies exposure to the SARS-CoV-2 virus rather than other coronaviruses.
Interestingly a unique feature of the study is that it also tested the same individuals for current infections using the RT-PCR test. This pairing allows the study to both report current levels of immunity and forecast future immunity because most of today's infected population will, in a few weeks, join tomorrow's immune population.
Professor Malani told Thailand Medical News, "Our data shows evidence of high levels of active infections and transmission, especially in urban areas of Mysore and coastal districts during our study period where 9.7 percent to 10.5 percent of individuals tested positive for current infection."
The research findings also found that rural areas had nearly the same level of exposure to COVID-19 as urban areas. Although cities were more densely populated, rural area face additional risk because agriculture is an essential sector and exempt from many lockdown restrictions.
The findings also demonstrated the feasibility, in resource-constrained settings, of conducting pooled sample RT-PCR testing where multiple samples are tested simultaneously and individual samples are further tested if a 'pool' tests positive. It also demonstrated the feasibility of simultaneously measuring current and past infection in a population-representative sample even in rural areas of a lower-middle income country.
It is also suspected that there could be many new variants of the SARS-CoV-2 already circulating in the India population with unknown characteristics that have yet to be dicovered due to lack of efficient genomic sequencing monitoring.
Many countries are now banning travellers from India as many are often tested positive upon arrival in destination countries and its stance that most countries should adopt in order to stay safe.
For the latest India
COVID-19 News
, keep on logging to Thailand Medical News.