India COVID-19-Coronavirus News: Documented Reinfections Emerging In India, Vaccines And Antibodies Being Questioned, Record 94,000 Cases In 24 Hours
India COVID-19-Coronavirus News
: India reported its fourth documented case of COVID-19 reinfection in the IT city Bengaluru on Sunday.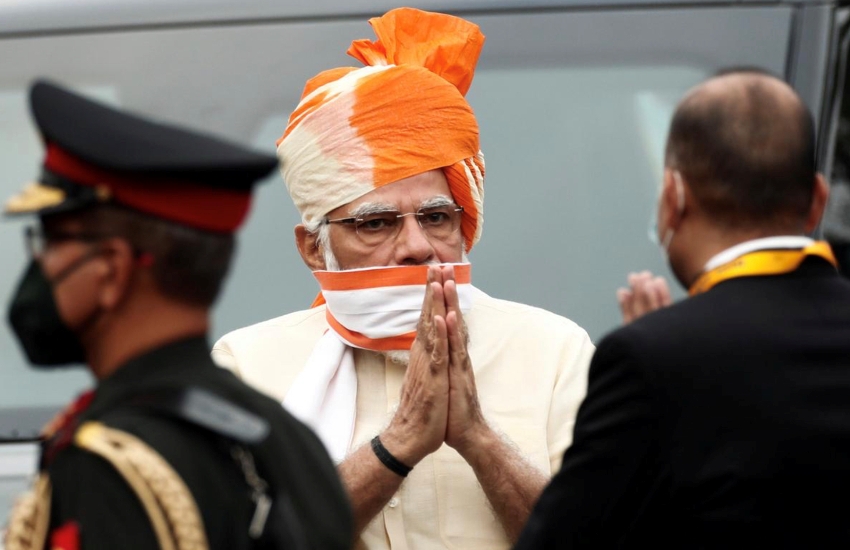 Someone Should Really Show Him How To Wear A Mask Correctly
The patient, a female aged 27 years from the southern Indian city who got recovered from an initial infection from SARS-CoV-2 in July, has tested positive again for the virus. The confirmation of the reinfection comes within a month after she was treated and discharged, Fortis Hospital said. Genomic sequencings have also confirmed that it is a case of reinfection.
Earlier about two days ago, a doctor working at Mumbai's Sion Hospital tested positive for the novel coronavirus infection for the second time.
The patient who is a doctor works in the department of anaesthesia of the public-run Sion Hospital. She only experienced mild symptoms both times and genomic sequencings also confirm the cases as reinfections.
The case represents the first recorded case of reinfection in Mumbai, India's commercial hub and one of the country's worst-hit cities by the pandemic.
Another two cases of documented COVID-19 reinfections were also reported in the state of Telangana, reports said quoting the health minister of this southern Indian state.
There are at least another 27 more reported cases of reinfections being investigated and pending genomic testing results in India while an additional 11 more reported cases of reinfections cannot be verified due to lack of proper previous data including initial genomic sequencings profile.
On the 24
th
of August, researchers from Hong Kong reported the case of a man who had been infected twice, in what is described as the world's best documented case of reinfections so far. When the Hong Kong researchers sequenced the virus from both of the man's infections, they found significant differences in the viral genome.
Also close on the heels of the report came confirmations from two more such cases from Belgium and the Netherlands, sparking concerns about the emergence of a new variant of the lethal virus.
The United States have also recently reported cases of documented COVID-19 reinfections.
In April, officials from South Korea reported 91 people who were thought of recovered from the infection tested positive again for the virus.
China and Japan too had reported instances of reinfection. But none of these cases have been confirmed with detailed testing. Individuals recovered from the infection may carry fragments of the virus for weeks. This can give positive test results in the absence of a live virus.
Though growing number of reinfections within a short span of time is really a matter of great concern, and many are now questioning whether antibody therapies and vaccines will really work.
There is also a concerted efforts by pharma and biotech companies and corrupted governments to shield a lot of data about SARS-CoV-2 research and are using PR techniques to create an illusion about antibody and vaccine researc h using monies to even buy researchers, medical journals and media as there are now trillions of dollars at play in these vaccines and antibody therapies.
India also in the last 24 hours reported it highest yet record of new COVID-19 infections at more than 94,000 cases.
This was the second straight week of double-digit growth in cases as the August 24-30 week too had seen a 13% rise. For two weeks in mid-August, the weekly growth in Covid-19 cases in India had slowed to 4%-6%.
India has now jumped to the second position in the world in terms of the most number of COVID-19 infections, surpassing Brazil but still behind United States. India's total number of infections now stands at 4,202,614 while the total number of COVID-19 deaths are 71,687.
It is expected that India will surpass the United States in a matter of weeks and in fact it already has as many local Indian experts say that the true figures are at least 7 fold but due to lack of testing and cover ups by state governments, the figures are kept to look low.
Unfortunately the poor masses in India do not have access to proper medical care, testing and drugs while the middle-class and rich Indians are the worse misers in the world and do not invest in their own health and medical care especially when it come preventive measures including supplements, herbs, home diagnostics and medical devices.
For more on
India COVID-19-Coronavirus News
, keep on logging to Thailand Medical News.