Hospitals Becoming Locations Of Mass Infections In South Korea's Coronavirus Epidemic
South Korea
health and government officials are on high alert over the increasing number of
coronavirus
infections at medical institutions and nursing homes, as it struggles to identify the vector for the spread of the SARS-Cov-2 coronavirus that causes the Covid-19 disease, officials said Friday.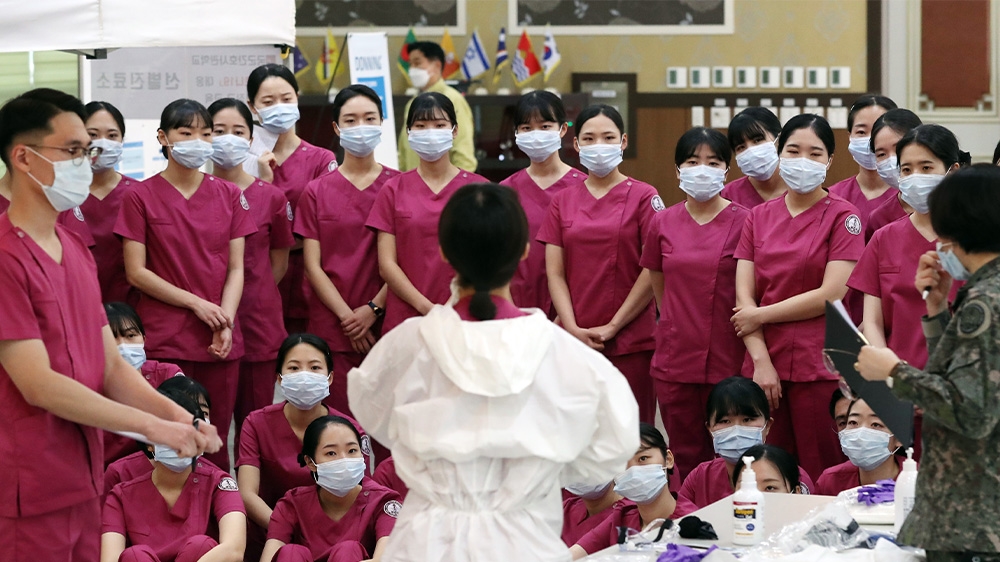 The KCDC or Korea Centers for Disease Control and Prevention reported 309 new cases on Friday, bringing the nation's total number of infections to 6,593.
Almost 70% of the confirmed cases were linked to the Shincheonji Church of Jesus cult in Daegu, the epicenter of the virus outbreak here, while 49 new cases have been identified originating from the Pureun Nursing Home in Bonghwa, a long-term care facility in North Gyeongsang Province.
As more new infections are occurring at medical facilities, health officials in Seongnam, Gyeonggi Province, said a general hospital in the city has temporarily stopped operations after eight staff members and patients there were diagnosed with the coronavirus.
To date 43 people, mostly elderly patients with underlying diseases, have so far died from the coronavirus. The latest fatality was an 80-year-old man with diabetes reported in Daegu.
Over at North Gyeongsang province, a mass outbreak of the coronavirus at Daenam Hospital in Cheongdo County has also been the focus of grave concern, as 119 cases and seven resulting deaths have been confirmed from just there alone.
Another hospital, Eunpyeong St. Mary's Hospital in Seoul had to halt operation after an employee was infected with the highly contagious virus. Another 14 infections are said to have followed. The KCDC said the hospital will resume operating next week, if the 2,740 people there, including doctors and nurses, test negative for the virus.
A nursing home, the Milal Love House, a facility for people with physical disabilities, in Chilgok, North Gyeongsang Province, reported 24 confirmed cases after its first infection Feb. 24. The KCDC said it has placed all people who may have been exposed in quarantine.
In Busan, Asiad Hospital, a nursing hospital also said that two staff members were infected, although the remaining 300 employees and patients have all tested negative for the virus.
At least a total of 17 hospitals, nursing home and health centers have reported cases of coronavirus infections among its staff or patients, causing worry about officials
For more on the
South Korea coronavirus
, keep logging on to
https://www.thailandmedical.news/articles/coronavirus