Herbs For COVID-19: Phytochemical Eugenol Extracted From Cloves Could Be Useful In Treating COVID-19 In A Variety Of Ways
Herbs For COVID-19
: Numerous emerging studies are indicating and suggesting that a phytochemical called eugenol that is extracted from cloves could perhaps be used in a variety of ways to prevent, treat and control SARS-CoV-2 infections ie either as an oral adjuvant or even in terms of nasal and oral sprays or as an inhalant.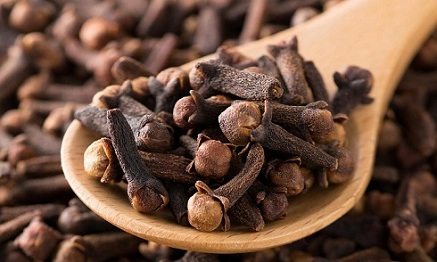 Most of the studies were initiated by Thailand Medical News since March this year.
Cloves are the aromatic flower buds of a tree in the family Myrtaceae, Syzygium aromaticum. They are native to the Maluku Islands or Moluccas in Indonesia, and are commonly used as a spice. However the plant is now found in other South-east Asian countries including Thailand (Phayao) and also in India and Sri Lanka. Cloves are available throughout the year owing to different harvest seasons in different countries.
Besides being used as spice in various cuisines including Indian and Indonesian food, it has been used in traditional medicine for ages in many Asian countries.
The aromatic cloves contain a variety of phytochemicals including important essential constituents of clove oil include acetyl eugenol, beta-caryophyllene, vanillin, crategolic acid, tannins such as bicornin, gallotannic acid, methyl salicylate, the flavonoids eugenin, kaempferol, rhamnetin, and eugenitin, triterpenoids such as oleanolic acid, stigmasterol, and campesterol and several sesquiterpenes.
https://pubmed.ncbi.nlm.nih.gov/22728369/
https://www.heterocycles.jp/newlibrary/libraries/abst/22221
Most of these phytochemicals exhibit a variety of properties including antibacterial, antifungal, insecticidal, antioxidant, analgesic and anticarcinogenic capacities.
https://innovareacademics.in/journals/index.php/ijpps/article/view/2055
https://www.ncbi.nlm.nih.gov/pmc/articles/PMC7072209/
https://www.hindawi.com/journals/omcl/2018/8194849/
One of the phytochemicals extracted from cloves, methy salicyclate is actually used for the manufacture of many pharmaceutical analgesics or painkillers and also certain NSAIDs.
Cloves have been used in traditional medicine for toothache pain, for mouth or throat irritation, cough, upset stomach, vomiting,,diarrhea, and other conditions including premature ejaculation.
Clove extracts should only be used only by experts and with individuals who understand dosing as its use may cause adverse effects if taken orally by people with liver disease, blood clotting and immune system disorders, or food allergie s.
One of the main phytochemicals found in cloves is eugenol which composes 72–90% of the essential oil extracted from cloves, and is the compound most responsible for clove aroma. Complete extraction occurs at 80 minutes in pressurized water at 125 °C (257 °F).Ultrasound-assisted and microwave-assisted extraction methods provide more rapid extraction rates with lower energy costs.
https://onlinelibrary.wiley.com/doi/10.1002/(SICI)1099-1026(199911/12)14:6%3C399::AID-FFJ851%3E3.0.CO;2-A
https://pubs.rsc.org/en/content/articlelanding/2017/RA/C7RA04803C#!divAbstract
Eugenol is an allyl chain-substituted guaiacol, a member of the allylbenzene class of chemical compounds. It is a colorless to pale yellow, aromatic oily liquid.
Importantly, Eugenol demonstrates a variety of antiviral properties and has exhibited antiviral activity against HSV-1 and herpes simplex -2 (HSV-2) by preventing viral replication and reducing the viral infection.
https://pubmed.ncbi.nlm.nih.gov/19420953/
It is also known to act against the human herpesvirus.
https://pubmed.ncbi.nlm.nih.gov/11054837/
Eugenol In The COVID-19 And Sar-CoV-2 Context
Numerous computational molecular docking studies have shown that eugenol is able to inhibit the SARS-CoV-2 virus replication through a variety of ways.
https://www.preprints.org/manuscript/202004.0102/v1
https://www.mdpi.com/1422-0067/21/10/3426
https://www.sciencedirect.com/science/article/pii/S0022286020311480
https://osf.io/vjch2
A study showed that inhalation of eugenol could be used as an adjuvant for COVID_19 and also as a prophylaxis.
https://ijpsr.com/bft-article/inhalation-of-essential-oils-could-be-adjuvant-therapeutic-strategy-for-covid-19/?view=fulltext
A study on eugenol found that it also possessed anti-inflammatory properties for use in the COVID-19 context.
https://link.springer.com/article/10.1007/s10787-020-00744-0
Vivo studies by the University of Bologna have also showed that eugenol is able to inhibit the SARS-CoV-2 coronavirus.
https://www.unibo.it/en/research/projects-and-initiatives/covid-19-research-projects/spin
Also two other phytochemicals found in cloves which are also found in trace amounts in eugenol extracts ie betulinic acid and savinin were suggested to be able to treatment coronavirus infection and possibility protect from COVID-19 induced sudden death due the embolism.
https://www.imedpub.com/articles/nutritional-pharmacology-aspects-and-potential-clinical-uses-of-clove-essential-oil-inthe-treatment-of-coronavirus-infection-and-p.pdf
Thailand Medical News has already been incorporating the phytochemical eugenol in our therapeutic teas to treat COVID-19 and also to act as a prophylaxis.
https://www.thailandmedical.news/news/new-therapeutic-teas-
Various observation studies conducted across the world have demonstrated the effectiveness of our teas.
We were also in the midst of using the compound in developing a new inhalant and also nasal spray that could act as both a prophylaxis and also a therapeutic agent to deals with the SAR-CoV-2 coronavirus.
Unfortunately our herbal studies have come to an abrupt stop due to lack of funding as we have been funding all our research projects by ourselves and also we are based in an ignorant, greedy and corrupted country where the locals will not support you if there are no monetary gains for them and researchers like ourselves will end up being insulted and humiliated even when looking for paltry sums of US$67,000 for continuing our tea production to be used in various studies in hospital settings and at the same time saving thousands of lives and also to further our herbal projects and studies. To date we have only received help from one kind local donor who helped us with an extraction facility. Despite appeals on our site, we have never received help from any of our readers to help us with this project.
Researchers from other countries interested in purchasing new unused extraction equipment are advised to contact us as we would like to sell of the equipment fast to refund back our donor as we are unable to continue with herbal project.
All details of the herbs project online and also published studies in journals will be removed within the time span of the next 3 weeks as its better to not have such information online that can save lives when most individuals want such information for free.