Healthcare Professionals Worried About New Dangerous Fungal Infection, Candida Auris
Discovered only in 2009, Candida Auris is multidrug resistant and also fatal

Growing number of cases worldwide especially in countries like Japan, Korea and China.

New cases emerging of it causing blindness due to panophthalmitis
Candida Auris ie a new fungal disease that was only discovered in 2009 and to date not much research has been focused on it despite the growing number of cases worldwide. Since that time, it has spread from Japan, where it was first reported, to most of the world. Prior study has shown that is most often transferred between individuals in hospitals ,and most who get it have some sort of immune deficiency. In many cases, it is localized and treatable. But in some cases, it leads to candidiasis, which is where it spreads to the bloodstream, organs and the central nervous system. Very few people survive such infections. Bioscientists have expressed concern in recent years about Candida auris infections as it seems to be on the increase.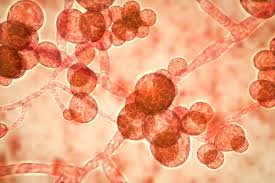 Candida Auris - New Superfungal bug
The fungal infection is multidrug resistant hence managing it is a problem for many healthcare professionals. This type of yeast affects wound, ears and then may enter the body through the bloodstream and cause various severe invasive infections.
The number of incidences of the disease in countries that have the means to diagnose it have shown increase rates that are alarming and it is even more worrying since many Asian countries do not have the proper diagnostic assays to detect its presence via standard screenings.
Thailand Medical News had first published an article about this is June 2019 ie
https://www.thailandmedical.news/news/alert:-the-new-resistant-fungal-threat--to-asia,-candida-auris
Since then new developments have arisen including a discovery that this new fungal infection is also causing blindness in many patients. It is also being seen more in younger adults and also how its spread is now thought to be via simple body contacts. There is also an increase of insidences in people with immunity compromised conditions such as HIV.
In recent case in Lennox Hill, New York, a 30-year-old male patient came to the trauma department complaining of eye pain and loss of vision in one eye. He was diagnosed with
panophthalmitis
,a condition, not a disease, in which the entire eye becomes inflamed. The physicians treating him reported that the eye was damaged beyond repair. They removed it and cleaned up the socket. Lab tests showed that the inflammation was due to
Candida auris
.
The doctors also noted that the patient did not have a compromised immune system.
This is worrisome as it shows that Candida Auris can also cause &lt ;strong>panophthalmitis which could result in
blindness
. It is hoped that the medical community would pay more attention to this new emerging medical condition.
Reference: Vinayak Shenoy et al. Panophthalmitis From Candida auris, Annals of Internal Medicine (2019). DOI: 10.7326/L19-0323