First Death From Coronavirus Reported In Hong Kong, 193 cases in 31 countries, 14,820 Suspected Cases Globally
Hong Kong reported its first death from the
coronavirus
this morning. The dead patient was identified as a 39 year old male from China who had lived prior to hospitalization at Whampoa Gardens in Hong Kong.
He was the 13th confirmed case of the virus in Hong Kong out of the 15 cases there.
His death marks the second death out of China, with the other reported in Philippines a day ago.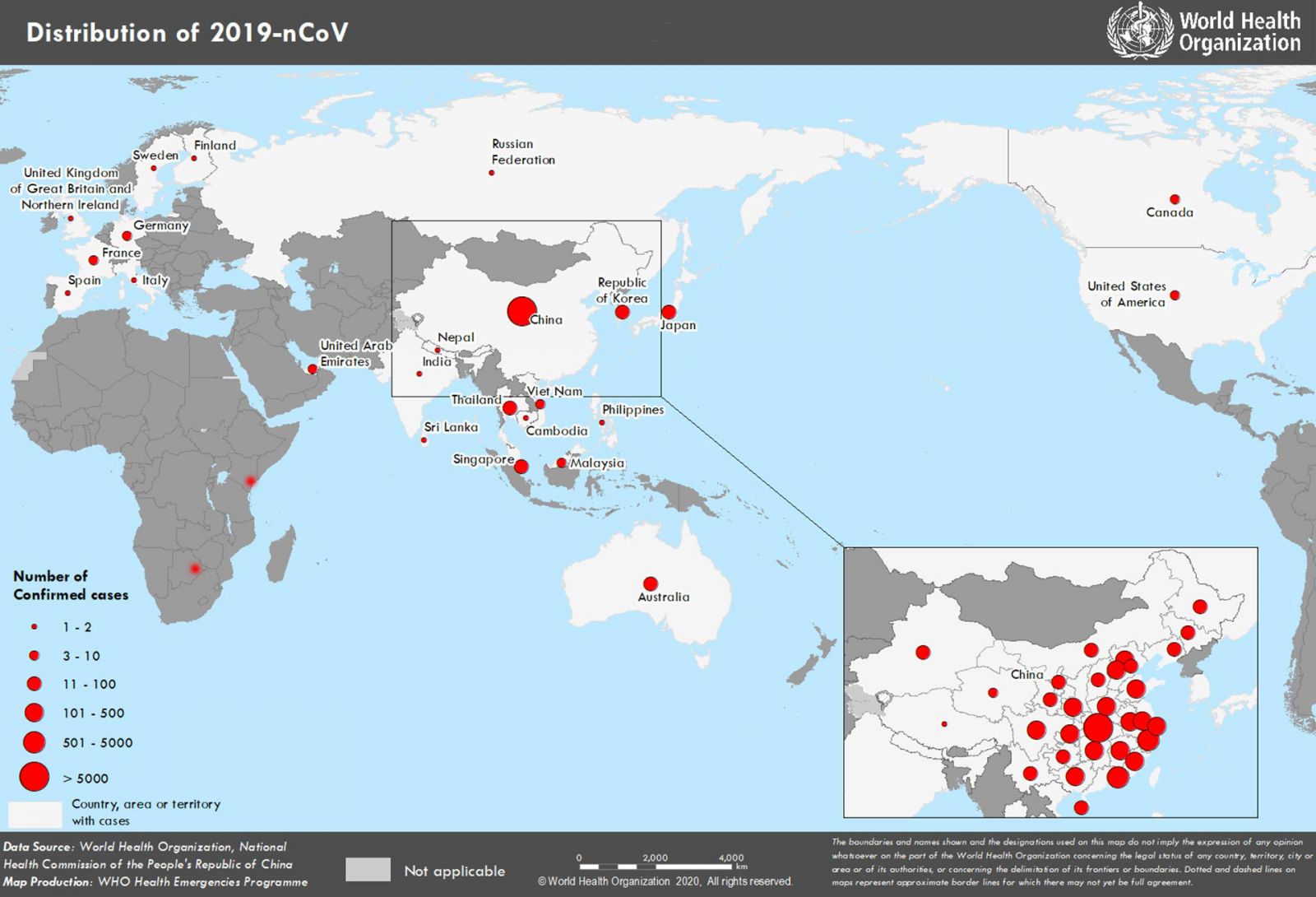 New cases have also been reported in the US bring the toll to now 11. Of the 11 confirmed cases in the U.S., six are in California, one is in Washington state, one is in Arizona, two are in Illinois, and one is in Massachusetts. There are about a total of 3,270 people being observed in the US for possible
coronavirus
infection.
Russia which has 2 confirmed cases so far, reported that more than 4,000 people were under "medical supervision" in Russia after coming into contact with patients with suspected
coronavirus
, the head of a Russian federal agency in charge of welfare said.
Russia's state-run media quoted Anna Popova, who heads the the Federal Service for the Oversight of Consumer Protection and Welfare, as giving the figure, but she did not explain what the "supervision" entailed. There were no reports suggesting that all those under the unspecified supervision had been put under quarantine or isolated in any way.
As of Tuesday morning, the number of countries that have confirmed infected cases of the
coronavirus
stands at 31 countries, with a total of 193 infected individuals.
The breakdown of countries with
coronavirus
infected cases are : Japan(20 cases)
, Thailand
(19 cases), Singapore(18 cases), Hong Kong(15 cases), South Korea(15 cases), Australia(12 cases), Germany(12 cases), United States(11cases), Taiwan(10 cases), Malaysia(8 cases), Macau(8 cases), Vietnam(8 cases), France(6 cases), UAE(5 cases), Canada(4 cases), India(3 cases), Italy(2 cases), Britain(2 cases), Russia(2 cases), Philippines(2 cases), Nepal(1 case), Sri Lanka(1 case), Ukraine(1 case), Finland(1 case), Sweden(1 case) Spain(1 case), Brazil(1 case) Cambodia(1 case) , Tunisia(1 case) Kenya (1 case) Botswana (1 case)
There are more than a total of 14,870 suspected
coronavirus
cases all over the world spanning 98 countries being investigated. The bulk being in countries like Hong Kong, Taiwan, Japan, South Korea, Singapore, Myanmar, Cambodia, Vietnam, Thailand, Malaysia and Philippines.
It must be noted that many countries do not have access to testing facilities and also governments in many countries are trying to keep figures as low as possible so as to not create local domestic panic and also to not affect their economy.
One South East Asian country that has been a major tourist destination for the Chinese and had tons of Chinese tr avellers during the December to January period and has yet to impose any travel ban on Chinese travellers, has effectively keep its number of
coronavirus
infected cases low by using draconian "fake news" laws to go after any media or individuals disclosing any suspected or any new confirmed cases while also imposing a blanket ban on all government officials from reporting any figures or statistics.
Many international health experts and epidemiologists are predicting that a global pandemic status is expected to be announced before the end of the month as there are signs that the
coronavirus
spread is actually accelerating exponentially than is being detected or reported.The fact that the current testing paltforms are not accurate is also another critical factor to consider.
For reliable and accurate updates about the
China

coronavirus

epidemic
or the
Thailand Coronavirus
scenario, keep on checking at:
https://www.thailandmedical.news/articles/coronavirus