Europe Coronavirus Crisis: Almost Every Country Has Cases Of Coronavirus Now. EU And ECDC Had Been Pressuring Governments To Conceal Cases.
The
Europe coronavirus
situation became a turning point yesterday when the Spanish government decided to go public about the
coronavirus
situation unfolding at a hotel resort in Tenerife despite objections by the EU and ECDC.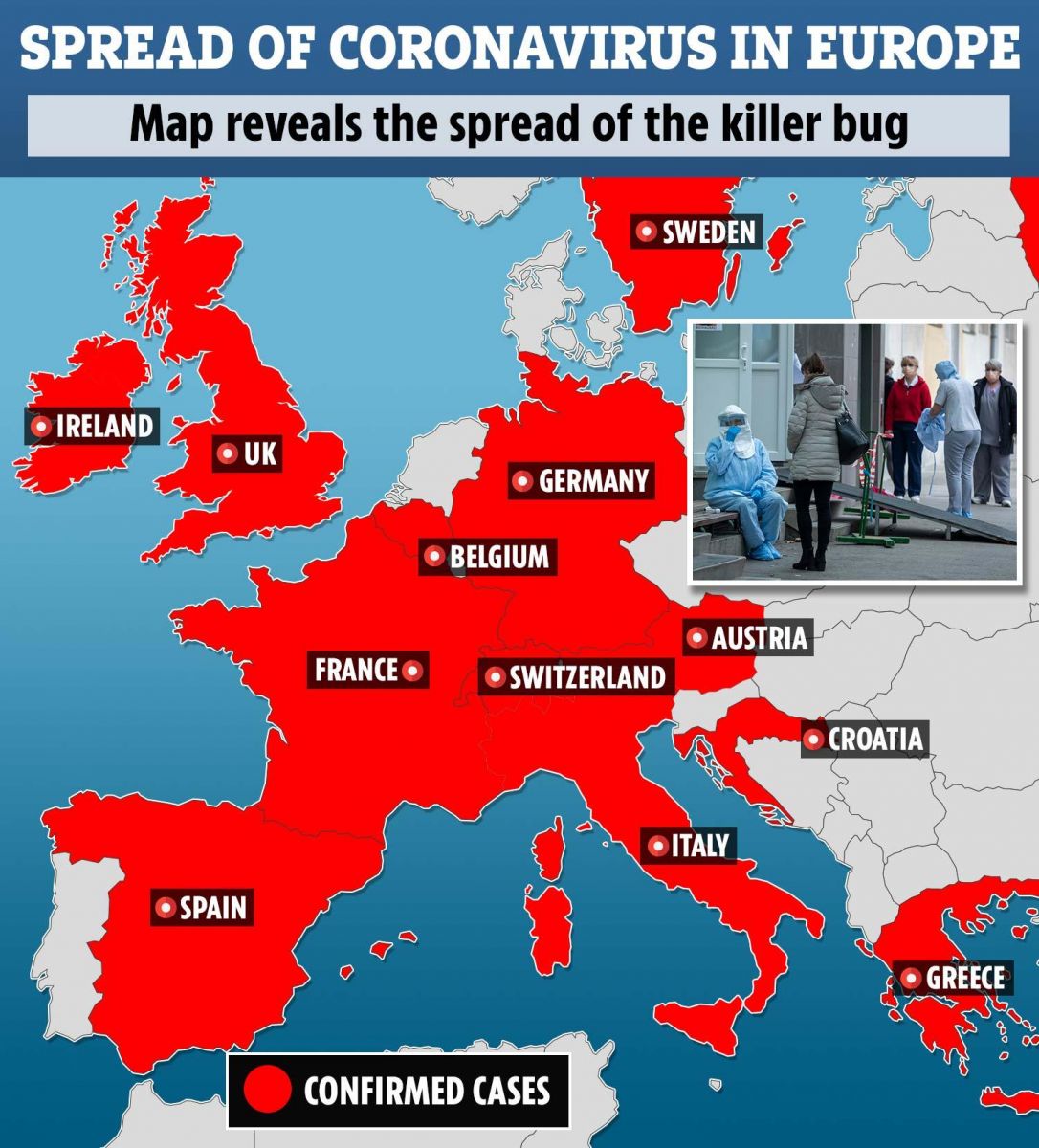 It has come to light that
Spain
had prior cases of
coronavirus
infections since the past two weeks but had been pressured by the EU and ECDC not to go public by citing certain technicalities involving classification of cases. It has since come to light that certain other countries in the EU zone have also been under such constraints despite having confirmed
coronavirus
cases in their country. Some are claiming that after the Italy crisis erupted, the EU and ECDC were trying hard to suppress public information about the spread and magnitude of the
coronavirus
situation in Europe to prevent an economic fallout. It is despicable that considering the fact that while most of the world was criticizing China for already doing such cover up acts, that the EU and ECDC of all entities, would themselves be indulging in such unethical acts. It would also be interesting to know if WHO knew about this as some of its staff are also in the ECDC.
After,
Spain
declared cases of
coronavirus
yesterday, other countries are now doing so in
Europe
. There are now confirmed
coronavirus
cases in
Austria
,
Switzerland, Greece
and
Croatia
joining previous countries with reported cases such as
France
,
Germany
,
Belgium
,
Sweden
,
Finland
and
Italy
. It is most highly probable that there already cases in the
Netherlands
,
Slovenia
,
Portuga
l with major crisis-like situations waiting to be erupted in countries like
Romania
.
Italy
Italy
has seen more 4 deaths over the last 18 hours three in Lombardy and one in Alto-Adige region. All described as elderly patients. The death toll is now 11 with 19 other patients in critical situation. 94 new confirmed
coronavirus
cases were identified bringing the total number of confirmed cases to 323 while the spread is now registered as being in all 20 administrative regions in
Italy
as cases have been identified even all Southern regions including Sicily. It is said that there are about 32,170 suspected cases all over Italy now pending testing and as far as the government's intention to contain the spread,it has failed as the whole of
Italy
is now exposed.
Spain
In
Spain
, the total number of confirmed
coronavirus
cases is now 9 with 2 in critical situation. There are now about 4,950 suspected cases in Tenerife in the Canary Islands and also in Mallorca (Balearic Islands).
Austria
Austria
confirmed 2 cases of the
coronavirus
yesterday. An Italian female and her husband. The hotel that she worked at, the 108-room Grand Hotel Europa in the center of Innsbruck, a tourist hub and push-off point for major Alpine skiing competitions in the surrounding mountains has been put under lock down and quarantined along with 148 individuals including hotel guest and staff.
"No one can get in and out of the hotel to make sure that if other infected people are staying in the hotel, the
coronavirus
won't be spread," Interior Minister Karl Nehammer told a press conference.
"All these measures have one purpose to stop the virus and its spread. There is no reason to panic," he said, adding that
Austria
was prepared for such a case.
Switzerland
Switzerland
reported its first
coronavirus
case on Tuesday in canton Ticino in the south of the country which borders Italy.
PCR tests carried out in Geneva uncovered a
coronavirus
case in canton Ticino, authorities said on Tuesday. The Federal Office of Public Health told media in Bern that the male patient was in his seventies and had been infected in the Milan region of Italy during an event on February 15. The first symptoms appeared two days later, explained FOPH director Pascal Strupler.
The patient has remained with his family ever since. He is now in isolation at a clinic in Lugano, canton Ticino, but is said to be doing well. Those who have been in contact with him will be tested and placed in quarantine to monitor their condition over the next 14 days.
Germany
Germany
reported two new cases yesterday; bring the total number of
coronavirus
cases to 18 with one patient still in critical condition.
The new cases were reported in North Rhine-Westphalia, the state health ministry said initially a 25 year old man there was admitted to hospital on Monday afternoon with symptoms of severe pneumonia.
"The patient is in a critical condition and is currently being isolated in the intensive care unit," the ministry said.
"The patient's wife is also being treated as an in-patient with symptoms of a viral disease. Her condition is currently stable.
Both have tested positive for the
coronavirus
.
Stores, schools and kindergartens in the Heinsberg district of North Rhine-Westphalia, where the man is from, will remain closed on Wednesday as a precaution, the ministry said.
Belgium
Belgium has only reported case of the
coronavirus
so far as while there are about 17 suspected cases being investigated and tested.
France
France confirmed two new
coronavirus
cases yesterday bring the toll to 14 and one death so far. However as of yesterday, there are about 2137 suspected cases being investigated.
Sweden
There were no developments reported from
Sweden
so far that that has had only one case so far.
Finland
Similar to
Sweden
,
Finland
has only one reported
coronavirus
case so far with no new developments as yet.
Croatia
Croatian officials announced on Tuesday that a man who recently returned from Milan in Italy has become the first confirmed
coronavirus
case in the country.
"Today at 11.50 we got test results for a Croat who was staying in Milan. He shows milder signs of the illness," Health Minister Vili Beros told a press conference.
He also said that another nine Croatians who were working at a factory in Italy where 20 people were infected were admitted to hospital in the city of Rijeka overnight and placed in precautionary isolation because they might have been exposed to the virus.
Greece
Two cases of
coronavirus
have now been reported in
Greece
. One of the patients is hospitalized in Athens' Aghia Sofia Children's Hospital. Another was rushed to the Greek capital's Attikon Hospital.
Europe Coronavirus
Situation In Crisis
It is expected that within the next three weeks, the
coronavirus
situation in
Europe
is likely to worsen due to a variety of factors. It also highly suspected that many figures and the magnitude of the spread and seriousness of the crisis is being concealed and downplayed by the EU and ECDC.
For more as we uncover the
Europe Coronavirus
crisis, keep checking at :
https://www.thailandmedical.news/articles/coronavirus