COVID-19 Vaccine Updates - Pfizer and BioNTech Publish Positive Interim Phase I/II Data for COVID-19 Vaccine
COVID-19 Vaccine Updates
: Pharmaceutical and Biotech giants, Pfizer and BioNTech reported that the most advanced of four constructs of their messenger RNA (mRNA) vaccine candidate for COVID-19 showed encouraging immunogenicity and a favorable safety profile in preliminary Phase I/II data published in a preprint study.
https://www.medrxiv.org/content/10.1101/2020.06.30.20142570v1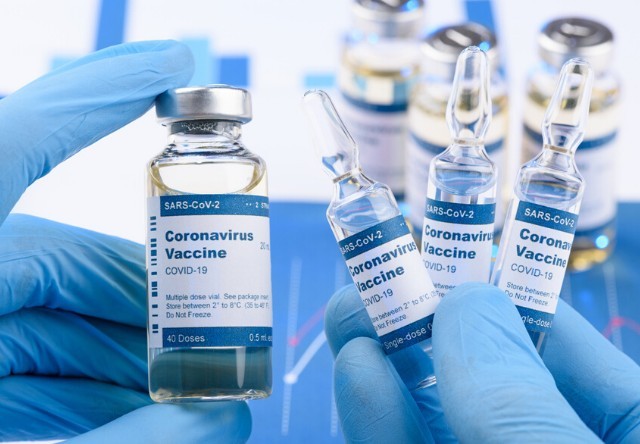 Both Pfizer and BioNTech said the preliminary data, plus additional preclinical and clinical data now being generated, will help them determine a dose level and select among multiple vaccine candidates for a global Phase IIb/III safety and efficacy trial in, potentially, up to 30,000 healthy participants—a study set to start later this month.
Expected later this month are preliminary Phase I/II results from a German trial for BNT162b1 (EU Clinical Trials Registry EudraCT number
2020-001038-36
).
The companies are evaluating four vaccine constructs of BNT162 in an mRNA-based clinical program the companies have dubbed "Project Lightspeed."
BNT162b1 is the most advanced of the four vaccine constructs of BNT162, one of 19 "Front Runner" programs among more than 250 COVID-19 therapeutics under development.
The vaccine construct BNT162b1 is a lipid nanoparticle-formulated, nucleoside-modified mRNA (modRNA) vaccine candidate that encodes trimerized SARS-CoV-2 spike glycoprotein receptor binding domain (RBD) antigen.
Professor Dr Mark J. Mulligan from New York University Langone Vaccine Center who is one of the main researchers in the vaccine development program told Thailand Medical News, These clinical findings for the BNT162b1 RNA-based vaccine candidate are encouraging and strongly support accelerated clinical development and at-risk manufacturing to maximize the opportunity for the rapid production of a SARS-CoV-2 vaccine to prevent COVID-19 disease."
Results and data in the preprint came from the ongoing U.S. Phase I/II trial (
NCT04368728
), a randomized, placebo-controlled, observer-blinded study designed to assess the safety, tolerability, and immunogenicity of escalating dose levels of BNT162b1.
The commencing part of the trial studied 45 healthy adults ages 18–55. Preliminary data for BNT162b1 was evaluated for 24 participants who received two injections, 21 days apart, of 10 µg or 30 µg; 12 participants who received a single injection of 100 µg on day 1; and nine participants who received two placebo control doses.
Research participants in the 100 µg group were not given a second dose since higher numbers of subjects experienced local reactions and systemic events after the single 100 µg dose, with no significant increases in immunogenicity compared to the 30 µg dose level, BioNTech and Pfizer said.
As a result of a strong vaccine booster effect, the highest neutralizing titers were seen seven days after the second dose of 10 µg or 30 µg on day 28 after vaccination, the companies added. Neutralizing geometric mean titers (GMTs) of 168 and 267 were reported for the 10 µg and 30 µg dose levels, respectively, corresponding to 1.8- and 2.8-times the neutralizing GMT of 94 observed in a panel of 38 sera from subjects who had contracted SARS-CoV-2.
Of all the 24 subjects who received two vaccinations at 10 µg and 30 µg dose levels, researchers saw elevation of RBD-binding IgG concentrations after the second injection with respective geometric mean concentrations (GMCs) of 4,813 and 27,872 units/ml at day 28, seven days after immunization. These concentrations are 8- and 46.3-times the GMC of 602 units/ml in a panel of 38 sera from subjects who had contracted SARS-CoV-2, BioNTech and Pfizer said.
It was observed that at day 21 after a single injection, the 12 subjects who received 100 µg of BNT162b1 had an RBD-binding IgG GMC of 1,778 units/ml and a SARS-CoV neutralizing GMT of 33, which are 3-times and 0.35-times, respectively, the GMC and GMT of the convalescent serum panel.
Dr Ugur Sahin, MD, CEO and co-founder of BioNTech, said in a media statement, "These preliminary data are encouraging in that they provide an initial signal that BNT162b1 targeting the RBD SARS-CoV-2 is able to produce neutralizing antibody responses in humans at or above the levels observed in convalescent sera and that it does so at relatively low dose levels."
It was reported that Pfizer was among developers of five COVID-19 vaccines identified by President Donald Trump's administration as most likely to produce a vaccine for the virus, citing unnamed "government officials."
According to the report, the five will receive additional government funding, assistance with clinical trials, and financial and logistical support for manufacturing.
Interestingly, Pfizer and BioNTech have declined to tap into U.S. government funding: "We believe we can move faster if we don't have to involve a third party," Pfizer CEO Dr Albert Bourla said May 28 at during a
virtual briefing
organized by International Federation of Pharmaceutical Manufacturers and Associations (IFPMA).
Dr Bourla also said: "If things go well, and the stars are aligned, we will have enough evidence of safety and efficacy so that we can have a vaccine around the end of October."
Pfizer and BioNTech said that should BNT162b1 or another BNT162 construct receive regulatory approval, they expect to manufacture up to 100 million doses by the end of 2020 and potentially more than 1.2 billion doses by the end of 2021.
Both companies said they have committed to working jointly to distribute the potential COVID-19 vaccine worldwide except China, where BioNTech has a collaboration with Fosun Pharma for BNT162 for both clinical development and commercialization.
The Development of the vaccine is also supported by partners that include Acuitas Therapeutics, which provides the lipid nanoparticles used in the formulation of the BNT162 constructs and various other mRNA vaccines.
For the latest
COVID-19 Vaccine Updates
, keep on logging to Thailand Medical News.