COVID-19 Symptoms: Physicians Warn That Elderly With COVID-19 Manifest Unusual Symptoms
COVID-19 Symptoms
: In mild COVID-19 cases, typical symptoms are normally sore throats, dry cough and mild fever while in moderate cases persistent fever and shortness of breath are common.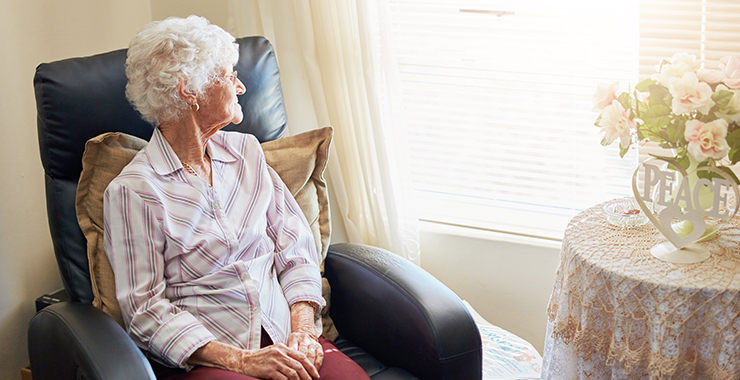 However physicians are warning that in elderly adults with COVID-19, such typical symptoms might not materialize but instead a variety of anomalous symptoms are observed and this could complicate efforts to properly diagnose them and also to ensure they get timely and appropriate treatment.
Many of those elderly patients with COVID-19 normally seem to behave like they are not themselves or rather to put it crudely, seems "off".
Abnormal behavioral routines like sleeping unusually longer and loss of appetite are a common observation. Also they may seem unusually apathetic or confused, losing orientation to their surroundings. Being in a state of dizziness and falling is another common occurrence. In certain cases, these seniors might stop speaking or simply collapse.
These anomalous symptoms have to do with how older human bodies respond to illness and infection.
It has been observed that at advanced ages, the immune response may be blunted and the ability to regulate temperature may be altered.
Underlying chronic illnesses can mask or interfere with signs of infection. Some older people, whether from age-related changes or previous neurologic issues such as a stroke, may have altered cough reflexes. Others with cognitive impairment may not be able to communicate their symptoms.
It is critical to recognize these danger signs as if early signs of COVID-19 are missed; seniors may deteriorate before getting needed care. Also individuals may go in and out of their homes without adequate protective measures, risking the spread of infection.
An Atlanta geriatrician, describes a man in his 80s whom she treated in mid-March. Over a period of days, this patient, who had heart disease, diabetes and moderate cognitive impairment, stopped walking and became incontinent and profoundly lethargic. But he did not have a fever or a cough. His only respiratory symptom: sneezing off and on.
The man's elder sister called for emergency services twice. Both times, paramedics checked his vital signs and declared he was OK. After another worried call from the overwhelmed spouse, the patient be taken to the hospital, where he tested positive for COVID-19. The paramedics and health aides who'd been in the house and who hadn't used PPE (personal protective equipment) apparently also contracted the disease.
Medical director of the Ruth and Harry Roman Emergency Department at Cedars-Sinai Medical Center, Dr Sam Torbati, describes treating seniors who initially appear to be trauma patients but are found to have COVID-19.
He said, "They get weak and dehydrated and when they stand to walk, they collapse and injure themselves badly."
Dr Torbati has seen older adults who are profoundly disoriented and unable to speak and who appear at first to have suffered strokes.
He further added, "When we test them, we discover that what's producing these changes is a central nervous system effec t of SARS-Cov-2 coronavirus."
Some elderly patients complain of feeling seemed to be a cold before becoming very confused. Some lose their cognitive abilities and memory and some manifest hypoactive delirium, an altered mental state in which people become inactive and drowsy.
There are some who manifest nausea, vomiting and diarrhea but none of the typical symptoms of COVID-19 ie fever or coughs or even shortness of breath.
Dr Sylvain Nguyen, a geriatrician at the University of Lausanne Hospital Center, Switzerland, put together a list of typical and atypical symptoms in older COVID-19 patients for a paper to be published in the Revue Medicale Suisse. Included on the atypical list of symptoms are changes in a patient's usual status, delirium, falls, fatigue, lethargy, low blood pressure, painful swallowing, fainting, diarrhea, nausea, vomiting, abdominal pain and the loss of smell and taste. Data comes from hospitals and nursing homes in Switzerland, Italy and France.
In the front lines, doctors need to make sure they carefully assess an older patient's symptoms.
The elderly may also do poorly because their routines have changed. In nursing homes and most assisted living centers, activities have stopped and "residents are going to get weaker and more deconditioned because they're not walking to and from the dining hall.
In home settings, isolated seniors may not be getting as much help with medication management or other essential needs from family members who are keeping their distance, other experts suggested. Or they may have become apathetic or depressed.
Care givers, family members, neighbors and friends are advised to look out for abnormal behavioral patterns in the elderly and to notify health authorities immediately if they come across any anomalous symptoms.
For more on
COVID-19 symptoms
, keep logging to
Thailand Medical News
.
Urgent Plea for help. We need help to financially sustain our website and also our other research and international community projects. Please support us by making a donation via paypal. Thank You
.
https://www.thailandmedical.news/p/sponsorship