COVID-19 Latest: International Study Show That Patients With Severe COVID-19 Could Have Antibodies Blocking Important Immune Functions
COVID-19 Latest
: Researchers from more than 200 medical and research institutions globally in a new study have found that that certain auto-antibodies known as neutralizing auto-Abs against type I IFNs are the reasons that certain individuals are suffering from severe conditions of the COVID-19 disease.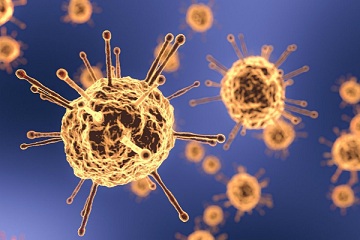 The study findings are published in the journal: Science
https://science.sciencemag.org/content/early/2020/09/23/science.abd4585
Although most people dying from COVID-19 are elderly, up to 5 to 10 percent of younger adults and children can also be seriously infected by the SARS-CoV-2 virus. Researchers from all over the world have tried to determine why some people become very ill and others are barely affected with COVID-19.
The researchers found that individuals with serious COVID-19 disease have antibodies that are blocking so-called interferons, which are an important part of the body´s defense mechanism.
Dr Eystein Husebye, Professor, Department of Clinical Science, University of Bergen was involved in this study because he has had long experience with patients suffering from the immune disease APS1. APS1 is a serious, but rare, immune disease. Patients with APS1 have a high concentration of antibodies against interferons. If these patients then become infected with COVID-19, their bodies will work against their own immune systems. In addition, this response has also been seen in patients with milder immune diseases.
Dr Husebye said, "It is relatively easy to see if young people with COVID-19 have these antibodies in their blood. If so, it might be possible to supply them with extra interferons as treatment.
Viral infections can be driven by monogenic inborn errors of IFN-γ, IL-6, and IL-17A/F, respectively, or by their genetically driven auto-immune phenocopies, with the production of neutralizing auto-Abs against these cytokines.
Type I IFNs, first described in 1957, are ubiquitously expressed cytokines that contribute to both innate immunity (via their secretion by plasmacytoid dendritic cells and other leukocytes) and cell-intrinsic immunity (in most if not all cell types) against viral infections. Their receptors are ubiquitously expressed and trigger the induction of IFN stimulated genes (ISGs) via phosphorylated STAT1-STAT2-IRF9 trimers. Neutralizing IgG auto-Abs against type I IFNs can occur in patients treated with IFN-α2 or IFN-β and exist in almost all patients with autoimmune polyendocrinopathy syndrome type I (APS-1).
They are also seen in women with systemic lupus erythematosus.
These patients do not seem to suffer from unusually severe viral infections, although human inborn errors of type I IFNs can underlie severe viral diseases, respiratory and otherwise.
The researcher's attention was drawn to three patients with APS-1, with known pre-existing anti-type I IFN auto-Abs, and life-threatening COVID-19 pneumonia. While searching for inborn errors of type I IFNs, the researchers hypothesized that neutralizing auto-Abs against type I IFNs might also underlie life-threatening COVID-19 pneumonia.
The study results support other mysterious findings relating to COVID-19.
Dr Husebye added, "Deaths and severe COVID-19 are more frequent among men than women. Our study has shown that men have more of these antibodies."
Even if it is easy to use blood tests to discover antibodies against interferons, Dr Husebye does not recommend massive screening in healthy people. Most people with APS1 are diagnosed in their childhood, and most people with immune failure have been diagnosed already.
Dr Eystein Husebye stressed, "Immune failure is just a piece in the puzzle when it comes to understand why young people may die of COVID-19. Old people generally die of more complex causes."
The study team concludes that at least 10% of patients with life-threatening COVID-19 pneumonia have neutralizing auto-Abs against type I IFNs. With their accompanying description of patients with inborn errors of type I IFNs and life-threatening COVID-19, this study highlights the crucial role of type I IFNs in protective immunity against SARS-CoV-2.
These auto-Abs against type I IFNs were clinically silent until the patients were infected with SARS-CoV-2, which is a poor inducer of type I IFNs, suggesting that the small amounts of IFNs induced by the virus are important for protection against severe disease. The neutralizing auto-Abs against type I IFNs, like inborn errors of type I IFN production, tip the balance in favor of the virus, resulting in devastating disease, with insufficient, and even perhaps deleterious, innate and adaptive immune responses.
The study findings have direct clinical implications.
First, SARS-CoV-2-infected patients can be screened to identify individuals with auto-Abs at risk of developing life-threatening pneumonia. Such patients recovering from life-threatening COVID-19 should also be excluded from donating convalescent plasma for ongoing clinical trial, or at least tested before their plasma donations are accepted
.
Second, this unexpected finding paves the way for therapeutic intervention, including plasmapheresis, monoclonal Abs depleting plasmablasts, and the specific inhibition of type I IFN-reactive B cells.
Lastly, in this patient group, early treatment with IFN-α is unlikely to be beneficial. However, treatment with injected or nebulized IFN-β may have beneficial effects, as auto-Abs against IFN-β appears to be rare in patients with auto-Abs against type I IFNs.
For more
COVID-19 Latest
research, news or developments, keep on logging to Thailand Medical News.